The ASCII Group Announces National No-Cost Health Service to Members
ASCII Group partners with national agency to offer members 24/7 virtual access to local board-certified physicians to members that includes telehealth.
Leave a Comment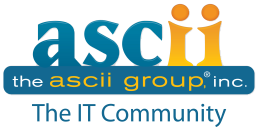 The ASCII Group this week announced the launch of its exclusive new ASCII Telehealth Service, available to the ASCII community at no charge.
The ASCII Group, a membership-based community of independent North American MSPs, MSSPs, VARs and solution providers, has partnered with a national agency to "provide 24/7 virtual access to local board-certified physicians," according to the announcement.
The collaboration "will allow ASCII to provide telehealth access to its community across the country," the announcement says. This includes a consult with a doctor licensed in the state of where the business owner or their employees reside, by phone, secure video, or app, with wait times under 10 minutes.
Physicians have the ability to write prescriptions in all 50 states. In addition, family members of employees are also covered under the no-cost program, exclusive to ASCII members.
Related: The ASCII Group Announces MSP Connect Live Virtual Events
"The number one business request we receive from the MSP community is providing our leverage to lower the cost of health care for business owners and their staff," said Alan Weinberger, chairman and CEO of The ASCII Group in the announcement.
"We are thrilled to be able to provide this important service to the industry for the first time, and see this as a pivotal moment to enable the service sector of the IT industry to become more profitable and have employees priority needs addressed in a new way," he said.
More ASCII Group Member Benefits
This isn't the first time The ASCII Group has rolled out a unique new benefit for its members this year. The ASCII Group launched an updated member community platform named ASCII-Link in May.
The new platform "provides increased engagement and opportunities for ASCII members to directly connect," according to The ASCII Group announcement.
Since its inception in 2008, ASCII-Link "has been a top exclusive benefit with ASCII members," the announcement says.
"ASCII built one of the largest IT community forums, where members communicate freely with fellow IT business owners to jointly solve technical issues, provide vendor recommendations, give input on revenue opportunities and more," according to the group announcement.