Exterity ArtioGuest Offers Glimpse into Future of Video-Based Hotel Guest Experiences
Exterity ArtioGuest middleware portal creates 'intuitive in-room guest experience' with customizable interfaces to access content on any device.
Leave a Comment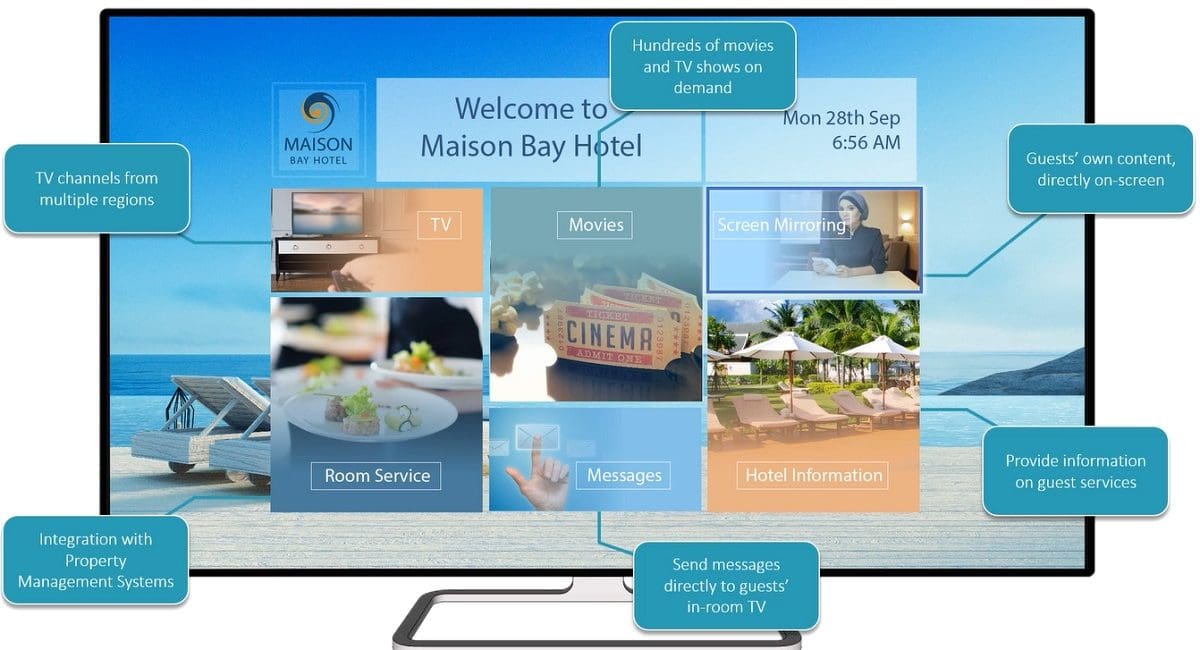 Exterity recently announced the launch of its new hotel-focused middleware portal, ArtioGuest. The portal "will provide an enhanced and intuitive in-room guest experience," according to the company press release.
Expected to be released within the first quarter of 2018, ArtioGuest "enables the creation of relevant, customizable interfaces for accessing TV, Video-on-Demand, information, services and more, on any device," according to the Exterity press release.
"We are proud to unveil our new middleware portal, which we will demonstrate at ISE 2018 in Amsterdam in February," said Exterity CEO Colin Farquhar.
"Hotel guests have high expectations and are looking for intuitive, easy-to-use in-room technology that is 'better than home.'
"The guest experience is continually evolving and improving, with further developments expected this year. We encourage all attendees to visit us at these events to see the role Exterity's product portfolio will play in driving this change," he said.
Other highlights for Exterity at ISE 2018 include:
ArtioSign Digital Signage: demonstrating the latest enhancements to Exterity's easy-to-use and powerful digital signage and IPTV in one solution
AvediaPlayer Media Players: the powerful and ultra-reliable new AvediaPlayer m9305 Media Player comes with 32GB of storage, enabling organizations to deliver digital signage campaigns with multiple videos and high-resolution images. The m9325 Wi-Fi also enables IPTV and digital signage content to be delivered wirelessly.
Exterity works with a wide range of hospitality customers around the world. Notable users of its hospitality solutions include Anantara Hotels & Resorts, Crowne Plaza Hotels & Resorts, Dusit Thani, Golden Tulip, Jumeirah Group, Mercure Hotels, Millennium Hotels and Six Senses.
Exterity also provides solutions to customers in the corporate & finance, education, health care, oil and gas and venues and stadiums industries.
Some industry experts say voice assistants such as Amazon Echo and Google Home could revolutionize the experience of several markets, including corporate and hospitality.
Amazon Web Services says, through its Alexa for Business program, businesses can integrate voice control with Alexa into their work environments to increase productivity.