Houston Cougars Engage Fans with Christie On-Court Projection Mapping Experience
Quince Imaging installs suite of Christie products, including 3DLP projectors, Mystique, a Pandoras Box server and a Terra AV-over-IP system.
Leave a Comment
The University of Houston recently updated the projection mapping content for its basketball team, the Houston Cougars, creating a dramatic, on-court pre-game show at the Fertitta Center.
The 3D graphics were created by Quince Imaging and enabled by a range of Christie solutions installed by Quince, including 3DLP projectors, Mystique, a Pandoras Box server, and a Terra AV-over-IP system.
The University sought to refresh the on-court projection mapping content to align with both in-person and broadcast viewing, said Eric Gazzillo, director of innovation at Quince Imaging.
"What's important now, during COVID, is being broadcast-centric, so we're using the displays and technology to fill the arena with content, designs and projection mapping," he said.
"We use the technology in a way to make the arena feel full, if they're doing partial or limited seating, and to add some drama to the pregame broadcast that can be lacking if the arena is empty," said Gazzillo.
Related: Christie Laser Projectors Give United Launch Alliance Rocket 3D Projection Mapping 'Sendoff'
The new content was designed by Quince's in-house art director, Zubair Parkar.
The projection mapping system, installed in the fall of 2018, uses eight Christie Boxer 4K30 3DLP 30,000-lumen projectors, a Pandoras Box server, Terra and Mystique. The setup has allowed the Houston Cougars "to simplify workflows," said Gazzillo.
"It's one of those things that we've really encouraged pre-COVID, and now during COVID, it has become even more important to have an integrated system of projectors, control and transmission that allows us to maintain it so much more efficiently remotely, when you can't have full staff on site," he said.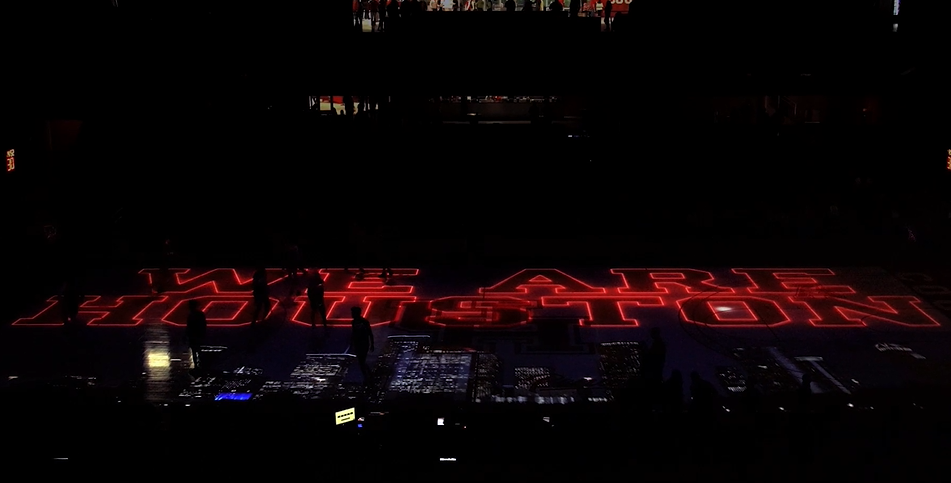 Inside the Houston Cougars Installation
The system is designed to ensure that the image remains bright and aligned with the combination of Christie 3DLP projectors and Mystique.
A Pandoras Box Server allows the user to composite and update the on-court content more easily and frequently, while Christie Terra delivers native, mathematically lossless 4K content across the court.
"We're advocates of 4K, especially on our dual-sport solutions," said Gazzillo.
Quince Imaging specializes in dual-sport systems, such as the system installed in Capital One Arena that serves both the Washington Capitals hockey team with on-ice projection mapping and the Wizards with on-court mapping.
"When you have folks sitting so close to the image and a projection display that big, 4K is critical," said Gazzillo. "The way to deliver lossless 4K is the SDVoE solution."
During the initial installation of the system, rigging was a challenge in the arena.
"We had lower ceilings and had to shoot at uncomfortable angles, but Mystique helped to solve the complex warping and blending challenges so we could provide a seamless, uniform image," said Gazzillo. The system had been out of use due to COVID, but it came back online without issue, and the University is now using it regularly.
"At Quince, we live by the rule 'always give customers more than they expect to get.' The best sign of customer satisfaction is watching our clients hit the ground running once our work is complete," he said.
"University of Houston has been hard at work since implementation, reaching out only periodically for fresh content," said Gazzillo.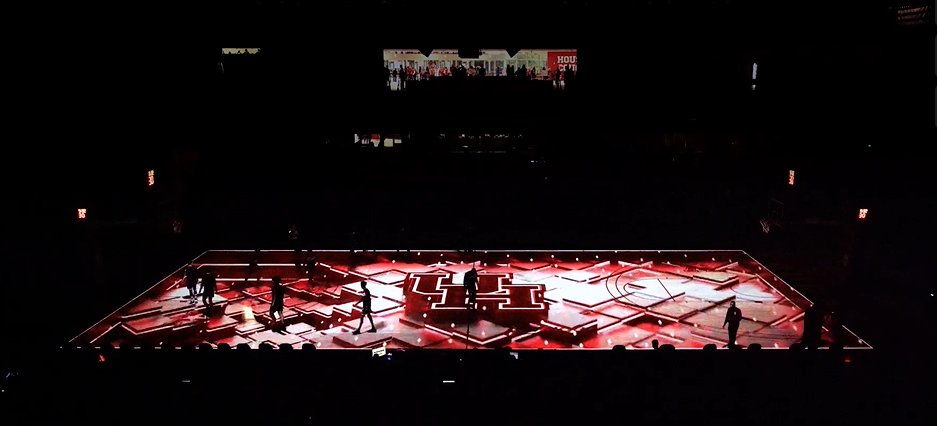 If you enjoyed this article and want to receive more valuable industry content like this, click here to sign up for our digital newsletters!