Las Vegas Raiders Installing Mesh Video Board Outside Allegiant Stadium
The 275-foot LED video board could be the closest Raiders fans and Las Vegas tourists get to watching the team in its new home stadium this season.
Leave a Comment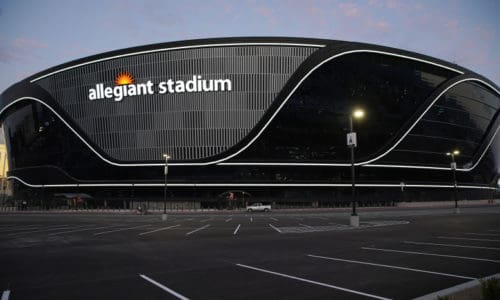 NFL fans who are excited to see the new home of the Las Vegas Raiders this fall won't even have to get inside Allegiant Stadium before they're bombarded with the glitz and glamour befitting of a sports stadium in Sin City thanks to a mesh videoboard that'll be front and center outside the building.
The mesh videoboard outside Allegiant Stadium is expected to be ready by the end of this month, according to Las Vegas Review-Journal's Mick Akers, who tweeted some photos of the east-facing exterior of the building on Monday.
The LED videoboard outside the new home of the Raiders, who are relocating this season from Oakland, is 275 feet wide and will fit in with the Las Vegas landscape quite well, especially at night, when it'll shine just as brightly—if not even more so—than many of the signs in front of the resorts on the Strip.
The media mesh video board on Allegaint Stadium's east facing exterior will be fully operational by the end of the month. #vegas #raiders #stadium pic.twitter.com/II0N1pwS7i

— Mick Akers (@mickakers) August 3, 2020
The bad news about all of these cool sights inside and outside Allegiant Stadium is the seating bowl this season will be a literal black hole, since the Raiders have already announced no fans will be allowed inside the building for Raiders games.
Considering how much work they're putting into the exterior video board, though, you'd have to think the Raiders are working on plans to allow fans to watch their new hometown team from a socially acceptable distance in the parking lot outside Allegiant Stadium.
That kind of flexibility is being built into many of the new sports stadiums and arenas across the U.S. these days and is likely to become even more popular the longer fans are forced to root for their teams without having access to the places where they play their home games.
LEDs Across the NFL
This isn't the only massive video board whetting NFL fans' appetites for the 2020 season. Installers recently finished the 2.2-million-pound Samsung 4K HDR video board inside SoFi Stadium in Inglewood, Calif., the new home of the Los Angeles Chargers and Los Angeles Rams.
The board, dubbed the Oculus, boasts 90 million pixels and 70,000 square feet of LED across 120 yards.
Samsung says the Oculus features the most LEDs ever used in a sports or entertainment venue as well as the first and only 4K end-to-end video production in a stadium.