Syracuse Debuts Largest Center-Hung Video Board System in College Sports
Daktronics installs new system at Carrier Dome featuring 7,022 square feet of digital displays, six additional end zone displays.
Leave a Comment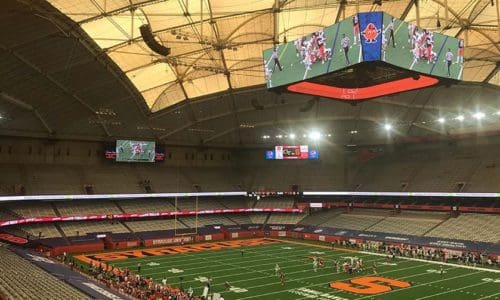 Syracuse University went big with its new LED display system as Daktronics has provided the Carrier Dome in New York with the largest center-hung system in college sports.
At 7,022 square feet, it is the third-largest indoor center-hung system in the U.S. without a retractable roof, indoor-outdoor stadium and fourth-largest indoor center-hung system in North America.
Six additional end zone displays were also installed at the Carrier Dome, bringing the total to more than 9,300 square feet for the entire project.
The four main displays of the center-hung system feature an inward curvature and measure approximately 20 feet high by 62.5 feet wide. At each corner, displays measure roughly 20 feet high by 9.5 feet wide.
On the underbelly, a ring display measures roughly 6.5 feet high and stretches around the inside of the center-hung video board, totaling 216.5 feet long.
Related: Daktronics Displays at Atlanta's Mercedes-Benz Stadium Get Worldwide Audience
"We worked very closely with Syracuse University representatives, Geiger Engineering and Haynor Hoyt Companies to come up with a unique design that will wow fans and provide a one-of-a-kind in-venue experience for all who enter the building," said Daktronics sales representative Scott Wilson.
"We did not start out with the goal of building one of the largest center-hung systems in the world, but the more we talked through it with the team, the more we realized that we could accomplish something very special while still remaining within the project budget," he said.
"Besides the new center-hung, there are new high-resolution end zone displays to enhance the viewing experience in the building," said Wilson.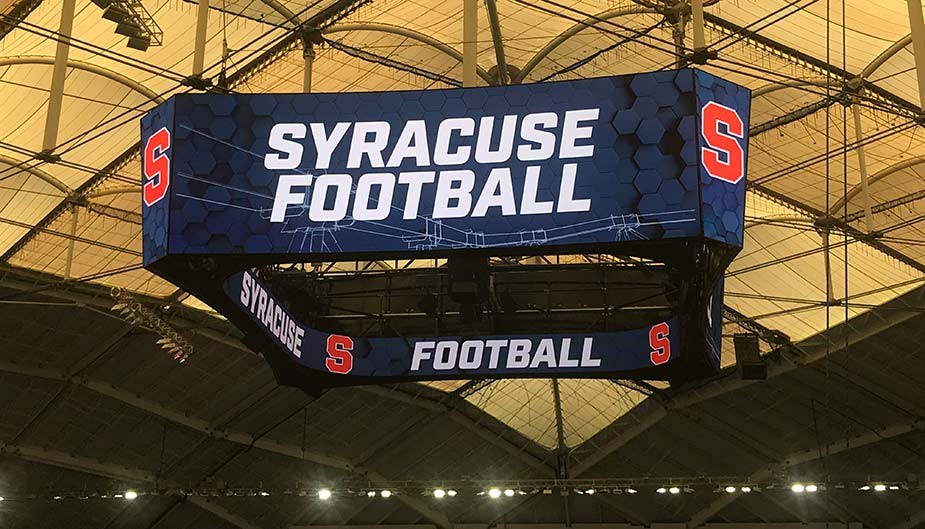 Inside the Carrier Dome
Adding to the center-hung feature, six end zone displays were also installed at the Carrier Dome. Two large displays measure roughly 22 feet high by 40.5 feet wide and four corner displays measure approximately 12.5 feet high by 10.5 feet wide.
All displays feature 10-millimeter line spacing to bring excellent image clarity and contrast to fans in every seat of the Carrier Dome.
Each of the main video displays is capable of variable content zoning allowing each to show one large image or to share multiple zones of content including live video, instant replays, up-to-the-minute statistics, graphics and animations and sponsorship messages.
Daktronics also included its Show Control System to include a combination of display control software, video processing, data integration and playback hardware.