Exclusive Interview: A First Look at Exertis Almo Pro AV
DCC Technology, trading as Exertis, has acquired Almo Corp. in North America, thus creating N.A.'s largest value-added pro AV distributor.
Leave a Comment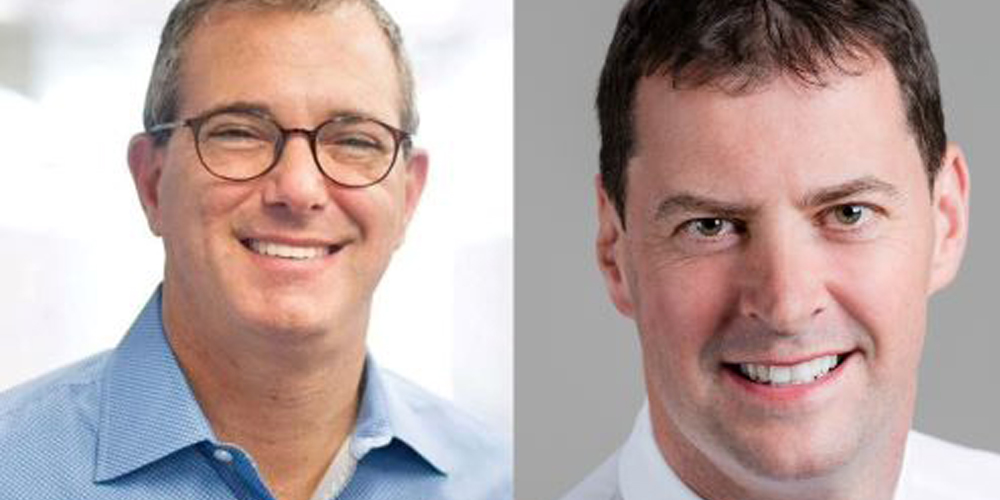 Almo's Warren Chaiken and Exertis' Clive Fitzharris offer perspective on this week's huge acquisition news.
Yesterday, the commercial AV industry awoke to news of one of the most consequential acquisitions in recent years: DCC Technology, which trades as Exertis, has acquired Almo Corp. in North America. This move comes on the heels of Dublin, Ireland-based parent company DCC plc completing several other North America acquisitions in recent years. Those include Stampede, Jam Industries, The Music People and JB&A. Almo, however, represents the largest acquisition in DCC plc's history. With Almo, the organization now has about 15,000 employees. And on the technology side of the business, with Almo enfolded into the organization, revenues are north of $7 billion. All told, the combined organization, called Exertis Almo Pro AV, has become the largest specialist distributor of pro AV products and services in North America.
To learn about the implications of this, Commercial Integrator sought out Clive Fitzharris, Managing Director, Exertis International, and Warren Chaiken, President and CEO, Almo Corp.
Exertis and Almo Values
Refreshingly, rather than leading with financials and growth projections, both men's priority is to talk about alignment of company values. "Acquisitions are ultimately all about culture, and they either fail or succeed because of the culture," Chaiken says. Noting that initial conversations began three or four years ago, Chaiken remarks that the relationship blossomed and grew as they discovered their shared values. "We realized the similarities of our companies and our cultures," he explains. And strategically, although Exertis had already made meaningful steps into North America, its unification with Almo represents an opportunity to fortify its position in the North American market.
In terms of executive leadership, Exertis Almo Pro AV will be led by Sam Taylor, who has helmed Almo Pro AV for years. John Dunne, managing director of Exertis North America, will join the Almo executive team and play a key role in the integration process.
Fitzharris is clear that Exertis doesn't intend to change the Almo branding at a corporate level or in the company's non-AV divisions. The goal of the acquisition, he says, is simply "…to build and sustain a powerhouse in specialist pro AV distribution, under Sam's leadership and [with] a merging of the talent of the two organizations."
Exertis, Almo Complement Each Other
Both Chaiken and Fitzharris underline how complementary the organizations are, not only geographically but also with respect to vendor partners. Chaiken, for example, notes that, to this point, Almo Pro AV's footprint in Canada has been small. By contrast, Exertis' Pro AV Solutions division has an established Canadian presence. And Fitzharris, noting Exertis' strength in Europe, pledges to share best practices and key relationships that will fortify the combined U.S. entity of Exertis Almo Pro AV. Finally, although there is some overlapping of vendors across the now-merged organizations, many others, to this point, have had a relationship only with Exertis or with Almo. "We're going to bring that increased vendor breadth to the combined customer base," Fitzharris promises.
Speaking of customers, both Chaiken and Fitzharris express optimism about how much more robustly Exertis Almo Pro AV—now the largest specialist pro AV distributor in North America—will be able to support the customer base. That includes a larger warehouse footprint, as well as the unification of two strong teams. Team members will leverage their industry-wide relationships, Fitzharris says, "…to provide the service that they have done individually, but on a combined basis, to all the integrators and customers of those organizations."
Shared Customer Base
Fitzharris remarks that many of each organization's customers had been, up to this point, unique; thus, with the birth of Exertis Almo Pro AV, not only will the pool of vendors be enlarged but so too will the shared customer base be. "To bring the combined strength, breadth and range of offerings to that enlarged customer base is going to be very compelling, and [it will] add value for our customers and our vendors," Fitzharris pledges.
And for Chaiken, adding value is the primary objective. Indeed, he runs through a list of services that Almo Pro AV routinely provides its reseller customers: installation services for dealers, helping with RFPs, having joint meetings with customers, bringing vendor partners into meetings with resellers, etc. "We're going to be introducing those concepts to a whole host of people we've never talked to before," Chaiken enthuses. "Together, we're clearly going to be the one that's adding value to this channel."
More Developments to Come
Fitzharris promises that there will be more developments to come, saying that Exertis Almo Pro AV is looking for opportunities to grow and add services to benefit not only integrators but also vendor partners. And, he says, Exertis is open to considering value-adding acquisitions, as well. But, returning whence we started, any future expansion—organic or through acquisition—will depend on aligning with the organization's deeply held values. "Our business is about people and about relationships," Chaiken declares. "The culture that our family has developed over the years—and Exertis has done it on their end—makes it a place where people want to come and do business with us." And neither Chaiken nor Fitzharris is willing to compromise on that.
So, here's a word of advice for the #AVtweeps community: Stay tuned. "This isn't the end of the book," Fitzharris teases. "There are an awful lot more chapters to go in this story."
Check out Commercial Integrator's breaking-news coverage yesterday.
If you enjoyed this article and want to receive more valuable industry content like this, click here to sign up for our digital newsletters!