AV+ Podcast: AVI-SPL's Al Ayulo on Building High-Performing Teams
On this week's edition of the AV+ podcast, AVI-SPL's Al Ayulo discusses how to attract top-tier talent and build high-performing teams.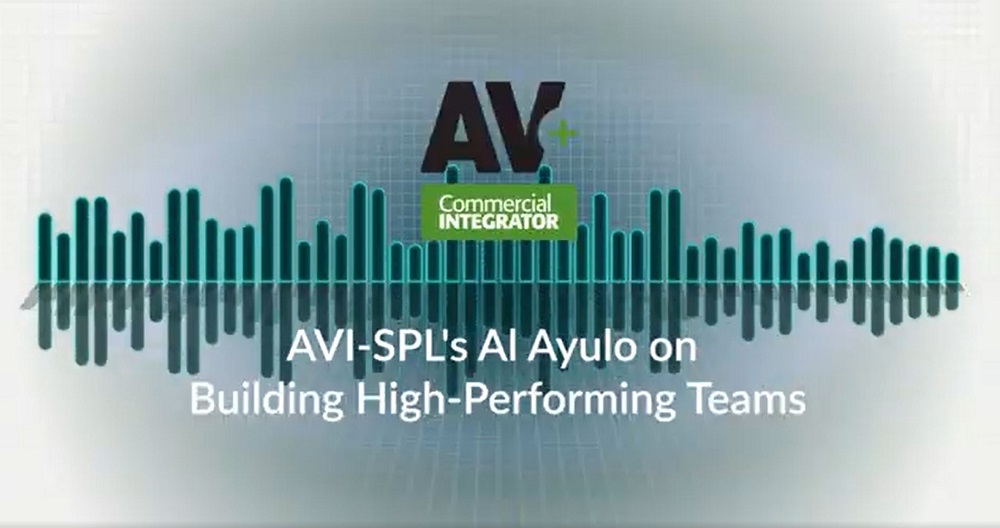 Listen to this podcast using the embedded player below.
On This Episode of AV+
On this episode of the Commercial Integrator AV+ podcast, Dan Ferrisi, host and editor-in-chief, chats with Al Ayulo, senior vice president and general manager, west region, with AVI-SPL. The duo discusses how to build high-performing teams and how to make sure you're attracting the right team members. What's more, Ayulo stresses the importance of being on the lookout for prospective team additions at all times.
Top Stories of the Week
Here's what's happening around Commercial Integrator this week
Commercial Integrator exists to help integrators run their businesses better. The single most important part of doing that? Networking with peers and colleagues. If you're a larger integration firm that wants the opportunity to share insights and best practices with your peers, while also brainstorming on common pain points and solutions, apply to go to Total Tech Summit Oct. 26-28 in Orlando, Fla. Integrators who apply and are approved get to send one team member at no cost. Apply to attend Total Tech Summit today!
Missed the Preserving Project Profitability in 2022 webcast? View it on-demand. With supply-chain snarls, increased labor costs and unprecedented unpredictability, integrators' jobs have become much harder. This webinar features NSCA's CEO, Chuck Wilson, as well as prominent NSCA members Kyle Habben (Electronic Contracting Company) and Mat Hennings (Communications Engineering Company). They'll offer tips to help you optimize your business and stay profitable.
CI's integration award winners reflect a mix of wow-worthy experiential excitement and practical, business-enhancing technical functionality. See the list of 2022 Integration Award Winners.
The 2022 Buyers' Guide Category Index sorts providers by product and service types while the A-Z Vendor list provides contact information for each of these companies. Download a copy today!
The Commercial Integrator Podcast
The term "pro AV" doesn't do justice to the whole integration crowd, so we at Commercial Integrator wanted to create a pro AV podcast that speaks to all the areas (and there are many!) under the umbrella of commercial technology integration.
The host, Commercial Integrator editor-in-chief Dan Ferrisi, is looking forward to providing listeners with an entertaining, informative forum for all topics affecting the commercial AV industry.
Prefer mobile? Find AV+ on iTunes