AV+ Podcast: Ron Berty on Differing Approaches to AVoIP Deployment
On this week's AV+ Podcast, Matrox's Ron Berty discusses the misconceptions around video-over-IP transmission and AVoIP implementation.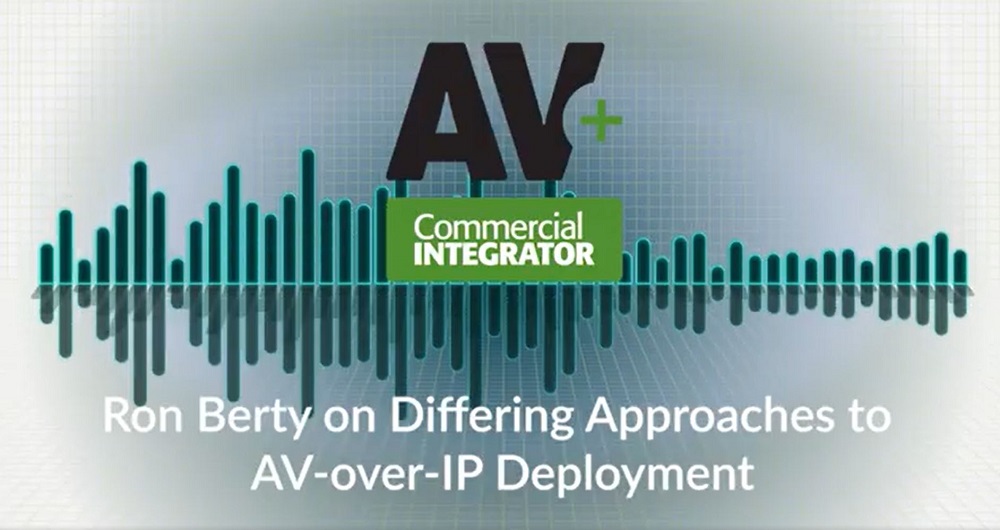 Listen to this podcast using the embedded player below.
Editor's Note: This post, featuring Matrox Video's Ron Berty discussing AVoIP issues, originally appeared on January 27, 2023. We updated it on April 19, 2023, with additional information.
On This Episode of AV+
On this episode of the Commercial Integrator AV+ podcast, Dan Ferrisi, host and editor-in-chief, chats with Ron Berty, business development manager at Matrox, about some common misconceptions when it comes to video-over-IP transmission and AVoIP implementation. A one-size-fits-all approach does not apply when it comes to IP transmission of AV content, and Berty explains why.
In addition to tackling the misconceptions around AVoIP transmission, the duo discusses the following:
What an interframe codec is, and how it differs from a high compression codec (4:23)
Latency and network topology (11:10)
How to synchronize real-time data in the control room with the cloud (15:54)
…and much, much more!

This AV+ podcast is brought to you by ViewSonic. Visit vsfinch.es/Commercial-Integrator to learn more about the company's remarkable lineup of commercial displays, interactive flatpanels for K-12 school districts and much more.
Watch or listen to the discussion in full below.
Top Stories of the Week
Here's What's Happening Around Commercial Integrator This Week
Every year, Commercial Integrator partners with NSCA to offer AV integrators an up-to-date forecast and analysis of the year ahead. And, this time, the need for insight into how to maximize business success in 2023 is more acute than ever. Integrators are, after all, facing a constellation of challenges: rising interest rates, persistent inflation, lingering supply-chain challenges, difficulty attracting and retaining top-tier talent, upward pressure on wages, global conflict and the very real possibility of a looming recession. Now is not the time to wing it! View the a one-hour webinar archive, which will explore all of those topics, drawing on up-to-the-minute data from CI and NSCA's annual survey of the integration community.
The Commercial Integrator Podcast
The term "pro AV" doesn't do justice to the whole integration crowd, so we at Commercial Integrator wanted to create a pro AV podcast that speaks to all the areas (and there are many!) under the umbrella of commercial technology integration.
The host, Commercial Integrator editor-in-chief Dan Ferrisi, is looking forward to providing listeners with an entertaining, informative forum for all topics affecting the commercial AV industry.
Prefer mobile? Find AV+ on iTunes.
If you enjoyed this podcast and want to receive more valuable industry content like this, click here to sign up for our digital newsletters!