AV+ Podcast: Sharp NEC Discusses NaViSense, Consultative Partnerships
Sharp NEC Displays Solutions joins this week's AV+ Podcast to discuss NaViSense, discussing computer vision and exploring data-centric AV.
Sponsored Content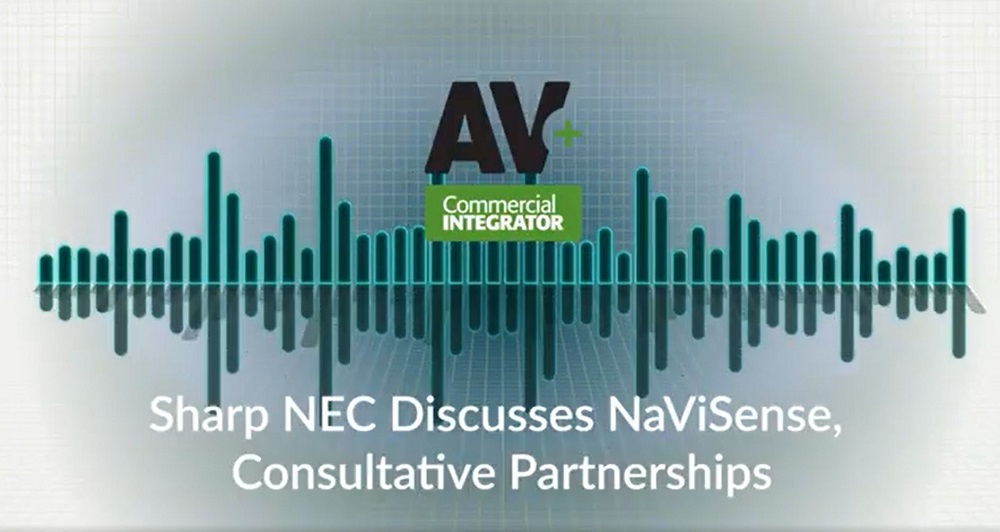 Listen to this podcast using the embedded player below.
On this Episode of AV+
On this episode of the Commercial Integrator AV+ podcast, Dan Ferrisi, host and editor-in-chief, chats with members of the Sharp NEC Display Solutions brain trust, including Jody Baines, manager, strategic partnership development, and Sonia Lobo, product marketing specialist. They delve into NaViSense, discussing exciting developments in computer vision and data-centric AV.
Top Stories of the Week:
NSCA Announces 2022-2023 Board of Directors Leadership
Wipliance Acquires Eastern Wash.-Based Huppin's
Stat AV Appoints Jay Jones as Director of Strategic Alliances
LG, Amazon Partner on Alexa For Hospitality Integration
Project Crew Multiplier Launches PCM Network
Summer Classes Now Open for Registration at ClearOne University
VSGi Helps Fortune 500 Company Standardize Meeting Rooms with Crestron Flex
Here's what's happening around Commercial Integrator this week:
Collaboration 2.0: Where are we Know? Join us on Wednesday, August 3 at 11 am EST for a discussion on common hybrid work collaboration needs for the workplace and in schools. Presented by AVI-SPL.
CI's integration award winners reflect a mix of wow-worthy experiential excitement and practical, business-enhancing technical functionality. See the list of 2022 Integration Award Winners.
The 2022 Buyers' Guide Category Index sorts providers by product and service types while the A-Z Vendor list provides contact information for each of these companies. Download a copy today!
The Commercial Integrator Podcast
The term "pro AV" doesn't do justice to the whole integration crowd, so we at Commercial Integrator wanted to create a pro AV podcast that speaks to all the areas (and there are many!) under the umbrella of commercial technology integration.
The host, Commercial Integrator editor-in-chief Dan Ferrisi, is looking forward to providing listeners with an entertaining, informative forum for all topics affecting the commercial AV industry.
Prefer mobile? Find AV+ on iTunes