PSNI Supersummit Offers Glimpses of AV's Future
Packed with provocative thought leadership, PSNI Supersummit revealed a future equal parts anxious and opportune.
Leave a Comment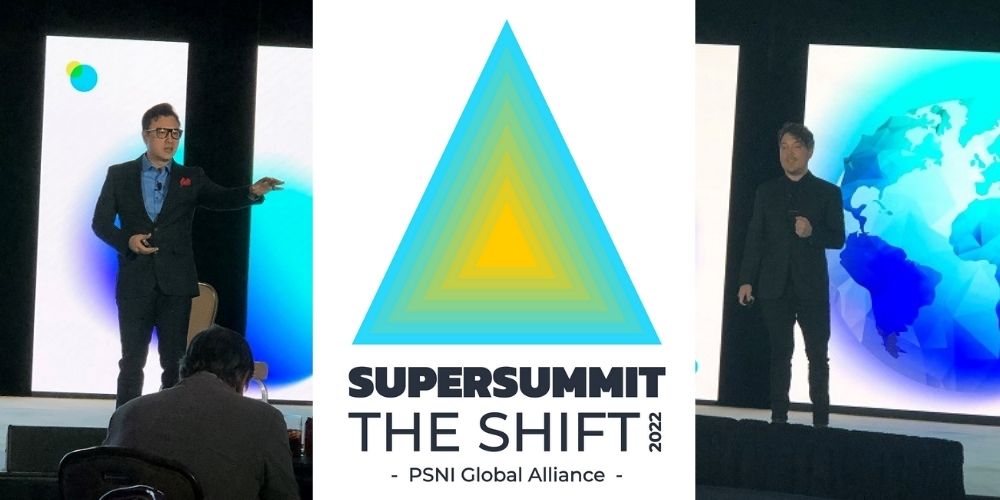 AV integration business owners are living through a unique moment…a moment equal parts anxious and opportune. That fact crystalized for me at the PSNI Global Alliance's Supersummit, held last week in Houston.
Integrators are anxious because they're being buffeted by a constellation of challenges: a snarled supply chain, a shortage of qualified employees, multi-decade-high inflation, the prospect of a near-term recession, ongoing COVID-19-related issues and an emboldened labor force that feels empowered to dictate its own terms. Simultaneously, integrators have reason to be optimistic: AV systems are now recognized as mission-critical resources; demand remains high, with customers waiting for gear to be available; the service model, with its potential for ~50% margins, is coming into focus; and two years of pandemic-induced isolation has reminded people that AV-infused experiences are indispensable to their joie de vivre. By attending Supersummit, I gained invaluable perspective on all those things — and I got to spend time with about 200 of my closest friends in the integration and vendor communities.
A Powerful Alliance
The PSNI Global Alliance is a Tulsa, Okla.-based network of best-in-class audiovisual providers who learn from and synergize with each other to deliver outstanding outcomes to clients worldwide. The alliance's Certified Solution Providers (CSPs) have undergone extensive training, demonstrated expertise in AV and UC&C technologies, and committed themselves to ongoing education and improvement. Meantime, PSNI's Preferred Vendor Partner (PVP) program is composed of manufacturers and distributors whose product innovation and service offerings empower integrators to create outstanding customer experiences across a range of verticals and a swath of applications. With a couple hundred CSPs and PVPs descending on Houston for Supersummit, the electricity of productive collaboration buzzed throughout the Royal Sonesta Houston Galleria. That charge will illuminate countless projects in the coming months.
Related: Crestron CEO Dan Feldstein Discusses His Goals, Microsoft Rumors, Supply Chain
For me, the learning began during the Welcome Reception, during which I chatted with a range of prominent industry names. Most of them focused on the global supply chain, whose delays have not meaningfully ameliorated. Allusions to eight-plus-week waits for product availability were the norm — if not, in some cases, optimistic. And as we know, this problem is complex, enfolding everything from raw-material scarcity, to astronomical shipping costs, to overwhelmed ports, to insufficient numbers of truck drivers. To a person, each of those to whom I spoke discussed making herculean efforts to get product into waiting hands, and they affirmed demand remains high. But as the commercial AV industry's business handbook, CI recognizes that having millions of dollars in backlogged business can wreak havoc on an integrator. And that's why a thought-leadership event like Supersummit was a must to attend: It was an opportunity for CSPs to maintain and build on their industry leadership.
Macroeconomic Rundown
Finance reporter Ron Insana kicked things off on April 6 with a probing analysis of macroeconomic conditions. His conclusions were bleak but realistic. He argued that we must consider the current economic state through the lenses of the COVID-19 pandemic and Russia's invasion of Ukraine. Those disruptive forces inexorably changed any trajectory the world economy might otherwise have been on. And, with lockdowns underway right now in China and elsewhere, Insana emphasized that COVID-19 will continue to have profound effects on the world. Meantime, economic-stimulus efforts over the past two years have normalized demand even as supply remains profoundly constrained. That has resulted in the two-headed monster of inflation and product shortages, as manifested by cars selling for thousands of dollars over their sticker price.
Insana spent a great deal of time talking about expected Federal Reserve monetary-policy actions intended to combat inflation levels we've not seen since 1982. He expects aggressive hiking of the federal-funds rate and a shrinking of the Fed's balance sheet. This means that borrowing will be more expensive — perhaps substantially more expensive — and that could result in less investment and economic deceleration. Indeed, Insana said he expects a modest recession in the latter part of this year or in early 2023. As he put it, the Fed will use its tools aggressively until it "breaks something," at which point it will reverse course. Although the U.S. is positioned better than most countries in a global landscape of supply shortages and armed conflict, Insana forecasts a turbulent ride over the next 12 to 15 months.
Futurecasting
Next up was Scott Amyx, managing partner at Astor Perkins, who presented a vision of a technology-driven future. Relying on a multimedia-heavy presentation, he shared glimpses of storefronts entirely composed of LED screens — for example, a Fendi store with an exterior of digital signage. As retail decision-makers (and others) recognize the power of integrated displays, he said, there will be ever greater potential to make those environments AV-infused attractions. And the appetite for next-generation technology doesn't stop there. Amyx brought up the metaverse and the success of virtual concerts, featuring A-listers like Ariana Grande, inside the game "Fortnite." He discussed holography that doesn't require glasses or headgear, thus enabling truly accessible, immersive applications. And he broached the subject of autonomous vehicles — in particular, autonomous semis — as a possible solution to driver shortages and poor quality of life among long-haul truckers.
Related: Why Integrators Should Consider Holographic Technology
If I'm honest, it was all a bit scattered. But the thrust of the keynote was that we're currently living in a renaissance of true technological wizardry that has the potential to meaningfully change people's lives. The more comfortable that AV integrators are with the metaverse, holograms and extended reality, the more opportunity they'll have to integrate systems and be a trusted advisor. And that, more than anything, was Amyx's point: Integrators must embrace organization-wide consultation to identify pain points and devise solutions. He recommended the approach of a "fireside chat," whereby integrators move beyond conferring with technology managers and, instead, embrace the role of being a strategic partner to executive management and everyone below them.
Breakthrough Collaboration
The consensus among those at Supersummit was that author Shane Snow delivered the most informative keynote. From the outset, he conceded that, often, large groups of people tend to collaborate ineffectively and fail even to be the sum of their parts. In his view, this is often because the group's thinking is homogenous, lacking the different perspectives that, when blended, can bring the team to heights never before achieved. As he put it: Two heads are better than one — but only if those heads think differently. Snow called out cognitive entrenchment, a term that refers to a person's inability to conceive of alternate solutions to a problem once they've identified a solution that they're comfortable with. That lack of probing, he argued, can keep a climber from reaching the summit of the metaphorical mountain.
Snow identified two discrete components to consider: a team member's perspectives, which refers to how they perceive and internalize information, and a team member's heuristics, which refers to their rule-of-thumb tactics when solving a problem. The best teams, Snow said, are composed of those with different perspectives and dissimilar heuristics. And he acknowledged that not every idea might be good — but even a bad idea could be a catalyst to create something great. Thus, he said, strong team leaders instigate debate and invite dissent, while discouraging personal attacks. They also admit their mistakes and own up to their failures. When steel strikes steel, Snow said, both blades sharpen. Likewise, friction between and among ideas births innovation and greater team success.
Recurring Monthly Revenue
Attendees enjoyed a choice of breakout sessions. I opted for the recurring monthly revenue (RMR) discussion that Paul Metzheiser, managing partner of TAMCO, presented. He made the financial case for integrators to build out their RMR, pointing out that ~20% margin on project sales versus ~50% margin on recurring-revenue-based deals could completely transform an integrator's successfulness. Metzheiser reminded the dozens of integrators in attendance that we've now entered the subscription economy; people are conditioned to pay for Apple Music, Netflix, Microsoft Office and Audible in a regularly monthly or yearly cadence. Why, then, he asked, shouldn't integrators' customers view their AV systems through the lens of a subscription? He espoused an approach whereby the customer avoids a large initial capital outlay and, instead, finances the equipment through a third party like TAMCO. The integrator partner integrates the system, provides ongoing maintenance and support, and collects monthly revenue in the bargain.
Metzheiser acknowledged that project-based sales will always play a key role for integration businesses. As such, he proposed a relatively modest goal: Integrators should aim to generate 25% of their revenue from the RMR model. To achieve that, though, he said businesses must take several concrete steps: Those include ensuring complete leadership buy in, creating proposals built around service/subscription offerings, training salespeople to convert their selling style, aligning marketing assets so that they undergird and amplify the message of AV as a service, and shifting mindsets from AV systems designed for ownership to AV systems designed for use. TAMCO, he added, can help with things like proposal writing and team training, in addition to financing the initial equipment acquisition. The level of post-talk engagement indicated to me that integrators in attendance were intrigued.
Employees Take Power
The final speaker whose presentation I saw, writer and reporter Charlie Warzel, offered bracing insights into the ascendance of the labor force and the concomitant disempowerment of employers. Contrasting his views with the seemingly endless debate about whether employees will work from home forever or whether they'll return to physical offices, Warzel argued that the real future of work is flexibility. He cited a recent survey indicating 58% of employees are open to looking for a new job this year, and he added that the percentage is yet higher for employees who feel that their employer is inflexible. This mode of thought — and its outcome — has been termed The Great Resignation. Integration business leaders might be wary of Warzel's key takeaway: that people want to work where they want to work, when they want to work. And if that sounds like an ultimatum…well…for some employees, it may be.
If your business embraces flexibility — that is, allows employees to work in the location that suits them, on a schedule that works for them, while respecting the sanctity of their personal time to pursue their interests and passions — Warzel said that you'll have your pick of top candidates. Incidentally, he added, that might mean embracing the four-day workweek, which has been much discussed and debated in recent years. Warzel argued that institutions' ingrained blocks against new ideas cause them to discount things that they've not yet tried. But, he said, "We are living through an inflection point." And whether you're an AV integrator or a financial services company, you're likely going to have to leave your entrenched biases aside if you're going to attract and retain a generation of employees who are "rewriting work."
Concluding Thoughts
It's a lot to digest. There are crosscurrents here, offering both warning signs for integrators wedded to the old ways of doing things and glimmers of promise for those who choose to embrace transforming and revivifying not only their sales approach but also their human-resources philosophy. The macroeconomy will probably present headwinds in the months ahead, especially given the increasing likelihood of a recession before this time next year, and it's likely that customers will continue to be inquiring about product availability for many months. But our world is replete with incredibly talented knowledge workers, and the commercial AV industry has a good shot at attracting many of them. The metaverse, extended reality, artificial intelligence and immersive physical environments offer near-limitless potential for client investment. And that investment, if "subscriptionized" and delivered upon as a service, can perhaps yield your business 50 points of margin.
These are just some of the insights that I gleaned from having attended PSNI Supersummit. Ask your local CSPs and PVPs for their takeaways, which might be quite different from mine. But know one thing for sure: Those who trekked to Houston enjoyed a unique opportunity to ponder, learn, strategize and commune. Those who work with PSNI's global network of solution providers will reap the benefits of something that is regrettably rare: a true thought-leadership retreat. I'm honored to have been part of it.
For previous Commercial Integrator coverage of PSNI, check out our website archives.
If you enjoyed this article and want to receive more valuable industry content like this, click here to sign up for our digital newsletters!