Pro AV Industry Trends in Two Minutes: AVIXA's Predictions for the Next Few Years
AVIXA predicts the industry will grow to $230 billion by 2023. Here are the AV industry trends it believes will both help and hamper that result.
Leave a Comment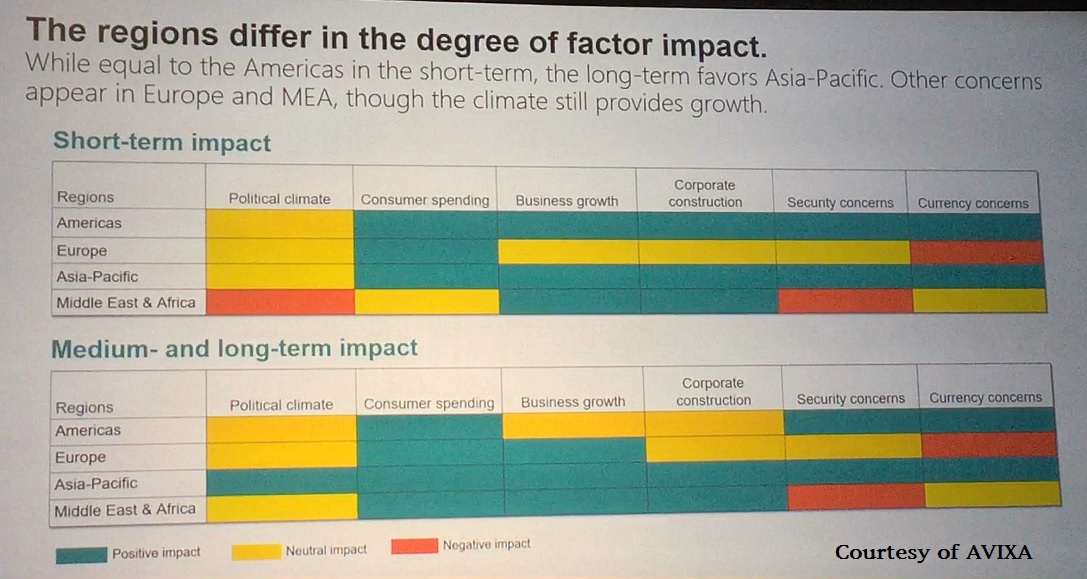 In just one presentation, AVIXA board of directors member Jeff Day highlighted a pretty bright future for Pro AV industry trends over the next few years.
At Stampede's Annual Vendor Summit last week, Day reviewed AVIXA's AV Industry Outlook and Trends Analysis research, which indicates a 3.8% Predicted Compound Annual Growth Rate (CAGR) in Pro AV spaces from 2018 to 2023.
We've already covered the report's assertion that, by 2023, pro AV will become a $230 Billion market. But what markets will be on the rise during that time, and what challenges will AV businesses face despite overall industry growth?
Key Drivers from 2018 to 2023
Robust short-term GDP growth
The past three or four years have shown GDP growth around the globe, making it easier in some ways for commercial AV integrators to establish themselves in overseas markets. It may be easier now to conduct overseas business than it ever has been.
Attending trade shows is just one way commercial av integrators can form partnerships with companies in other parts of the world. See more tips on that here.
Employment growth
Three years ago, the typical integration firm that was an NSCA member had 28 employees. In 2017, that average number ballooned to 45.
We can assume some of that was simply due to acquisitions (one company suddenly having many more employees); but there's still hope that organic employment growth will continue as efforts to expand AV employment awareness do, as well.
Infrastructure spending
AVIXA's reports show an uptick in commercial infrastructure spending. Have you seen any new strip malls go up in recent times? If so, those are potential clients.
Gains in digital signage
We recently asked our readers to tell us their favorite brands in digital signage displays, hardware and software; video wall displays, hardware and software; and video collaboration products. Our results show that competition among brands is pretty high; meaning that there's a market for many.
Our State of the Digital Signage Industry report also shows major gains: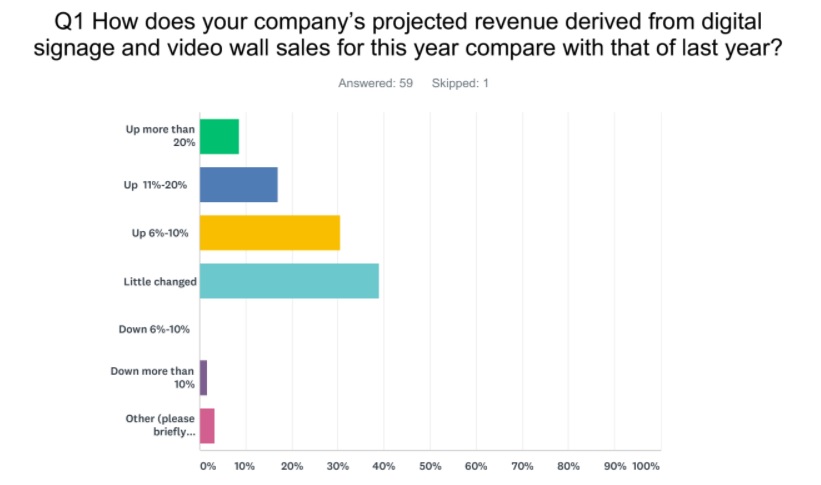 Threats and Challenges to Pro AV Industry Trends
According to day, the following are factors to watch which could inhibit growth in the above sectors. Companies who pay close attention to these and respond in turn have a higher chance at uninterrupted growth, he says:
Slower GDP growth mid-to-long term
Rising commercial real estate prices
Curbing labor force growth