How Cisco and the NSCA Saved the AV Industry
Legislation almost made pulling PoE cable impossible without an electrician's license – until Cisco & the NSCA stepped in.
Leave a Comment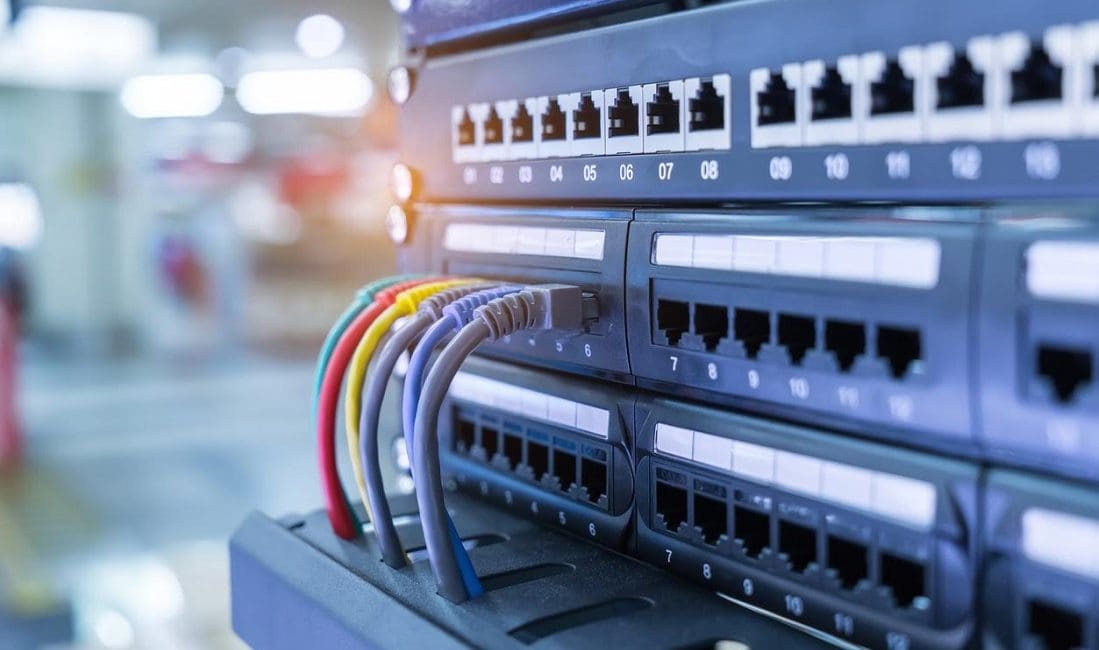 While you weren't paying attention, the NSCA and Cisco saved your ass from regulations surrounding pulling PoE cable. You wouldn't know it if you didn't attend NSCA's recent Pivot to Profit event in Dallas.
You wouldn't have realized if you didn't open the multiple call to action e-mails that the NSCA sent to your inbox throughout the year. You wouldn't know if you don't pay attention to the minutia of state-level law and regulation approval.
Still, whether you were aware of it or not, a silent guardian of the AV industry was keeping your business safe in a number of states across the U.S.
"I would have lost my job if it weren't for NSCA helping us defend the regulation in Texas that would have meant I had to have an electrician's license just to plug in a PoE port," says Jason Potterf at the Pivot to Profit event.
Potterf is a veteran of both the networking and lighting industries. He currently is a technical leader at Cisco where he is the architect for the Cisco Digital Building family of Power over Ethernet Switches, as well as a technical advisor to the Cisco Government Affairs Department.
He is also long-time member of ESTA's Control Protocols Working Group which develops industry standard lighting control protocols.
Potterf was uniquely qualified to lobby against a number of laws across multiple states that would have made it effectively impossible for integrators to implement any technology that requires pulling PoE cable without first becoming a certified electrician in any state they do work in.
Faster Than the Speed of Light
It used to be that a smart building was complicated, requiring coordinated efforts from multiple installers with engineers in the middle to get the technology working together. Through standards and the convergence onto ethernet networks, smart building technology has become easier to install than ever.
The specific aspect of smart buildings that drew the need for lawmakers to get involved was lighting.
Once upon a time, you installed lighting using AC power, and if you wanted some ambiance, you put a dimmer on the line. Then PoE came along, and lighting changes forever.
Cisco and the NSCA were able to fight the legislation so that there was either no effect or an actual gain in the benefit to integrators in terms of pulling PoE cable. 
With PoE lighting, every time power is delivered to the fixture, there is also a data channel with more bandwidth than one would ever need for a light fixture.
"So now, the light does send light to the floor, but it brings a lot of data back," said Potterf.
"Ambient light sensing. Daylight harvesting virtually automatically. They can even talk to each other.
"You can do speakers, you can do air quality monitoring, you can put a battery on it, or a UPS on the switch and have your emergency lighting solutions. In the long run, we see visual light communication," he said.
Now, PoE doesn't just give these capabilities to lighting. Cisco's recipe for success was embracing standards and providing networks for people to deploy their applications.
In addition to lighting, HVAC, badge readers, door locks, displays, sensor hubs, access points, horns and sirens, call towers, ceiling fans, cameras, phones, window blinds, temperature sensors, and even USB-C chargers can be powered using PoE.
These solutions can now be combined into an overarching smart building system that gathers data, allows for remote monitoring and management, and creates new and exciting applications for otherwise standard installations.
The Origin Story
The advent of all of these new possibilities brought new success to the integration industry. Success brings criticism, this time in the form of the "Fact-Finding Study on Powering Over Data Cables" released by UL and funded by The Society of the Plastics Industry, Inc.
"This all really started with this particular document," said Potterf. "We all know if you run power through a wire that it starts to heat up. 'Are we in the danger zone?' is the question that they had.
"They commissioned this study and tried everything. They started with the best practices and all of them were fine. So then they started to go to edge cases, like what happens if you put it in a metal conduit and put firestop on both ends. Ok, you've just constructed an oven, and, surprise, the cable got hot," he said.
This is truly about survival and what we had to do this year to make sure that our members would be here and still be in business. This was a harsh reality that we had to face that we did not see coming." Chuck Wilson, NSCA executive director 
This triggered a discussion in the National Electric Code—which, Potterf says, is the right thing to do.
When you have a safety concern of a technical nature that effects building construction techniques or electricity, it should go to the NEC.
What came of it was Table 725.144 NEC, which lets you know that the Ethernet part of PoE breaks down after 45-degrees Celsius, and to be TIA-568 compliant, the horizontal must be 24AWG or larger.
"If you're running the optimized cat5e 22-gauge, you can bundle all the way up to 91 cables," said Potterf. "If you're doing 23-gauge cat6 or cat6a, which is probably what most people are pulling these days, you're good up to 61 cables. Even with cat5e, you're good up to 37 cables.
"No surprise, because the plastics industry funded the study, but there is a plastic additive that you can put on your cable and suddenly the problem goes away. You could also stop building giant trunks," he said.
A Supervillain Emerges
They didn't see satisfaction in the NEC. They didn't see the benefit that, over a certain threshold, an electrician needs to pull the PoE cable.
"We said no. The stuff is low voltage. No fire hazard, no shock hazard, and the concerns about cable heating are overblown and they only occur in really large bundles. We can solve that. We can self-police. No problem," says Potterf. "NEC said, 'This is great.'"
In order to understand what happened next, there are certain distinctions to be made:
Standard – PoE is a standard. If you don't comply with a standard, the worst that will happen is that it won't work right.
Code – A code is written by a third-party organization (not the government) that is suggested to become law. It doesn't become law until it's adopted, and various jurisdictions will do various levels of edits before adoption.
Law – A law is brought forth by legislators and is enforced by the government.
The National Electrical Code defines Class 1, Class 2, and Class 3 circuits.
PoE was defined as Class 2, which didn't require a license or permit to pull cable. Then 90W PoE was ratified, and the people that installed high-voltage AC realized that they make a lot of money on the lighting package, and this wasn't good for their industry.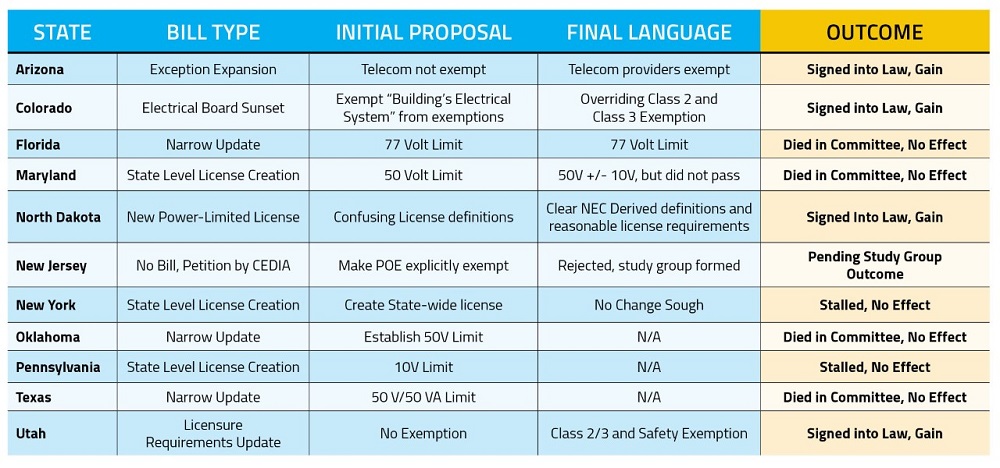 Legislation popped up in almost a dozen states that called for an electrician's license in order to run PoE – each with the same conflicting messaging:
PoE is dangerous! – Not really, people do it every day. Remember the time you moved your desk and had to unplug your phone and plug it back in? That violates the laws that were being put in motion.
PoE is a new technology that recently appeared, and is having a unique impact that is sudden, abrupt, and unpredicted! – PoE has been around for 20 years. Cisco invented it, and invented it to be safe. That's why the company got involved when things happened.
Pulling PoE cable should be done by electricians! – Yes, if they're trained. However, there is nothing on the electrician's exam that has anything to do with PoE.
You must have this big, educational event in order to become a PoE installer! – "In high school, I taught Boy Scouts to pull cat5," says Potterf. "It's not hard. You can learn the proper technique quickly."
Still, in a dozen states integrators were in peril. That's when Cisco and the NSCA got involved.
In Maryland, for example, they were actually trying to make things better by bringing a patchwork in licensure into a statewide license. Cisco dug in to help, making sure the language was right.
Texas was the exact opposite, a torpedo at PoE. Cisco simply explained what it actually meant, and once legislature knew, it went away.
Here They Come to Save the Day
In the end, Cisco and the NSCA were able to fight the legislation so that there was either no effect or an actual gain in the benefit to integrators in terms of pulling PoE cable.
"This is truly about survival, and what we had to do this year to make sure that our members would be here and still be in business," says Chuck Wilson, executive director of the NSCA. "This was a harsh reality that we had to face that we did not see coming.
Read Next: Selling AV Products Outside the Channel Isn't Only a Bad Idea—It May Be Illegal
"We went to work on that, looking at all of the emerging technologies and trying to pinpoint where all the battlegrounds would be. What are we fighting over with all these other industries. It came down to one little thing, which is PoE," he says.
"It became something that turned into a whole slew of unintended consequences that we had to defend our position on," says Wilson.
Defend they did, and thanks to Cisco and the NSCA your technicians aren't required to go get electrician's licenses. In lieu of a thank you, just make sure you open the action item emails from the NSCA moving forward – next time they might need your help to save yourselves.
If you enjoyed this article and want to receive more valuable industry content like this, click here to sign up for our digital newsletters!