The Opportunities and Challenges of Buying and Selling Your Integration Firm
Private equity firms are making serious inroads into the AV integration market—but they're looking for predictable cash flow through recurring revenue.
Leave a Comment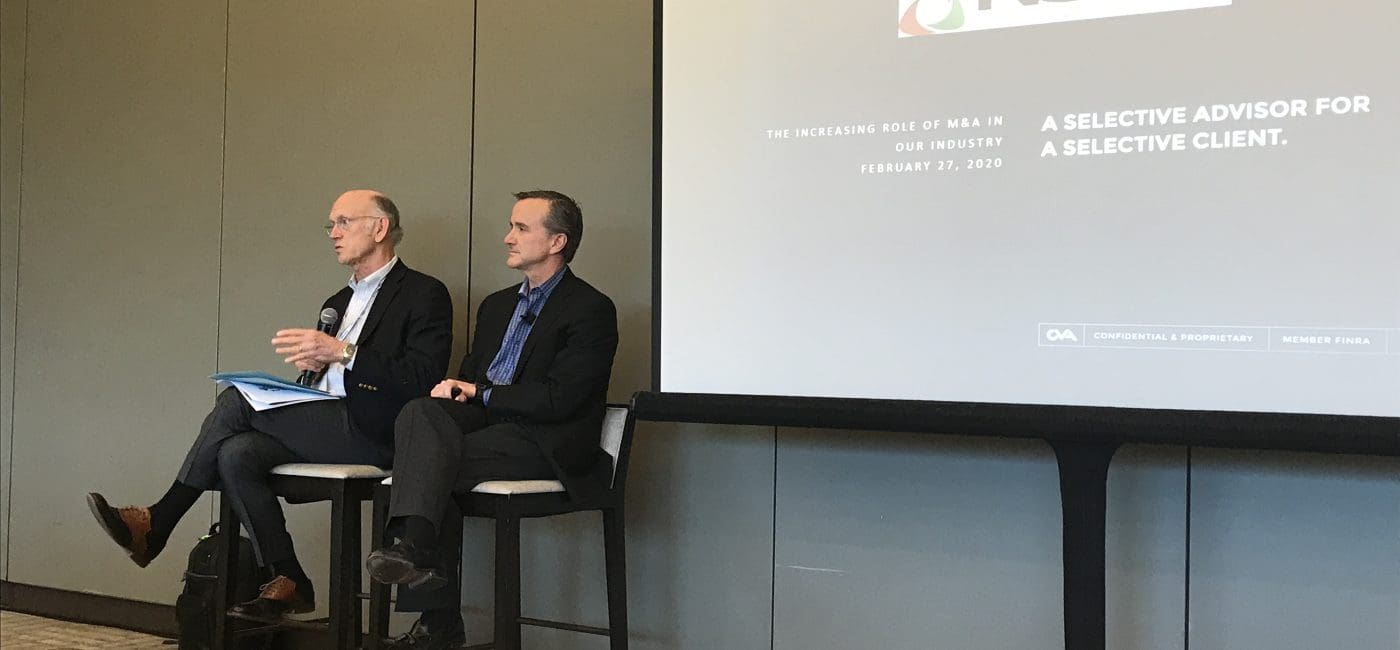 Of course, the bottom line is a big factor in every one of the mergers and acquisitions we've seen across the AV integration landscape in the past several years—from the $1.3 billion pending mega-merger between AVI-SPL and Whitlock to the smallest transaction that matters mostly to the people involved.
But money isn't the only consideration in making a deal—and it might not be the most important one either.
"It's hard to overstate the importance of good character," said Chris Younger, managing director of CapitalValue Advisors, during a breakout session on the increasing role of M&As in the AV industry at the 22nd annual NSCA Business & Leadership Conference last week in Dallas.
"There's a lot of emotion, especially at the end of the deal and it's really stressful. If you don't have (good character), getting through all of the nonsense can be really challenging," he said.
For those who are thinking about retiring from or selling their businesses, it's crucial to have someone on the team who potential buyers can look at as the second in command, said Younger.
Such was the case when Beacon Communications brought in Brad Walsh a few years before founder Michael Hester planned to retire so he could eventually take on the role as president of the company.
"If you're working 70-80 hours a week and leading most of the sales and operations for your company, the business is probably way too dependent on you," said Younger, who was an advisor to Beacon on its sale that helped Hester retire. "That makes buyers nervous."
PSA Security Network president and CEO Bill Bozeman has been part of a handful of acquisitions over the years and says he's learned a lot of lessons from mistakes he's made in those transactions over the years. Perhaps the most high-profile deal PSA made was acquiring USAV Group a few years ago.
"You don't have the skills to catch all the details," said Bozeman, advocating for audience members not to try to craft a deal on their own. "Use a professional who knows the niche and knows all the nuances. Don't use your brother-in-law or your next-door neighbor to try to save money."
When, Why and How to Buy and Sell
If you're thinking of retiring or selling your company today, you probably should have been preparing for it for the past two or three years, said Younger.
"Entrepreneurs tend to have blind spots about the risks in their business or the things that could kill a deal," he said.
Younger's firm partners with the NSCA to craft a 130-question document through the Copilot initiative that will help business owners identify some of the risks in their companies and offer strategies on how to address them.
"Any buyer of any significance is going to do background checks on you and your entire team," he said. "Outside of financial performance, your management team is probably the most important factor in selling your business.
Bozeman has seen enough deals to know the process of selling a company that you've spent years of your life building can be "very painful," especially for those who don't get the golden parachute they're expecting when they finalize the deal.
"A $3, $4, $5 million company isn't worth that much," he said. "If you want to make some money, you've got to get it up to $10 million." Bozeman calls managed services "the golden fleece" to which integrators should be aimed if they really want to earn a sizable return on their investments.
Younger agreed and said private equity and venture capital firms are investing heavily in AV and security integration firms lately because of the gradual shift those companies are making to a recurring revenue model.
"They want predictable cash flow," said Younger, noting private equity firms have trillions of dollars "on the sidelines" waiting to be spent right now.
Bozeman advised sellers to also be careful of how much money they don't get upfront when they make a deal. They could—like him—be waiting years before they get the final amount they expected or not realize they signed a contract that doesn't allow them to work for the buyer or anyone else for a while.
A "rigorous screening process" can keep buyers from wasting a lot of time and money on "deals that make no sense," said Younger.
"You have to understand your own road map," said Bozeman.