The Ongoing Evolution of the Hybrid-Learning Opportunity
The contours of in-person instruction, distance learning and how their hybridization offers opportunity for integrators that are willing to play a consultative role.
Leave a Comment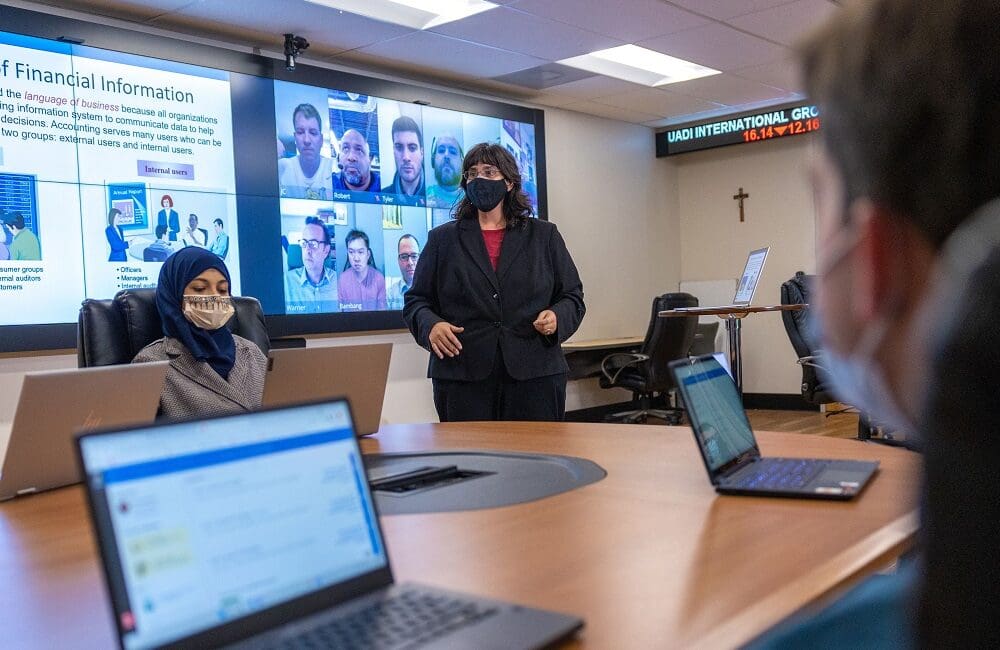 When the COVID-19 pandemic paralyzed society in early 2020, virtually every commercial AV vertical market experienced dramatic changes. Venues emptied of spectators as concerts and sports events ceased; workplaces locked their doors as employees learned to work from home; and educators and students acclimated themselves to an entirely new approach: distance learning.
As I write this article in early April, the pandemic has largely receded from our lives. Most people aren't masking anymore; live events, packed with excited fans, have returned; and people are planning those long-delayed summer vacations.
Other pandemic accommodations, however, seem to have become enduring societal shifts — most notably, the transition away from knowledge workers commuting to an office every day to do individual work.
In this, our annual Hybrid Learning Deep Dive, we endeavor to inform Commercial Integrator readers about whether hybrid learning likewise has legs, and, if so, how integrators can capitalize on that continuing opportunity. 
Education Remains a Prime Market Opportunity
CI consulted with Sean Wargo, senior director of market intelligence for AVIXA, about the size of the learning-solutions market and its level of demand. He pegs global revenues for learning solutions in '22 at just under $35 billion. Its compound annual growth rate (CAGR) between '21 and '26, he notes, is projected to be 4.8%, a number muted by slower growth in the outer years.
For '22, Wargo reveals, we'll be closer to 7% or 8% growth, with 6% anticipated in '23. "You get this pretty good wave of investment as learning solutions adapt…as education adapts," he opines. In this report, we'll seek to explore the nature of learning-solution adaptations in the context of the education vertical. 
In CI's conversations with a range of industry thought leaders, virtually everyone agreed that hybrid learning represents an enduring change and thus, is an opportunity that's still ripe.
"We're seeing that the world is forever changed in education now that the need for a hybrid learning environment has been identified," Travis Askew, vice president, Solutionz Atlanta, says. "Hybrid education is not slowing down in the wake of COVID-19 [waning]; it's a 'must have' going forward."
Matt Boyer, director of technology, Vistacom Inc., agrees, saying that the pandemic created an opportunity to test hybrid-learning technology on a massive scale. He continues, "…[R]emote learning provides a new way for learners to access information either synchronously or asynchronously, and the right unified collaboration technology can foster student engagement even in hybrid scenarios." 
AVIXA's Wargo makes the salient point that, for decades, colleges and universities have used their physical campuses as a competitive advantage, extolling resident life, collegiate athletics and campus amenities. Therefore, he says, it's only natural for higher-ed institutions to want to get back to in-person learning.
However, Wargo clarifies, that doesn't mean they're tapping the brakes on hybrid-learning investments. "It's best used as an augmentation…as another learning style and extension," he opines. Wargo offers two possible approaches: content extension, whereby students can access materials on their own time to supplement their learning, and breakout sessions that are technology-mediated. 

Joe Perez, who is chief technology officer with ClearTech Media, as well as a member of the NSCA Emerging Technologies Committee, picks up on that thread. Perez cites his 12-year-old daughter as a case in point. "She has the ability to chat with instructors, review the data and [gain] instant document access because her school has now integrated everything into one platform," he relates.
"I'm sure this has also had a positive impact on instructors." Acknowledging how demanding the onset of the COVID-19 pandemic was for academic institutions, Perez observes that some weren't able to shift quickly enough and offer the best technology or platform to every student. Those institutions, he continues, "…have evaluated the way they teach, [and they're] looking to add new technologies that will bring people together." 
Investment Across Approaches
Integrators can expect to see opportunities both for hybrid-learning systems and for more traditional classroom systems in the intermediate term. As Wargo puts it, "You're now seeing reinforcing investments in how to facilitate a distributed learning mode, as well as improvements [being made] to classrooms to better foster content capture and collaboration…." Incidentally, he notes, those investments include integrating truly in-person classroom technologies, such as projectors. 
Jim Maltese, vice president of quality standards, Level 3 Audiovisual (L3AV), agrees, saying that, although no higher-ed system goes out without some element of distance-learning capability these days, decision-makers are approaching investments with a wider view. He explains, "…[T]he distance-learning capability does not always command as large a percentage of the project as it used to. I would guess than 10% to 15% of our higher-education [efforts] were dedicated to adding distance-learning capabilities."
On the other side of the fence, Jim Ferlino, president of Vistacom Inc., attests that hybrid learning has been the engine of the company's higher-education work lately. He explains, "…[Eighty percent] or more of these opportunities were either driven by distance education or included a distance-education component." 
K-12 vs. Higher Education
Is there a meaningful difference in hybrid-learning opportunities for K-12 clients versus those for higher-education clients? Among our interviewees, the answer seems to be yes. Vistacom's Boyer remarks, "…[E]ducation in K-12 — especially in the primary school grades — can suffer dramatically when we only use remote learning. Young students do not have the attention span and focus to learn this way."
Although the youngest students really must learn in a classroom, he says, some high school students, and even some of those in middle school, have proven they can do well in a hybrid environment. He points to the possibility that snow days might soon be a thing of the past; instead, young students can continue their education from the comfort of their home. 
AVIXA's Wargo argues that dollar for dollar, we can expect greater hybrid-learning expenditures in the higher-education space simply because of the nature of K-12 learning. K-12 is about scalability — not wow! factor — he observes; moreover, public schools must achieve an equality and a universality of access. And, of course, it's plainly obvious that not every student is technology-conversant or connected to reliable, high-speed internet. 
L3AV's Maltese picks up on the limitations of hybrid learning for younger students, speaking from the heart. "K-12 instructors have so much going against them," he says. With K-12 students being less engaged when doing hybrid learning, teachers working to foster that engagement could end up experiencing burnout.
"More of [K-12] instructors' days are dedicated to instructing," Maltese continues. "Creating engaging content for six hours every school day is a very tall order for teachers that are already overworked and underappreciated." He contrasts that with college professors, who, he says, might only provide three hours of instruction per section per week. "So," Maltese adds, "reimagining how that material [could] be delivered over a distance-learning methodology in a meaningful way is a more realistic task." 
Related: Live Streaming Best Practices for Schools
Solutionz' Askew offers a different vision, saying that the recipe for K-12 may be less about using hybrid-learning technology to teach students in their homes and more about transporting students in the classroom to faraway places, thus broadening their education journey.
"Bringing world-class educators into the classroom and offering virtual field trips to students [to bring them to] remote areas, like Alaska, transforms their educational experience," Askew declares. He cites the Grand Canyon as a prime example, saying, "…[R]eading about [it] is not the same as virtually flying over the Canyon and seeing the entire landscape in rich detail." In short, he views these technologies as a means of making "The Magic School Bus" and its awe-inspiring trips something attainable in the real world. 
From Wargo's perspective, the higher-ed space offers a more traditional play for hybrid-learning technologies. He explains, "I think you're getting more into the favored in-person recording of class so that somebody could come back and watch the lecture and partake that way."
This dovetails with his earlier point about content extension. "If I'm going to continue to promise a premium experience at a top 50 university in the United States," Wargo continues, "I have to further differentiate myself from just the smattering of online offerings that are [out] there."
And that could mean, for a prestigious institute of higher learning like Harvard University, promising students access to their world-renowned professors anytime, anywhere, via integrator-facilitated hybrid-learning solutions. 
Considering the Technology
When it comes to key technologies within the hybrid-learning space, our integration experts pinpoint the same ascendent offerings. They especially emphasize technology solutions whose inbuilt AI empowers instructors to be flexible.
Solutionz' Askew notes, "Cameras that track the presenter around the room and microphones that pick up wherever the speaker is standing remove barriers to seeing and hearing, creating optimal learning experiences without unneeded distractions."
Boyer amplifies that sentiment, saying, "The latest, AI-enhanced cameras can track instructors as they move around the classroom with greater accuracy than previous generations [could]." He also extols the virtues of powerful digital signal processing and beamforming mic array technology, stating that these deliver clean and articulate audio to remote participants. 
AVIXA's Wargo notes that many audio companies that made their name in live events and venue-based solutions have taken note of the explosive growth in conferencing and collaboration, and they're now looking for an opportunity to shine. And L3AV's Maltese believes that opportunity is ripe, given that, in his view, audio will always be the most important capability of any learning technology.
"Deploying distance-learning systems with exceptional audio performance should be the top priority for all stakeholders," he declares. In light of that, it's not surprising that audio powerhouses like Shure, Audix and Sennheiser are devoting ever-greater attention to this space. 
Hybrid-learning systems, by their nature, fit in perfectly with the industry-wide embrace of network-based systems. As Wargo puts it, "We're seeing more and more [of these] products — in the audio sphere, particularly, [such as] speakers and microphones, and cameras on the video side — better integrating into an IP backbone."
All these devices are becoming, in effect, a series of network endpoints. This transformative approach inevitably involves concessions, however, given that AV devices must play well on the network. But Maltese makes clear that expectations for quality are increasing, not diminishing.
Commending the virtues of screen-equity solutions like Zoom's Smart Gallery, he enthuses, "Think about how enjoyable the desktop conferencing experience is: You can see everyone's face [and] you can hear everyone clearly — it's great!" That, he says, must be the standard for hybrid learning. 
What's the Price Tag?
As discussed, the learning-solutions market is experiencing robust growth this year, and that should continue in '23. However, at a time of continuing economic uncertainty owing to pandemic-, inflation- and war-related factors, it's worthwhile to consider just how large an investment education institutions must make to achieve the kind of quality that Maltese describes.
From Askew's perspective, a substantial monetary outlay is not necessarily required. He elaborates, saying, "A good design identifies the challenges of the room itself. What a school wants to accomplish in each specific room, and having a reasonable expectation of budget, [plays] a factor in having a successful distance-learning environment." 
Vistacom's Boyer echoes that sentiment, arguing that it's possible to deliver a rich experience, while keeping the investment to a minimum, by focusing on key areas like audio and proper camera placement. Harking back to the early days of the pandemic, when everyone was scrambling to pivot, he continues, "Classrooms that were outfitted with room audio systems that could pick up the instructor and students, along with cameras that could capture the space, provided a more engaging experience for the remote learners."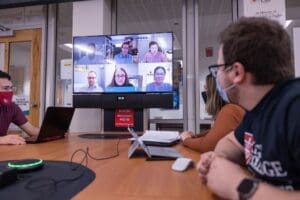 Here, again, we see a throughline of the entire discussion — namely, the criticality of microphone selection and camera choices. Those technologies likely won't bust the budget, but they'll be difference-makers in facilitating effective hybrid learning. 
One wrinkle is that, too often, project leaders think only about picking up the instructor's voice and capturing their movements on camera. In Maltese's view, that kind of myopic focus on the instructor can be ruinous. Such an approach, he argues, "…only gets you 50% or 60% of the classroom experience."
Maltese elaborates further, explaining, "[By] providing classroom cameras and microphones to pick up the rest of the class members' faces and questions, [it] offers a tremendous amount of classroom experience." Thus, he argues, when integrators approach "mixed-mode" hybrid-learning applications where some students are physically present and others remote, they mustn't value-engineer the system into ineffectiveness.
He explains, "…[R]emote participants must have elements of being in the classroom to complete the experience." Or, as Askew puts it, "The goal is to [achieve] a seamless integration of people who are present, people who are remote and the instructor." 
The Opportunity to Sell Services
As with virtually every vertical and solution area, hybrid learning offers attractive opportunities to sell services. Mike Abernathy, director of business resources, NSCA, states that he's already seeing such agreements unfold. "This is an opportunity to provide more than just hardware and look for the recurring revenue," he explains. "Many vendors within the industry are now offering solutions and services to monitor rooms onsite and remote devices…." He adds that some of them even have financing built right into the offering. 
Andy Bourquin, director of professional services, Radiant Technology, Inc., makes the case that prospects for selling services into the higher-ed vertical have improved considerably since the pandemic's onset.
"It seemed as though our higher-education customers were unprepared to properly support these systems," he reveals, "and [they] were under exceptional pressure to make decisions and get things moving."
Thus, although higher-ed was challenging terrain for selling managed services prior to 2020, Bourquin now says, "Over the last two years, we have experienced an increase in managed-services revenue from these customers, and the types of services are fairly consistent."
Related: AVaaS and a Monthly Payment Option is Working During the COVID-19 Pandemic
He offers an extensive summary of those offerings, which include the configuration of management software, client access to Radiant Technology's online knowledge base, annual preventative maintenance on every system, same-business-day onsite response to issues beyond remote repair and access to "hot-swap" inventory. 
Vistacom's Ferlino amplifies Bourquin's comments, saying that historically, corporate clients have embraced managed-services offerings more robustly than colleges and universities have. The reason, he says, is that education institutions "…usually leverage site staff, in addition to part-time student workers."
But various learning institutions offer divergent opportunities, and a well-rounded package of services can be a real difference-maker. Ferlino states, "The more robust use cases for comprehensive managed services include special events, after-hours support and priority response-time contracts for specialized classroom systems." 
With services, as well as everything else, integrators must prove that they're offering genuine value to their clients. One of the best ways to do that is to leverage services to capture data that will empower clients to make better decisions. L3AV's Maltese says, "[Our remote monitoring and management] service allows us to manage firmware to devices, as well as provide a safe portal to any required device management.
It also allows us to provide room-usage analytics that can help spot usage trends and guide AV decisions for that specific team in the future [as they continue] their space-planning endeavors." He adds that remote monitoring and management not only empowers clients but also, in fact, can result in clients holding AV systems in higher esteem. "Ensuring they have immediate access to system information creates well-informed and well-trained users," Maltese opines, "ultimately improving the reputation of the AV solutions." 
What about Training?
Maltese's mention of training invites a discussion of how integrators can help train education institutions on how best to use their hybrid-learning systems. Vistacom's Ferlino, who says that offering high-quality training has become table stakes these days, remarks, "…[W]e have a professional trainer on our staff, who provides structured, targeted user training on every completed project." And when that isn't enough, Vistacom offers additional training services that clients may contract for, as needed, to maximize the use of their new technology. 
Solutionz's Askew says that, although many schools have a team on staff to ensure teachers are properly certified and credentialed, "[Schools] don't always have the…resources to help with adoption of new technologies." That's precisely where an integrator like Solutionz introduces their custom-designed adoption and digital-training services. "We have in-person and online training options," Askew describes, "as well as a customized online classroom portal to provide access for participants to ask questions, review lessons and reference additional resources." 
L3AV's Maltese points out that education institutions have year-to-year turnover — not just of students but also of instructors and support operators. That means there's an evergreen need to provide information and guidance. He cites quick reference guides as fantastic resources, but also prone to vanish between semesters.
Thus, Maltese says, "We permanently mount a QR code to the system so anyone with a question about that particular system can scan it with their phone and be automatically taken to a portal with information about the system…." No app download is required, no fuss and no muss.
"They have immediate access to system drawings, a narrative describing what the system can do, operations manuals, training videos and even a tech-support line, if required," he says. From Maltese's perspective, AV integrators like L3AV can reinforce their reputation by offering this kind of curated system information in seconds. 
NSCA's Abernathy rounds out the subject, arguing that, taken together with managed services, robust training efforts can lead to increased sales and improved client retention. Knowing that not every integrator has fully developed their training offerings, he adds, "There are industry providers that can assist in these services." For example, Abernathy cites OfficePro, an NSCA business partner, which offers methodologically sound training services for end users, technical personnel and administrators. "[They're] a great resource for this," he adds. Those who want to learn more can go to OfficeProInc.com. 
Closing Takeaways
Many types of hardware are now commoditized, there's been a shift toward soft-codec based platforms and continuing economic turbulence is in the forecast. That means there are several key takeaways for integrators seeking success in the hybrid-learning space:
Don't just be a provider of hardware; be a provider of solutions

The most valuable thing you bring to the table is your expertise and consultation

Find ways to leverage monitoring and management, as well as training, to develop a "stickier" relationship with your clients, as well as to foster better outcomes that will boost your firm's brand equity and our industry's prestige

Learn everything you can about classroom learning design so you can be a better, more consultative partner.

 
As Wargo puts it, integrators should be able to answer a fundamental question: How can technology facilitate better learning experiences? "It really requires a lot of homework and a lot of time with the client to truly, fully understand their desired outcome," he opines, "[as well as] the pedagogy." Wargo urges thoughtful consideration of the optimal learning mode in various situations, describing this as, "…[T]he way in which the content needs to be shared and experienced by the learner." Could that mean a longer sales cycle? Absolutely. But, with supply-chain delays such as they are, it's worth taking that time to fully ascertain the client's desired outcome and the appropriate solution to achieve it. 
Summing things up well, Solutionz's Askew says, "With limited budgets, schools are striving to adopt affordable solutions that further promote student achievement through enhanced one-to-one experiences." Those experiences must be engaging and equitable, auditory and visual, and free from technical glitches and onerous learning curves. They must accommodate the education institution's varied modes of instruction, as well as individuals' own learning needs.
And, if the commercial integration industry is to capitalize on the opportunity ahead of us, these experiences must be facilitated by a committed, contracted, knowledgeable technology partner who is ready to take on the role of consultant, effectuator, troubleshooter and guide. 
Class is in session. It's time to learn.