AV+ Podcast: Jeff Singer on Solutions-Driven Marketing, Intentionality in Business
On this week's edition of the AV+ podcast, 20-year industry veteran Jeff Singer, a marketing expert, opines on how commercial AV professionals are reimagining their marketing approaches.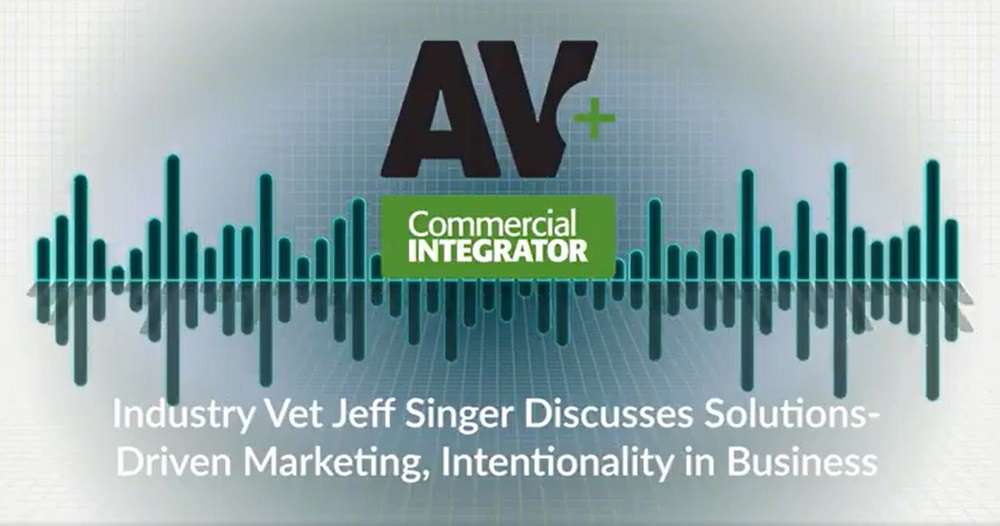 Listen to this podcast using the embedded player below.
On this Episode of AV+
On this episode of the Commercial Integrator AV+ podcast, Dan Ferrisi, host and editor-in-chief, chats with Jeff Singer, a 20-year industry veteran who possesses vast knowledge of marketing. The duo discusses how marketing has moved away from being product-focused and spec-driven (push) to being more solutions-driven (pull). They also touch on how intentional AV businesses have become in everything that they do.
Top Stories of the Week:
Here's what's happening around Commercial Integrator this week:
Collaboration 2.0: Where are we Know? Join us on Wednesday, August 3 at 11 am EST for a discussion on common hybrid work collaboration needs for the workplace and in schools. Presented by AVI-SPL.
CI's integration award winners reflect a mix of wow-worthy experiential excitement and practical, business-enhancing technical functionality. See the list of 2022 Integration Award Winners.
The 2022 Buyers' Guide Category Index sorts providers by product and service types while the A-Z Vendor list provides contact information for each of these companies. Download a copy today!
The Commercial Integrator Podcast
The term "pro AV" doesn't do justice to the whole integration crowd, so we at Commercial Integrator wanted to create a pro AV podcast that speaks to all the areas (and there are many!) under the umbrella of commercial technology integration.
The host, Commercial Integrator editor-in-chief Dan Ferrisi, is looking forward to providing listeners with an entertaining, informative forum for all topics affecting the commercial AV industry.
Prefer mobile? Find AV+ on iTunes