7 AV Integration Firms and the Important Lessons They Have for You
Commercial Integrator published profiles on several large AV integration firms. Let's revisit lessons from each to carry into the New Year.
Leave a Comment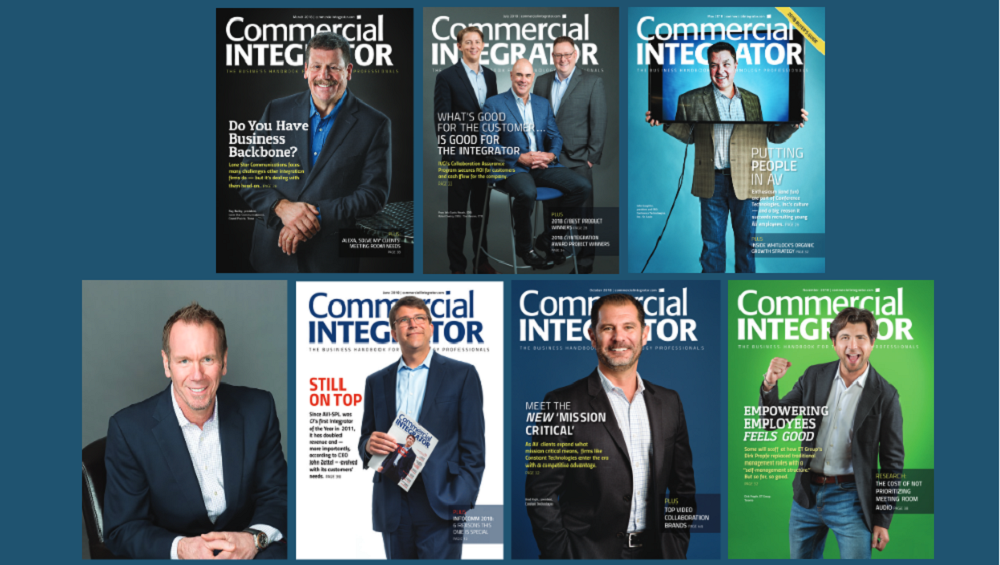 Choosing which AV integration firms to feature in our CI Profiles is among the most rewarding (and challenging) tasks we undertake.
The challenges stem from the fact that we can only feature so many. Constant Technologies, for instance, wasn't the only firm that shone through in its Fast-Growing Firms submission.
There are so many AV integration firms in this industry that warrant the spotlight. We hope we chose well for 2018.
Let's look back at the seven firms we profiled this year:
NSCA executive director Chuck Wilson sang the praises of founder Raymond Bailey, arguing that Lone Star sets a sound business example for the integration market.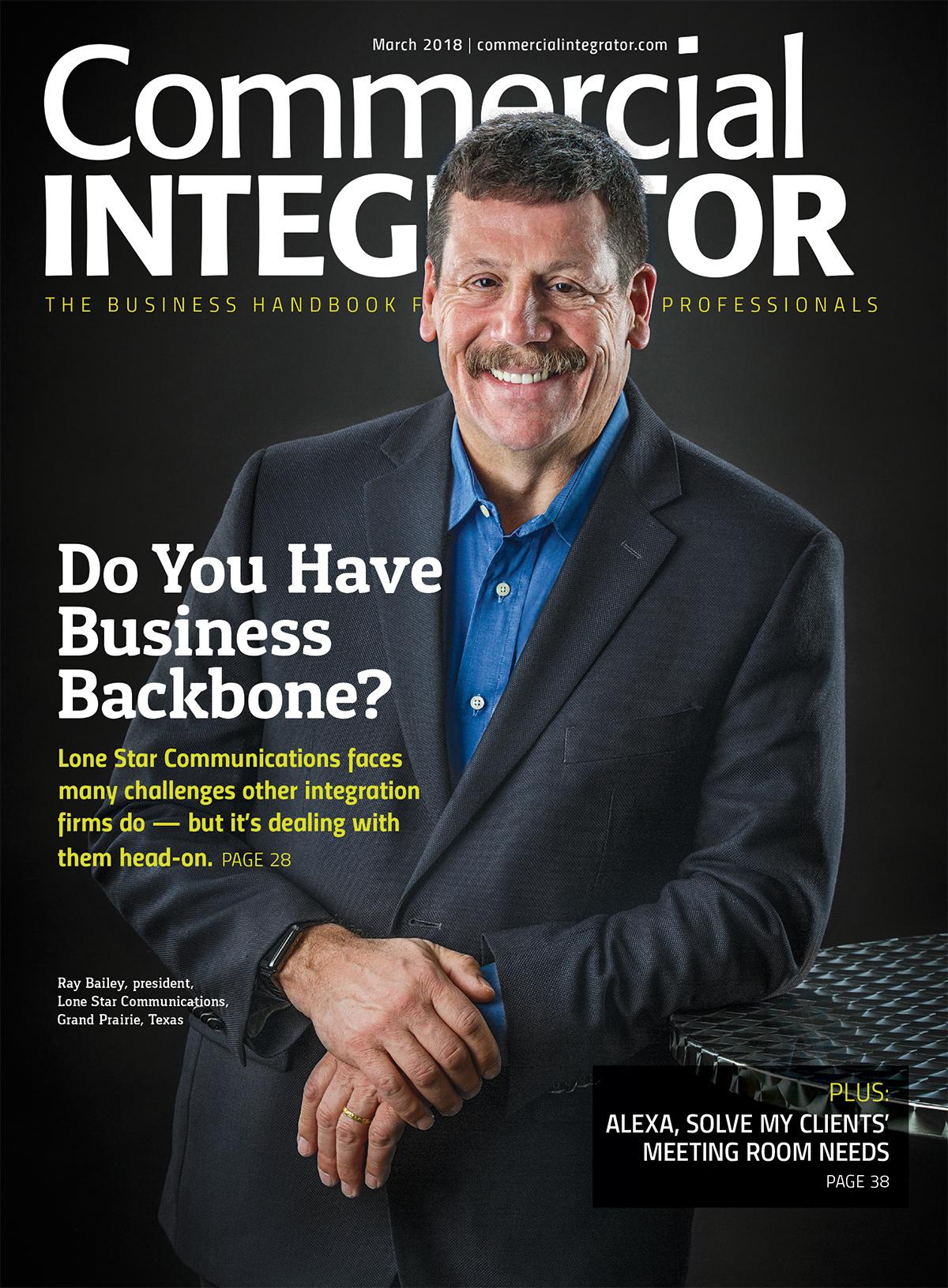 Take Lone Star's experience during the Great Recession, for example. Most firms would likely sit back gratified that they had a $9 million backlog, but not Bailey's.
"There weren't a lot of new jobs coming in," he told CI. Lone Star recognized a challenge that could threaten its long-term viability and addressed it.
"We looked at every project we had in-house and projected its installed timeline and how many tech and installers we would need on each project and when," Bailey said.
"Using that information, we could project our labor needs out months. It shows us where we had holes in labor and where what future weeks we were oversold." Lone Star had to lay off about half its staff over three cuts.
That experience taught Bailey the importance of tracking labor. "Being able to fill that gap allows you to do things you might not otherwise do," he said. "It carried us through that downturn."
Lone Star Communications also has a customer status board hanging in the break room of the Grand Prairie, Texas,office, with color-coded lights—green, yellow and red—that tell all who look at it the condition of the relationship with that customer.
We're as tired of writing about the AV integration industry's struggle to recruit young, IT-native employees as you probably are of reading about it.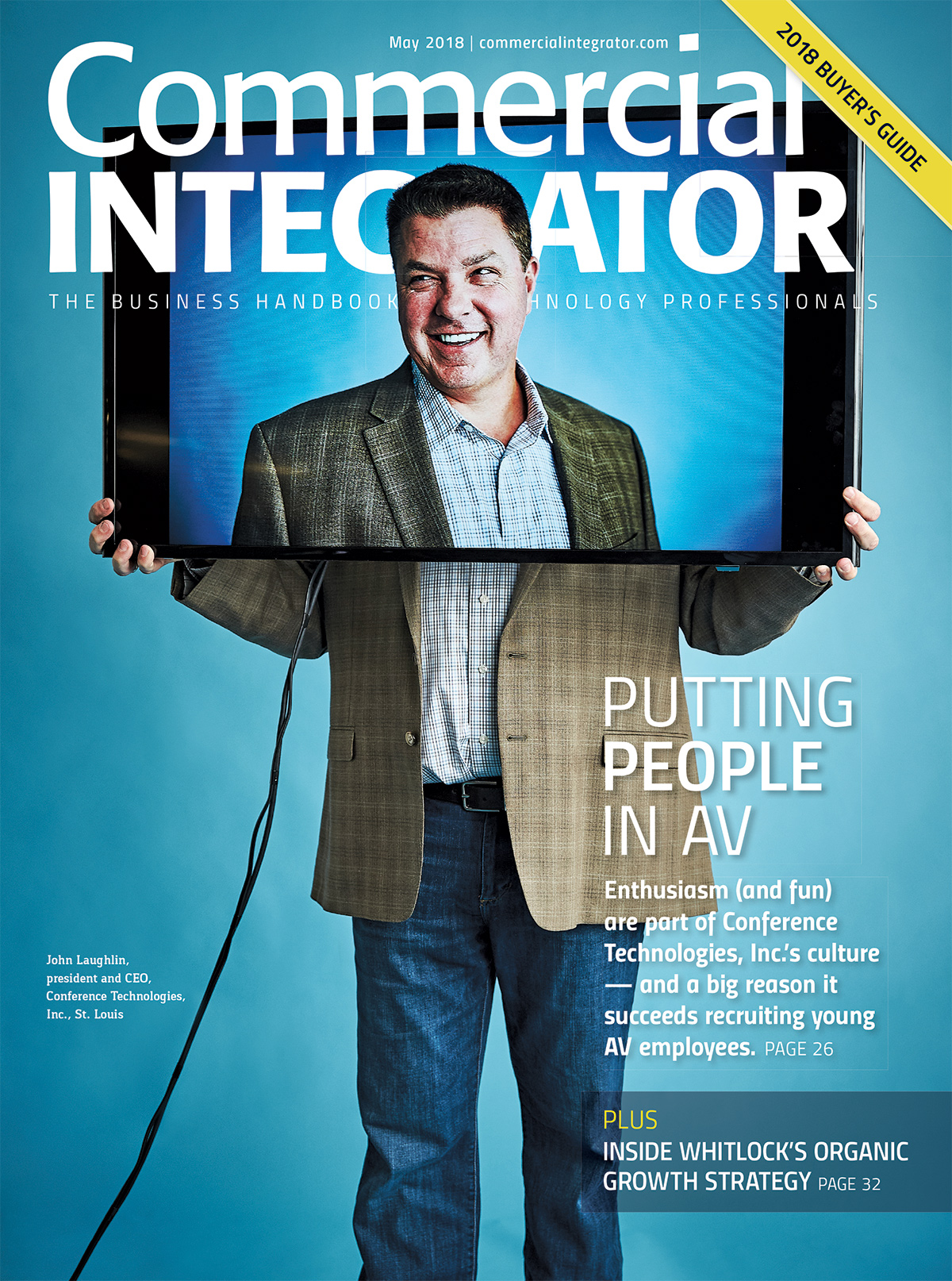 It's one reason why our coverage of Conference Technologies was refreshing — it seems to have transcended those challenges.
All new Conference Technologies employees are quickly armed with Nerf dart guns as part of their initiation kits, setting a company culture tone that employees have fun exploring their new careers. It's not just about fun.
"Educating our staff is one ofthe most important things we can do," said Laughlin."We want to help them to be amazing in life.
"If you want us to invest in you, we want you to show that you'll invest in yourself," said Laughlin.
"We want individuals who invest in themselves and are always looking to learn something new.We're hiring super-young and making a commitment."
So far it's working. CTI reports that, based on employee surveys, job satisfaction is skyrocketing. "We don't want to look like the rest of the companies in the AV integration industry," Laughlin said.
AVI-SPL hasn't surrendered status as the industry's leading integration firm.
Just like the industry did in 2011, in 2018 the increasingly global integration firm seems to know where the industry is heading and is positioning itself to be ready.
So, obviously, when I took the opportunity to ask Zettel what's important to AVI-SPL now (in June 2018), he looked to the future.
"We're clearly focused on the fact that collaboration means more than just video conferencing — and we're very focused on the fact that video conferencing and collaboration has to change the user experience at work," Zettel said.
"It is not just a form of communication. It is not just a way to have a meeting. It's a way to work on a daily basis and it'll become more critical as companies continue to attract and retain Millennials.
"It will be more critical as companies try to leverage their international and global work forces and it'll be more than just meeting.
"It'll be true collaboration," he continued, "and we have to make sure that as that continues to evolve, as content sharing, as video continues to evolve, that we're at the cutting edge of what those technologies are and how different groups within the organization will consume that technology and really be able to leverage it for their company's benefit."
It's not accurate to say that Whitlock, which projected over $330 million in 2018 revenues, is flying under the radar in the AV integration industry. But its commitment to organic growth does seem to reflect a heads-down workmanship.
In trying to drill down into what makes Whitlock tick, I asked executive VP John Steinhauer to expand on one of the tenets that he cited: a better approach to sales segmentation.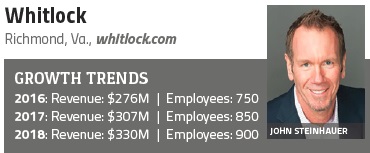 He said that over the past year Whitlock had broken sales into three distinct groups — global account managers, key account managers and regional account managers.
"We have a pretty unique model in place where we're territory-less when it comes to selling," he explained.
"So if a salesperson has the customer relationship, they can deal with that customer anywhere and then get credit, if you will, for sales everywhere in dealing with that account.
"It's that old 'one neck to hug, 'which is nicer than the other more violent 'one throat to choke' analogy, but this has proven to be really successful for us."
Global account managers handle a small group of customers that are very well penetrated and doing AV business globally.
Key account managers have a list of customers that they're developing — strategic customers.
Whitlock pays close attention to the metrics of this group. Regional account managers focus on being successful in the company's regions, and these folks are largely focused on verticals that might be strong in that geography.
"We're constantly trying to figure out a way to focus on customer retention, to focus on customer development and to be very strategic about our acquisition planning," Steinhauer said.
One of the reasons we were compelled to write about IVCi was that we felt the AV integration industry, which has traditionally struggled to figure out how to sell managed services, simply had to become familiar with the IVCi Collaboration Assurance Program (IVCi CAP).
AV integrators often seem not to have any idea what to present as a managed service. IVCi CAP, meanwhile, is brilliant in its simplicity (the idea is simple, not the program).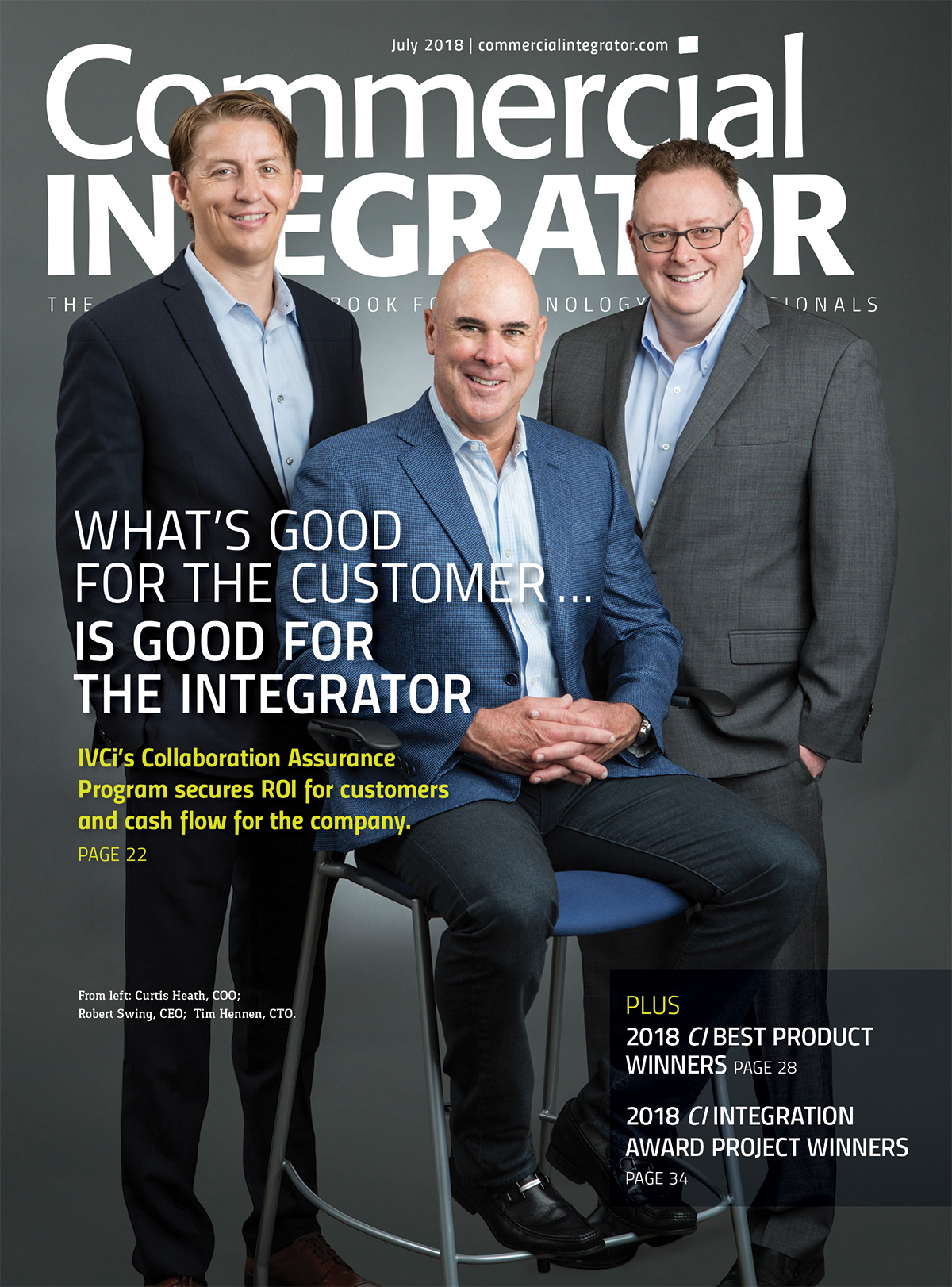 Video collaboration is an important category for integrators and their customers. However, if integrators and their customers are honest, they'll acknowledge that most deployed collaboration solutions are under-utilized and there goes the opportunity for repeat business.
IVCi CAP changes everything about that scenario in a way that benefits both customer and integration firm.
The managed services offering presents collaboration customers with what IVCi calls "a portfolio of Day 2 services," preemptively thwarting any tendency toward under-utilization.
IVCi CAP includes:
"adoption services" or training
helpdesk support
metrics and analytics delivery
system maintenance
general consultative support to ensure success of a rollout
So the resources and effort put toward IVCi CAP results in assurance of happy customers, likelihood of return business and — because it's a managed services package — recurring revenue for the integration firm. Multiple benefits.
"That's exactly why we came up with it," said Robert Swing, CEO. "It was frustrating that companies would spend millions of dollars on these systems and they had 30 percent utilization."
We used to know who the "mission-critical" integration firms were. They were the ones specializing in command and control rooms for high-stakes government agencies or utilities.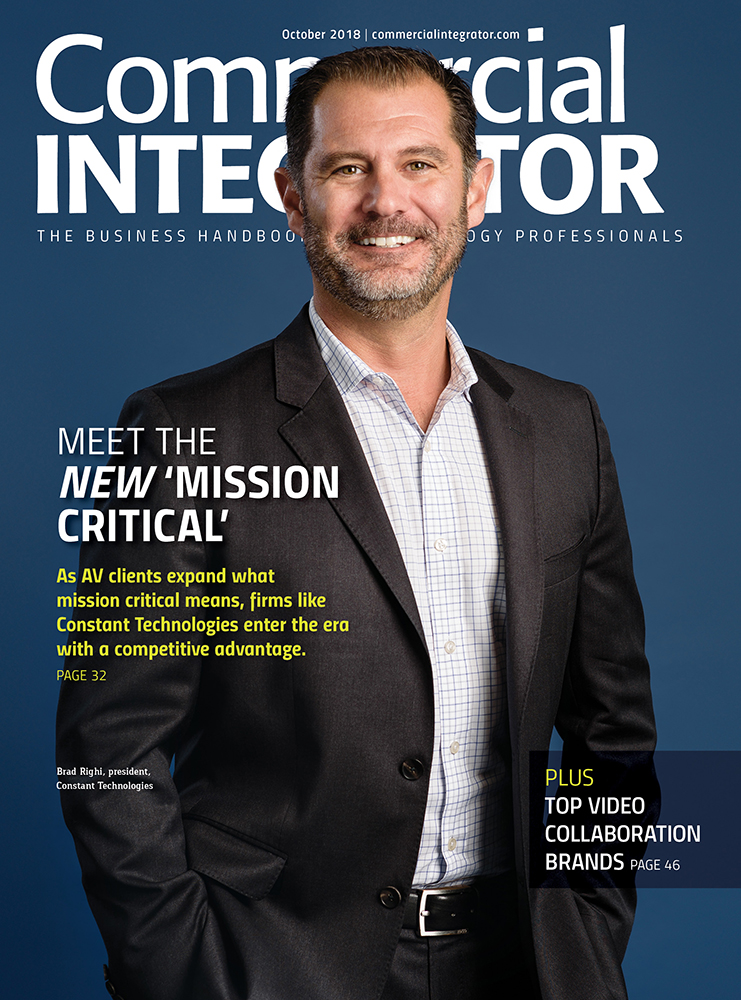 These days, however, many organizations view their communications, presentation and content-sharing as equally as "mission critical."
As the definition of mission critical AV broadens, it's almost as if a new customer category has emerged for AV integration firms to pursue.
"We've always stayed within that niche of complexity," said Brad Righi, president of Constant Technologies.
Meanwhile, traditional AV integration firms that provide mission-critical AV services in addition to more conventional solutions for other customers aren't as equipped to do so as Constant Technologies, according to Righi.
He argues that being a mission-critical solutions provider requires tunnel vision and commitment.
"One of the things we decided strategically a very long time ago was to train our folks in-house," he said.
"I know a lot of other integrators win projects and ramp up for those projects specifically."
The benefit to Constant Technologies being entirely focused on mission-critical applications is that everything it does beginning with hiring and training targets the same goal, which is to serve customers that leave little room for error.
"If you're an integrator that focuses on huddle spaces or conference rooms, if you do that better than anyone else, you're going to grow rapidly and have a successful business," Righi said.
"Trying to take on too much, encompassing stadiums, entertainment and mission critical — I say, stick to what you're good at and do it better than anybody else."
We knew that eyebrows across the AV integration market would be raised upon reading our CI Profile of ET Group.
Whether you agree with the surprisingly unconventional management policies of CEO Dirk Propfe or not, the article serves as a status quo challenge to the industry.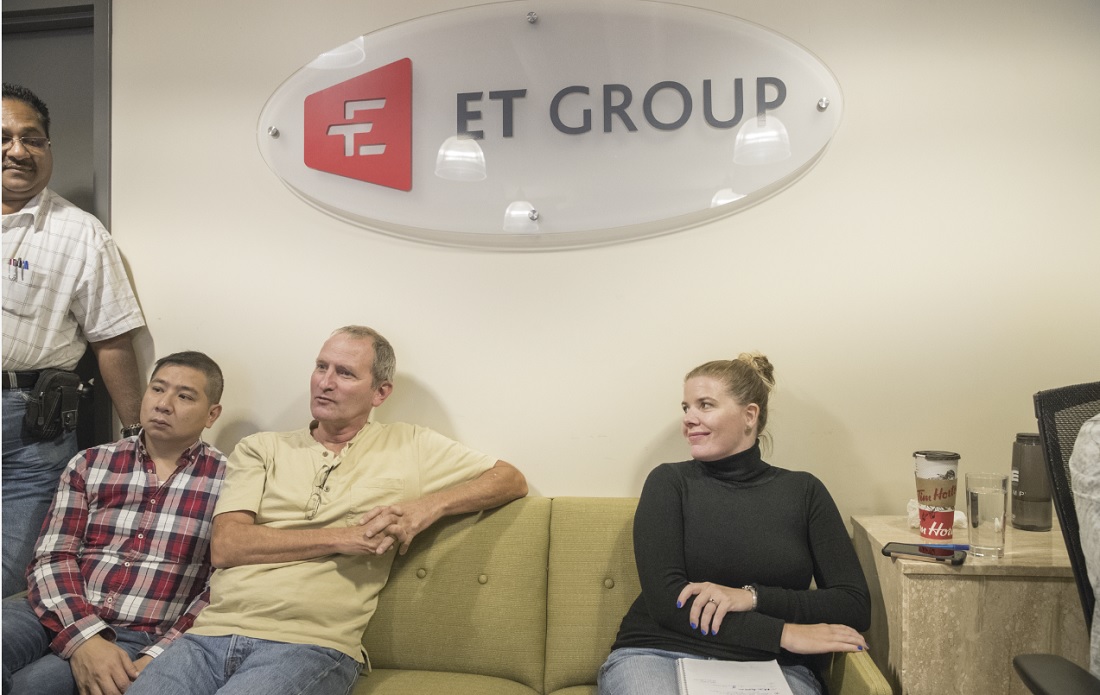 Consider that at ET Group there are no traditional roles. What does that mean?
Well, while some employees carry traditional titles, such as CEO and chief strategy officer, the whole philosophy of and approach behind ET Group's transformation is about inclusion and equality.
There's no traditional AV business management team, only project teams focused on drumming up new work for the flourishing company and nurturing long-term relationships with clients and prospects.
As such, ET Group no longer has employees who come to work every day and do the same thing or who follow a particular job description.
They instead "energize" particular roles, whether it's for a day, a week, a month or a year.
"We used to have positions, but we've teased out the human being," Propfe said.
"People now dynamically change the roles they're energizing. You don't own the role. You're using your energy to do the accountability related to that specific role.
"These new ways of working really enable people to use their strengths to change course. People are able to change what they're doing and continue growing as individuals. It makes everyone in the organization powerful. You can't get road-blocked on doing the right thing."