Mid-Year State of the AV Integration Industry Update: Second Half 8.7% Growth Predicted
Total Tech Summit mid-year state of the AV integration industry update shows 7.5 percent growth in first half of 2019 for typical commercial AV firms.
Leave a Comment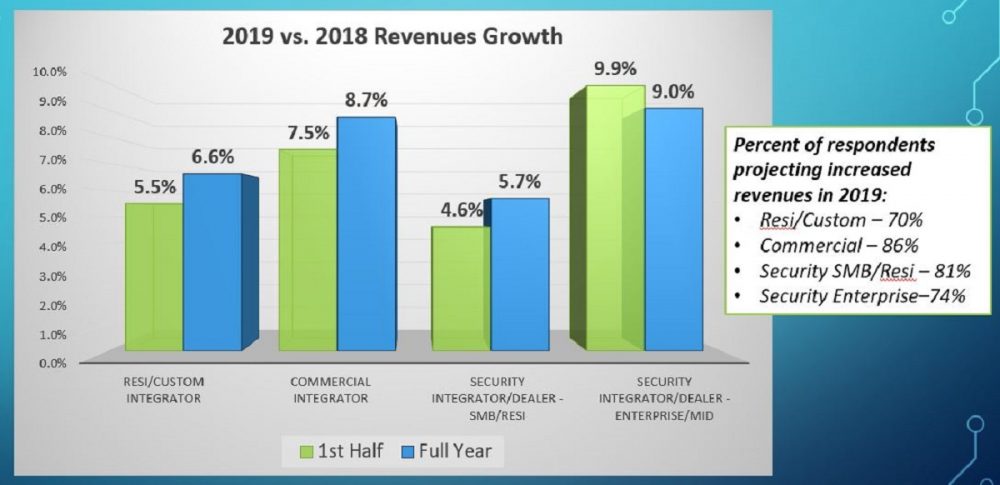 Granted, when Commercial Integrated released its 2019 State of the Industry Report in January, we tapered our strong revenue growth predictions with warnings to instead turn the focus toward profitability. So why are we celebrating a mid-year state of the industry update, conducted by Total Tech Summit, that shows typical commercial AV integration firm 2019 first-half revenue growth of 7.5%?
Simple. It's an impressive reflection of the strength of the commercial AV integration industry.
During Q1 and Q2 of 2019, U.S. businesses have battled economic uncertainty. What will happen with Chinese import tariffs? How will the U.S. government's rocky relationship with Mexico impact commerce? How will Brexit impact the global economy?
Meanwhile, there is a fairly universal expectation that a recession is coming.
Through it all, the AV integration industry seems to be gaining momentum.
Mid-year Report: Strong Growth and Key Product Categories
In that 2019 State of the Industry Report, CI forecast a 9.5% upswing in 2019. According to a survey of commercial integrators conducted by Total Tech Summit which hosts the annual CI Summit executive conference, we're not far off track.
Commercial AV integration firms grew an average of 7.5% in the first six months of the year. Integrators are anticipating a solid 8.7% growth from July to December.
In terms of where the growth is coming from, commercial integrators are predicting at least 7% increases in several product categories:
Multiroom Audio (8.1%)
Distributed Video (8%)
Video Surveillance/Security (8.2%)
Access Control (8.9%)
Keyless Locks (8.3%)
AV Systems for Performing/Presentation Spaces (7.1%)
AV Control Systems (7.2%)
Data Networks for Businesses (7%)
In some cases, we attribute the predicted growth to new opportunities that stem from networked AV. Access control and video surveillance, for instance, should be more on traditional AV integrators' radars as these solutions can provide the type of business data that their IT-centric customers need.
In 2019, AV integration firms appear to be finding smart ways to diversify their offerings and enhance the value that they deliver to customers.
More on the Mid-Year Report Survey
Total Tech Summit conducted the survey on behalf of sister brands Commercial Integrator, Security Sales & Integration and CE Pro. The data, which was fielded in late May 2019, had nearly 300 survey respondents across the residential custom electronics, commercial A/V, and security markets.
The editorial team from each brand sat down to analyze the data more deeply in this 20-minute video:
Residential Integrators: Up 5.5%
Residential custom integration businesses grew an average of 5.5% in the first six months of the year. Integrators are anticipating 6.6% growth from July to December.

In terms of individual product categories, dealers are predicting 10.3% growth in lighting controls, 8.4% growth in A/V and control, and 7.8% growth in networking/IT.
Resi-focused Security Dealers: Up 4.6%
Security integration firms focused on the residential and small to medium business (SMB) markets grew an average of 4.6% in the first six months of the year. Integrators are anticipating a solid 5.7% growth from July to December. The smaller growth rate for this group is likely an influence of the mass-market DIY play in the residential space.

Residential security dealers predict a whopping 11.1% growth in residential video surveillance, and 9.3% growth in residential access control/smart locks. Greater than 8% growth is also anticipated for instruction and fire detection systems.
Commercially Focused Security Integrators: Up 9.9%
Security AV integration firms focused on commercial and large enterprise markets grew an average of 9.9% in the first six months of the year. Integrators are anticipating 9% growth from July to December. That group is the only one predicted a worse second half of the year than the first six months.

Commercial security dealers see the strongest growth over the next two years from power management (17.3%), access control (13.5%), and digital signage (11.1%). Structured wiring, video surveillance, lighting control and home automation are all predicted to rise 10%+ over the year few years.