Why You Should Pay Attention to AV as a Service
Many in the AV integration world have been talking about AVaaS for years. The problem is some don't even realize it. What's the future of AV as a Service?
Leave a Comment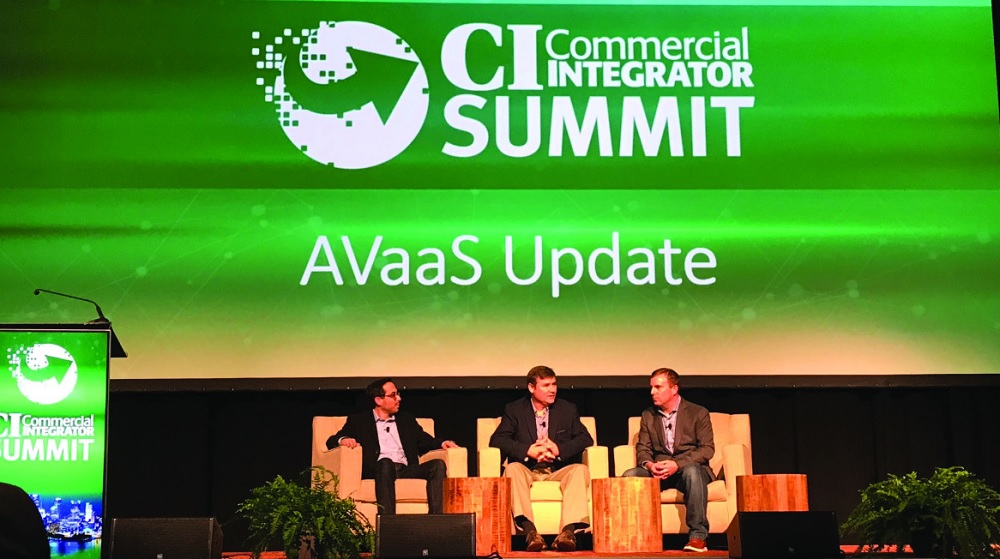 By now, you've heard the term "AV as a Service." And it's even possible you have the same understanding of what it means as the person who's mentioning it to you. Maybe the fact that AVaaS means so many different things to people is why it's still shrouded in mystery.
Could this finally be the time when we see almost-universal acceptance of AV as a Service as a concept and see it put in place across the integration industry? Or will we continue to find those who aren't ready to think differently about how to run their businesses and promote their operations?
Research for the 2019 CI State of the Industry report showed that more than one-quarter of survey respondents earn nothing from service and about 60% of those who took the survey bring in less than 5% of their overall revenue from service.
Only 4% of survey respondents say they generate more than one-third of their revenue from service and about 45% haven't sold any managed services contracts. That's a lot of the industry missing out on important recurring monthly revenue (RMR).
About half of the CI State of the Industry survey respondents say support is their biggest obstacle when it comes to launching a managed services arm to their businesses and about 20% said sales training is holding them back from adding such services.
You Already Sell Service… Whether You Know It or Not
Daniel Abrams, VP of business development at IVCi, said during the 2018 Total Tech Summit the concepts of managed services and AVaaS "are largely marketing terms."
"Many of you…are offering these things and don't call them that," he said during his time as a Total Tech Summit panelist. "Do not create new things to do. Create new ways to package them together."
Fellow panelist Bill Riley, regional director at Sensory Technologies, agreed with Abrams.
"Much of it has to do with semantics," he said. "Are you providing something someone is willing to pay for regularly?"
That includes things like digital signage, video conferencing, refreshing conference rooms and embedded staff for meetings, video production, digital signage and more, said Riley.
Don't think about hardware as a requirement to have an AV as a Service program, says Abrams.
"It's about understanding who is actually owning the hardware," he says. "Get creative and talk to the people in the industry who are progressive."
Riley says the company used to get about 30% to 40% of its leads on hardware, but "things have shifted."
"If you're continuously selling just integration, accountants look at you in terms of your assets. If you sell services and contracts, you're going to increase the value of your business," says Riley. "Trying to have your sales team have that conversation with a CFO takes a different level of sophistication."
Making the Transition
Bobby Swartz, president of Starin Marketing, says your feeling on AVaaS is "really dependent on who you're working with or what your perspective is."
"One avenue of that we hear over and over is who owns a 50,000-print copier in their office? As we get into AV, who's paying for their UC services upfront? You have all these solutions you're paying for month to month," he says.
"There's really a need to have operational expenses for your AV hardware — bundle that into a monthly expense in your AV service design. That seems like a simple thing but when you look at how fragmented the AV industry is, it's complicated," says Swartz. "How do you meet the demand of the market?"
Swartz is hopeful about the future of AVaaS.
"Hardware costs are coming down, conference rooms have disappeared, that's all going to change in multiple ways. The financial matter is I have to do more rooms and our customers want them to cost less.
"How do integrators make a profit? You've got to have profit somewhere or we all cease to be in business. There's only so many big custom projects out there," says Swartz.
Overcoming Opposition to AV as a Service
Sales staffers are often the first line of defense when it comes to transforming to an AVaaS model, says Len D'Innocenzo, partner at Corporate Sales Coaches.
"One of the first things that we hear from salespeople is 'Why do I want to do this?' They're talking about now making a change, a change in how they actually do business," he says. "We know for a fact that change comes down very, very hard.
"There needs to be an incentive. We know what the owner's incentive is. They're looking for profitability on the bottom line. What's the incentive for the sales individual? It's part of the process that we've been working with GreatAmerica on," he says.
Listen: What to Tell Your Sales Reps to Get More AV as a Service Contracts: Episode 38 of AV+
Some AV integrators are starting to require clients to pay them monthly for services as part of a transformed billing process. That service quote goes on every proposal to make sure it's a standard practice, not an option, says D'Innocenzo.
Lobascio says some NSCA members are "visionaries" in the AVaaS realm and have served as good resources and advocates for changing your model. "What we're really doing is concentrating our fire to help them sharpen their saw and make sure that they're really good at this," he says.
"We feel like this is definitely replicatable, and it will build an awful lot of momentum and a lot of inertia."
The Tougher Verticals
Josiah Way, director of learning environments for the University of Southern California, has been openly skeptical of the AVaaS approach, including creating a Twitter hashtag #AVaaSMustDie after his stint as a panelist at the PSNI Supersummit in February.
He continues to wonder "what's that going to mean in terms of changing our service models, our integration models and how we're going to pay that out."
Way's opposition is rooted in the funding cycle for higher education. Colleges and universities have different needs in terms of service and AV service agreements than other vertical markets, says Way, and those don't always jibe with the AVaaS model.
"In principle, it sounds like a great idea, but I've had a hard time trying to figure out how I can make it work," he says. "I've made an open call for anyone to come to me and try to sell me this. Everyone wants to tell me this is the future, but not a single integrator has given me a proposal.
"I can't have classrooms down for days. We need to be up ideally in minutes, but no later than the next morning. That's what my end users need. If I can't get back up right away, it doesn't matter if we change our buying model," says Way.
Despite his hashtag, he'd consider anything th at's aimed at "giving the best service to my students."
"If I had something where I could see the true value, I'd go fight the administration and say we should change our model," says Way. "I just haven't had anyone show me how it would work — and I'm not alone.
"I think it has to do with scale. The larger you get, the more difficult it becomes. If I'm a financial services office with three offices around the world who doesn't want to have to deal with the AV, AV as a Service is a perfect model for that. Integrators have to be able to answer these questions for their largest users," he says.
"We want to be careful that we're not just getting a sales model thrown down our throats. We need to push solutions and make things easier. There's no doubt it makes more money for an integrator, but we just have to be careful. In the name, it says 'as-a-service' but the one thing that's left out is the service."
He sees potential for AVaaS to be used for cloud services, remote monitoring and the increased use of AV-over-IP integrated with endpoints. Way knows he's made it a contentious topic but is open to being convinced it can work for him.
"How can we come together and team up? There's been a line drawn but we need to bridge the gap," he says.
If you enjoyed this article and want to receive more valuable industry content like this, click here to sign up for our digital newsletters!