Commercial Integrator's 40 Influencers Under 40: The Class of 2023
We celebrate the exceptional 40 influencers under 40, Class of 2023, who are propelling their organizations to new heights and leaving a lasting impact on the AV industry.
Leave a Comment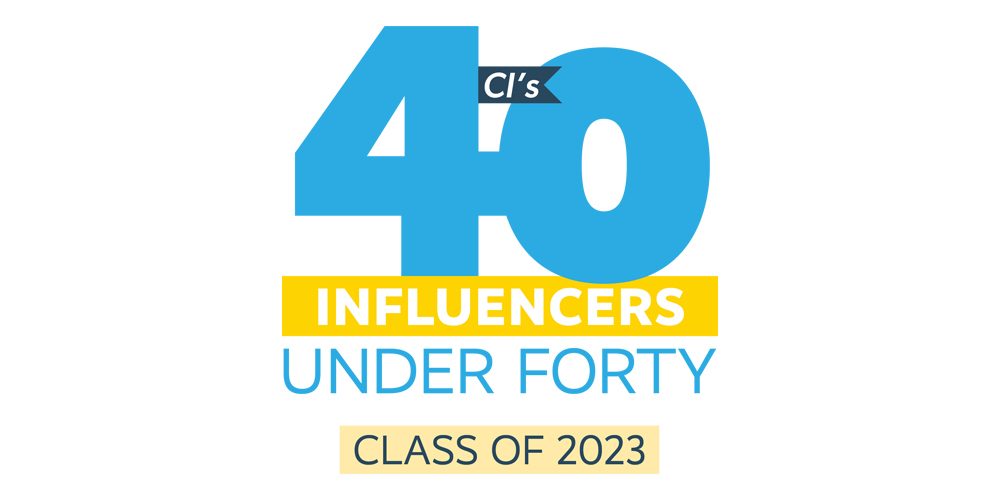 Download Your copy of the 2023 Class 40 Under 40
There's a reason that the 40 Influencers Under 40 is Commercial Integrator's single most popular editorial offering of the year. I'd argue that #avtweeps eagerly anticipate each year's list because we're all in on a "secret" that not everyone knows. Well, it's time to spill the beans!
Although commercial AV businesses should work even harder to recruit the next generation into our industry family, it's also true that AV integrators, manufacturers, distributors, etc., already boast some of the most remarkable twentysomethings and thirtysomethings you'll find anywhere on the planet. Our industry talent pool is worth celebrating — and, this month, we're doing just that!
Thus, CI proudly presents our 10th annual 40 Influencers Under 40 list for the year 2023. Just as we did last year, we removed restrictions that formerly excluded vendors and distributors from consideration. Instead, we've opted to allow the industry community to speak for itself, selecting the most dazzling women and men in the business, regardless of whom they work for!
We're very proud of the fact that, this year, the list is fully gender equal. Our editors believe that representation matters, but our list also reflects the fact that women, although still highly underrepresented in commercial AV, punch well above their weight in terms of industry impact. We're also proud to highlight several personalities from the world of higher education, a vertical that continues to grow in stature and importance.
We hope you enjoy the interactive piece below. And here's a thought: If you're active on LinkedIn, consider connecting with some of these young professionals! Our editors believe they're going to be — and perhaps already are — world-changers.
This year's class is proudly sponsored by TD SYNNEX, ADI and Starin.

Click on any photo on the interactive graphic above to learn more about each professional.
List of 40 Under 40, Class of 2023
Sara's journey started in 2009 with broadcast TV's ESPN, ABC and CBS networks, gaining experience in various roles. Then, Sara moved to Nashville to pursue front-end LED control and product specialization. While working at major league sports and higher-ed stadiums, her passion for technical training was born. She later pursued her passions by running the training academy at Analog Way in Georgia as a technology instructor. From there, she moved to AVIXA as the first female CTS staff instructor, earning AVIXA's Educator of the Year. Sara also ran the Women of AVIXA's CTS study group for two years. Currently, she is a senior sales support engineer for Sony Electronics. 
Ben Thomas, 32, Head of Pro AV and Integrated Technology Partnerships, MarketScale
Thomas' aim in the industry is to amplify the voices of the traditional and tangential communities in pro AV. Through his active relationships with AV organizations, companies and professionals, he helps bring new industry ideas and issues to the forefront. His ongoing mission at MarketScale is to both educate and engage B2B communities, while persistently challenging and breaking down the walls of tribal knowledge and exclusion
Carroll has built her career creating award-winning training at multiple AV manufacturers. Currently, she is the director of product marketing and training at Mersive Technologies, serves as chair of AVIXA's Content and Learning Committee, co-hosts the Women in AV podcast and co-founded the Rosie Riveter Explores Pro AV fundraiser. 
Among the highlights of Kent's career have been building unified comms brands like Mio and Callroute through high-quality content marketing. In addition, he has offered fractional marketing services to industry giants like Cisco and RingCentral. Moreover, Kent is the bestselling author of The Autonomous Freelancer. 
Currently, Slattery is playing a key role within the McCann organization in both sales and engineering. He has been able to be hands on in many multi-million-dollar UC projects and large LED sportsbooks. Slattery's ability to design and lead client interactions has set him apart from others. 
Hicks builds, deploys, tests and troubleshoots DSP/control programs to company standards and specifications outlined in SOW contracts. She also provides technical support and creates EASE models, bill of materials quotes, signal-flow charts and labor estimates for dealers. She has worked on projects for NBC Universal, Climate Pledge Arena, Snowflake, Gensler, DoorDash, Genentech and more. 
Mounts' role within the industry is to be a problem solver and create custom-tailored solutions for the customer's project needs. In addition to sales, he wears many hats, including establishing Mount-It! PRO as a significant player in the pro AV industry through marketing, trade-show management, market research and competitive analysis. His vision is to become the world's greatest mount salesman. Because, after all, he is Mr. Mounts. 
At Vistacom, Russell manages and oversees the sales and marketing teams, while also playing an active role in the growth strategies and initiatives of the company. In her six years at Vistacom, Russell has witnessed exponential sales growth. She successfully launched digital marketing campaigns and expanded one of the largest technology showcases in the northeast. 
Yenser is a CTS holder working in higher education. Her role at her institution is to provide the appropriate AV support for live, hybrid and virtual events for the campus and local community. She is the host of the brAVe [space] podcast, the HETMA Communications Chair and a columnist for Higher Ed AV Media. She was recently named AV Professional of the Year by Higher Ed AV Media. 
Hardy manages all aspects of the marketing funnel for a variety of channel partners — from small integrators to national dealers. She also manages programs and platforms for the Sharp/NEC sales and marketing team, focusing on the channel partner experience and information access. She has been growing in this role for over a decade and has seen the company and industry change dramatically within that time. She is excited to see what the next decade brings! 
John Stearns, 39, Global Head of Zoom Spaces GTM, Zoom
Stearns has been in the AV/UC industry for 18 years, having sold products and services from Zoom, Cisco/Webex, Acano, Tandberg and more. At Zoom since 2020, Stearns has been the top producer globally for Zoom Rooms sales, earning trips to Zoom's Champion Circle for FY22 and FY23. In his new role, Stearns is now responsible for overseeing the go-to-market strategy globally for Zoom Spaces. 
Nickles oversees the entire financial operation of PTG. He started at PTG in 2011 with a role in purchasing and later IT; he moved into finance in 2019 to utilize his bachelor's degree. Key accomplishments include getting his CMA certification in 2021, navigating the company throughout the pandemic by utilizing government programs (PPP/ERC), keeping the company debt-free and improving its D&B score to record highs. 
Green has worked at Snap install since 2012, utilizing over a decade of experience in the audiovisual industry and operations management to lead Snap Install's sales department in customizing nationwide service solutions for its partners. He is committed to building strong relationships with partners and staying educated on industry progression. Since 2016, he has been an active member of the DSF and currently is an elected Board Member by his peers/colleagues and DSF members. 
Haley Tuohy, 28, Senior Manager – End-User Business Development Sales, HARMAN
Tuohy manages the End-User Business Development audio team at HARMAN, which is responsible for generating preference for HARMAN product solutions with targeted end customers in the U.S. and Canada. She loves what she does! Her goal is to make audio approachable and achievable for her customers. She does everything that she can to empower and support her sales team. As of June, she has officially taken over the AXIXA Women's Council Group in NYC alongside Maria Repole. 
As onsite service delivery manager, Esson leads a team of 14 AV workplace and live-events individuals at a brand-new facility in downtown Toronto. The team delivers AVaaS, and she helps manage and expand the client relationship. Her role includes leading governance meetings, reporting, project management, risk mitigation and strategic planning. In addition, she volunteers on the AVIXA Women's Council, the Executive Committee for the AVIXA Diversity Council. She's also a member of the AVIXAgta Women's Council in Toronto. 
In a field where women are underrepresented, Mitchell is breaking barriers not just by excelling in her knowledge of the industry but also through her unparalleled skill in building strong relationships. She cultivates partnerships rooted in success, combining industry expertise with an understanding of partners' needs. Mitchell is not just contributing to the AV industry — she's redefining the role of women in it. 
Mekmaysy spearheads the design of immersive AV experiences and digital-enablement solutions for conference rooms, earning trust as an advisor and social-media influencer. Her approach prioritizes creative, client-focused solutions. She derives immense satisfaction from helping create memorable AV experiences on both national and international stages, leveraging the joy and power of groundbreaking AV technology. 
Singh is founder of XTEN-AV, the industry's first AI–powered AV design and proposals platform. Singh and XTEN-AV have won multiple industry awards, and he holds a utility patent from the USPTO. Under Singh's leadership, XTEN-AV has grown to become one of the most popular AV design and proposal platforms, amassing more than 11,000 users in over 130 countries. 
Brannan, as a digital signage certified expert in the industry for 10 years, works closely with Skykit's manufacturing, distribution and reseller partners to build and bring together full solutions for customers. Being a member of the DSF and part of the membership committee, she had the pleasure of being a judge for the DIZZIE awards during DSE last year. She looks forward to seeing all the new innovative installations this year! 
Demara leads and executes RoomReady's marketing strategies and creates all content (videos, 3D models/renderings, graphics, case studies, blogs, etc.). She manages the RoomReady website, as well as social–media channels and campaigns. She is a member of the AVIXA Women's Council, an active #avtweep and a member of the MarketScale Guide Community. She has also been a panelist on a few webinars this year, including Atlona's Empowering Women's Success Series. 
Pelow is an exemplary member of the commercial AV industry and a skilled site foreman at McCann Systems. His professionalism, as well as his ability to handle high-profile client projects, allows him to work from coast to coast on UC projects or cutting-edge experiential installations, including NASDAQ, Anheuser-Busch and several casinos. 
At Epiphan, Fernandez has grown its Cloud offering with Connect (Microsoft and Zoom) and Unify, while also increasing engagement with pro AV, especially in the higher–ed space. Previously at Crestron, he drove product marketing for higher education, Room Scheduling, XiO Cloud, AirMedia and Flex. Moreover, he was a critical player in the NVX Pixel Perfect release. 
King's current role in the AV industry is within a medical school for higher education. Besides working in higher education since 2018, he also serves on the board for HETMA. Moreover, he is a crew member of the AV Life Podcast, the co-host of the Ask the Programmer podcast and the writer of the "AV in IT" column. 
As a tech professional from Silicon Valley, Dhingra brought a fresh perspective to revolutionize the AV industry through software automation, AI, ML and VR. Dhingra's success lies in transitioning thousands of AV professionals from manual designs to AI-driven automation. Additionally, XTEN-AV has recently achieved a successful pilot of AV designs in the VR environment. 
Jones' current role involves being responsible for everything a person hears and sees at events and basketball games. That means that she makes sure the audience experience is amazing — from the lighting to the displays that are showing at the event. One of her key accomplishments is working the NBA Finals with the Miami Heat. In fact, Jones is an AV technician there, as well. She, along with an amazing team, is responsible for helping ensure that Miami Heat fans have the best experience possible. 
Parker has recently taken on the role of director of sales and marketing at TVS Pro. He has pioneered roles in the company as it has grown, including AV design engineer and director of programming. He has been at the company for 11 years, filling various roles in sales, installation, programming, design and engineering. He has participated on the leadership team for the last four years. He now plans to apply his knowledge and expertise to grow and expand in existing and emerging markets. 
Jung is a senior project consultant who bridges the gap between the owner, design team, general contractor and AV integrator for new and renovated buildings. He ensures smooth AV deployment and training by providing technical oversight, coordination and problem-solving. Among his most memorable projects are Bank of America Chicago Tower with multiple clients; Bank of America Grace Pavilion NY; and Schneider National Innovation Center. 
Ebnet currently serves as the president and principal consultant for Revenueify, but he has been in sales leadership for organizations from Fortune 500 to family–owned. He has created high–performing managed–service platforms and revenue organizations that have received accolades from organizations such as HP and NSCA. Ebnet has been a panelist for NSCA, speaking on sales coaching, comp–plan creation, selling managed services and forecasting. 
As Crestron's director, product marketing, Simmen is responsible for shaping product messaging for new releases. Her significant influence is evident through collaborations with partners. Under her leadership, her team has driven remarkable progress and achievements, transforming the industry with innovative approaches. 
Rook is a software developer for Control Concepts, specializing in API integration that connects third-party devices to control platforms. She has had the opportunity to wear a variety of hats throughout her AV career, including AV programmer, designer, installer and field engineer, providing her with a lot of experience in a short amount of time. As a software developer, she has concentrated on expanding her knowledge of modern programming languages and a variety of AV control platforms. 
As a sales leader for AVI Systems, Walsh drives success in southern California and Arizona with a team of dedicated professionals. His focus on cultivating lasting relationships and driving Human Impact through technology systems has earned him multiple Eagle Seller awards, securing his place among AVI's top 10 account executives. 
Alex Peras, 30, Senior Director, UC and Corp Development Partnerships, Crestron Electronics
In his current role, Peras leads the Unified Communications Product Management team, developing the product strategy and roadmap for Crestron Flex and the company's intelligent video solutions. Additionally, he manages technical partnerships with Microsoft, Zoom, Intel, Qualcomm, Dell and others. Over the course of his 11-year career, he has led the acquisition and integration of 1 Beyond, managed the DigitalMedia product portfolio, including DM NVX, and launched hundreds of new products. 
Edelberg is an energetic marketing leader, executing growth marketing strategies, PR and experiential events to double converted MQLs for the past three years. She successfully led Avidex's brand strategy through acquisition, fostering internal and external brand loyalty. A key stakeholder in Avidex's Strategic Partner Program, she brings a collaborative approach to nurturing AV industry partnerships for shared success. 
As a global sales director, Ramirez oversees the sales operations and strategies for Exertis Almo. With a decade of experience in the industry, she has successfully climbed the corporate ladder from inside sales to her current role. Some key accomplishments include consistently exceeding sales targets, expanding the company's market share in new regions, and building and leading high-performing sales teams
For over a decade, Hardy has been on the front end of product development and product management for NEC (now Sharp/NEC) large-format displays. His responsibility begins with conceptualizing and defining market needs, then working with global engineering/development to bring in and launch that product through the various sales channels, while being a marketing and technical resource to internal sales teams and customers across the AV industry. 
Sanders, Absen Inc.'s distribution development manager, leverages over a decade of manufacturing and distribution experience. With strategic finesse, she doubled Absen's distributor reach, driving exponential sales growth and elevating the company's brand equity. A trailblazer for diversity and inclusion, she leads thought leadership and education initiatives, cementing her status as an industry standout. 
Since leaving Apple's Retail Innovation team leading the AV initiatives in 2021, Smith founded Pittwater, where his team and he are bringing audiovisual research and development capabilities to their customers. Pittwater provides design services, and its new 10,000-square-foot warehouse in Connecticut allows its team to build, mock up and review with project stakeholders the systems that they design. 
As a senior sales support engineer, Pompa supports Sony's channel partners and consultants for the western U.S. and Canada. She has had the privilege of engaging in numerous public speaking engagements, including presentations at InfoComm and other industry events, as well as participating in Sony's Technology Tuesday webinars, providing valuable insights to the AV community. 
Rusu's role involves delivering drawing sets for AV projects. They involve key plans, power and data layouts, elevations, rack layouts and schematics. Her key accomplishments this year have included reaching a milestone of 217 jobs since she started at Design Integration Ltd., managing the Danone construction set from start to end, and producing her schematic by herself for Aegis London. 
Stacey's AV journey began as a student worker for a new California Baptist University AV department. After graduation, he became associate project manager for an AV integrator, taking over a team with over 30 projects. During his tenure, he greatly improved profitability. Then, Stacey joined the University of Southern California. Here, he managed the award-winning Digital Creative Lab project. Moreover, he is part of HETMA. 
Past 40 Under 40 Winners
If you enjoyed this article and want to receive more valuable industry content like this, click here to sign up for our digital newsletters!