AV+ Celebrates #IWD2023 with Female Industry Luminaries
In recognition of International Women's Day (#IWD2023), hear from some of the most influential women in the AV industry on embracing equity.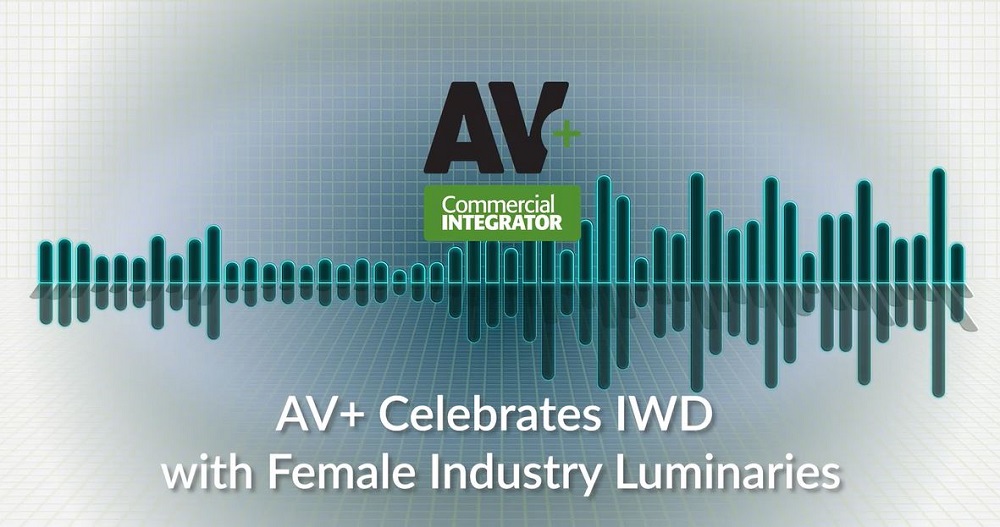 Listen to this podcast using the embedded player below.
On This Episode of AV+
As we celebrate International Women's Day (#IWD2023), AV+ is honored to be joined by four inspiring women in the commercial AV industry. From VPs, managers, thought leaders, to engineers and advocates, these women are changing the landscape in the audiovisual industry and making their mark on the world. Hear stories from these industry luminaries:
Tammy Fuqua, developer partner manager for Q-SYS; co-chair AVIXA Women's Council; LAOC co-leader for the AVIXA Women's Council
Althea Ricketts, VP of corporate initiatives as Shure; AVIXA leadership search committee & AVIXA foundation board member; WAVIT board member
Susan Whilhite, business development manager for Enterprise at SnapOne; founding director of WAVIT; LAOC co-leader for the AVIXA Women's Council
Ericka Shumpert, event marketing manager at AVI-SPL; lead for AVIXA Women's Council Tampa Group
Joined by host, Dan Ferrisi, editor-in-chief of Commercial Integrator, the group discuss the following:
What does it mean to embrace equity? How, as an industry, can we do this? (2:12)
How can we, as an industry, intentionally welcome more women in the industry? (12:13)
The importance of getting more women into the industry and having great allies in it (22:19)
How can we move the needle for those who are just joining the industry? (29:22)
and much more!
Watch or listen to the full discussion below:
Top Stories of the Week
Here's What's Happening Around Commercial Integrator This Week
With all the terrible news about layoffs and reductions in force in the commercial AV industry and related technology fields, Commercial Integrator and The IMCCA have partnered to create a "Available For Work" listing of AV/IT talent. We've invited affected individuals to share their name, experience, desired next position and contact details. If you'd like to add your name and details to this listing, please go to our webform.
Integrated Systems Europe (ISE) 2023 kicked off in Barcelona, Spain, and in conjunction with the large trade show, winners of the 8th annual Top New Technologies (TNT) Awards@ISE were announced. View the 2023 TNT commercial winners.
Every year, Commercial Integrator partners with NSCA to offer AV integrators an up-to-date forecast and analysis of the year ahead. And, this time, the need for insight into how to maximize business success in 2023 is more acute than ever. Integrators are, after all, facing a constellation of challenges: rising interest rates, persistent inflation, lingering supply-chain challenges, difficulty attracting and retaining top-tier talent, upward pressure on wages, global conflict and the very real possibility of a looming recession. Now is not the time to wing it!
View the a one-hour webinar archive, which will explore all of those topics, drawing on up-to-the-minute data from CI and NSCA's annual survey of the integration community.
The Commercial Integrator Podcast
The term "pro AV" doesn't do justice to the whole integration crowd, so we at Commercial Integrator wanted to create a pro AV podcast that speaks to all the areas (and there are many!) under the umbrella of commercial technology integration.
The host, Commercial Integrator editor-in-chief Dan Ferrisi, is looking forward to providing listeners with an entertaining, informative forum for all topics affecting the commercial AV industry.
Prefer mobile? Find AV+ on iTunes
If you enjoyed this podcast and want to receive more valuable industry content like this, click here to sign up for our digital newsletters!