AV+ Podcast: Alan Brawn on Marketing & Selling to Your Ideal Customer
Industry veteran & CI contributor Alan Brawn joins the AV+ podcast to discuss effective ways to market and sell to targeted customers.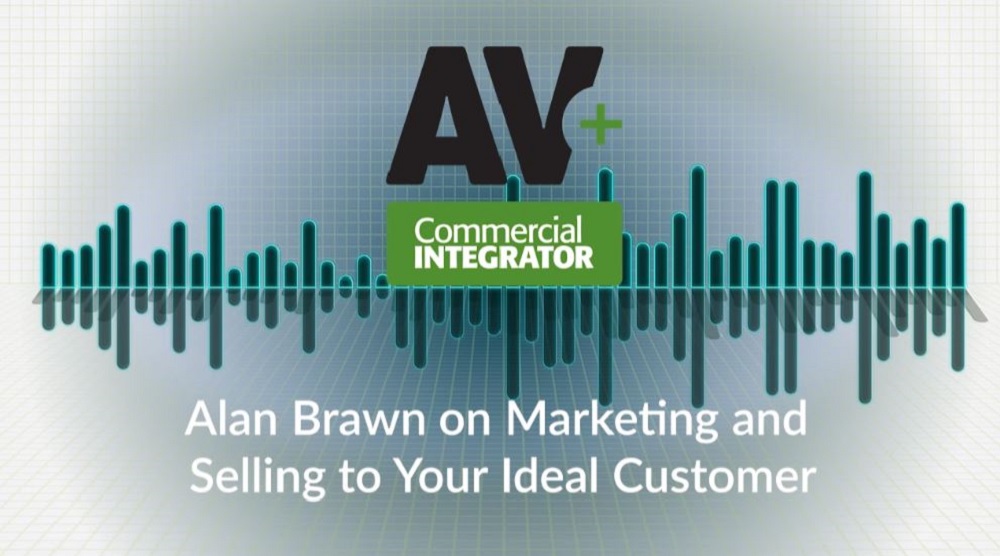 Listen to this podcast using the embedded player below.
On This Episode of AV+
On this episode of the Commercial Integrator AV+ podcast, Dan Ferrisi, host and editor-in-chief, chats with Alan Brawn, principal of Brawn Consulting and CI's own monthly AV Brains & Brawn contributor. With 70% of the purchasing decision being made before a salesperson ever becomes involved, the role of sales is changing. What's more, the related field of marketing has become just as important as the "speeds and feeds" of the product itself.
Here, the duo discusses the following:
the ideal customer profile (4:42)
the difference between sales and marketing (8:14)
methodologies that marketing professionals and salespeople in the commercial AV industry should be implementing (13:54)
and much more!
Watch or listen to the discussion in full below.
Top Stories of the Week
Here's what's happening around Commercial Integrator this week
Each year, Commercial Integrator asks for feedback from the custom integration market to create its annual State of the Industry Report. We only have a few days left to collect responses, so we'd love for you to take a few minutes and answer our survey on how your business did in 2022 and what you expect in 2023. In appreciation of your help, a randomly chosen survey participant will win a $100 Amazon gift card! Take the 2023 State of the Industry survey here.
Commercial Integrator spends a lot of time doing the serious work of helping integrators run their businesses better. However, as the holiday season approaches, our editorial team wants to have a little fun. If you ever socialize as part of the #avtweeps community, you know that we enjoy chuckling over a good #AVFail. You know what we're talking about, right? Think of all those images saved in your Photos app….Send your best #AVFail images to dan.ferrisi@emeraldx.com.
View the webinar recording of "Risk-Mitigation Strategies for the Supply Chain" with guests from NSCA, AVI-SPL and Sport View Technologies. There's no silver bullet to simply "fix" current supply-chain issues, but integration business owners can mitigate the risks they face and, in the process, enhance both client relationships and profitability. Watch the recording!
As everyone in commercial AV knows, integration businesses are wrestling with challenges. Yet, some manufacturers and distributors are rising to the occasion and executing creative strategies to help. Check out this year's list of Quest for Quality Winners and what they had to stay about their win!
The Commercial Integrator Podcast
The term "pro AV" doesn't do justice to the whole integration crowd, so we at Commercial Integrator wanted to create a pro AV podcast that speaks to all the areas (and there are many!) under the umbrella of commercial technology integration.
The host, Commercial Integrator editor-in-chief Dan Ferrisi, is looking forward to providing listeners with an entertaining, informative forum for all topics affecting the commercial AV industry.
Prefer mobile? Find AV+ on iTunes
If you enjoyed this podcast and want to receive more valuable industry content like this, click here to sign up for our digital newsletters!