LG at InfoComm 2018: OLED, LG Transparent Color LED, Cloud Capabilities and More
From OLED to Transparent Color LED to QSR solutions to corporate-targeted cloud-based solutions, LG has a lot going on at InfoComm 2018.
Leave a Comment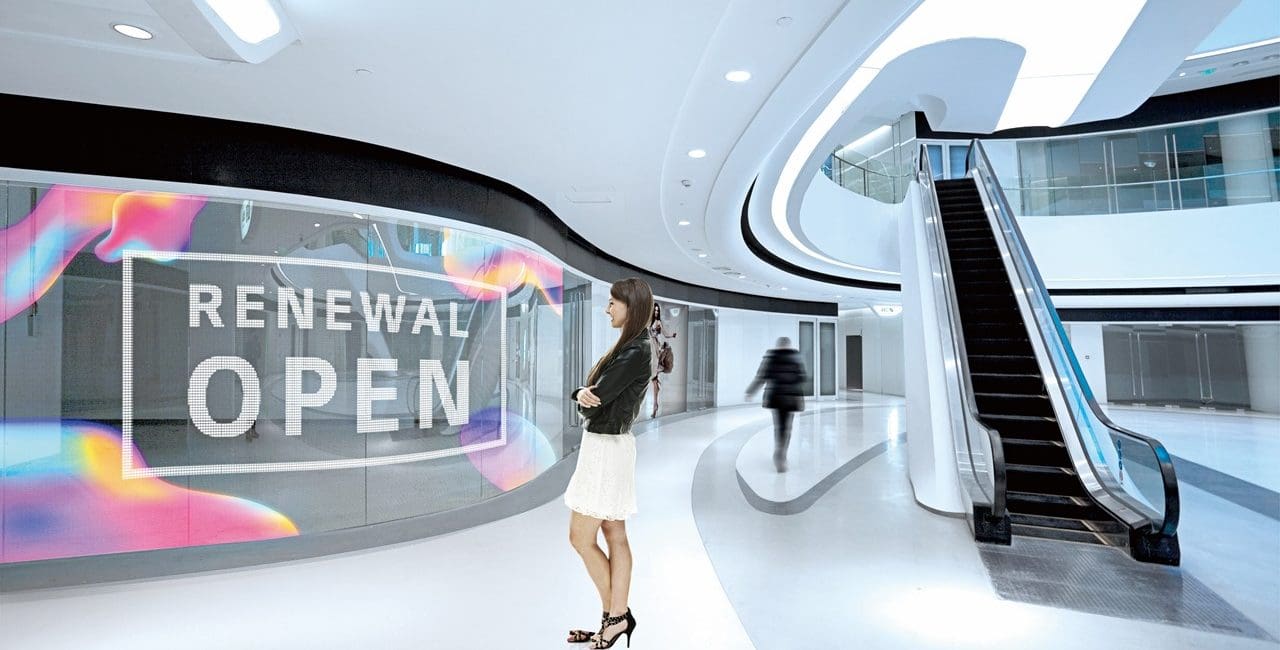 LG knows InfoComm 2018 attendees will likely focus on its eye-popping OLED and Transparent Color LED solutions, but the prolific manufacturer would visitors to its booth 2546, to experience all of its unveilings across several categories.
"This year is definitely a little bit different in the fact that we're not focused just on OLED," says LG Electronics head of marketing Garry Wicka.
The truth, of course, is that LG was never focused just on OLED. It's just that the emerging category garners a lot of attention.
"OLED has been such a big message for us for really those past two years. It is still a huge message, but it's not the only thing. We've got so many other things to share."
Here's a glimpse at what LG is showing at InfoComm 2018:
LG OLED
During InfoComm 2018, LG is introducing a host of new LG OLED products designed to provide businesses unrivaled viewing experiences.
"As the pioneer of OLED technology in both the consumer and commercial markets, LG strives to deliver the ultimate in truly immersive viewing experiences," says Dan Smith, VP, business development, LG Electronics USA Business Solutions. "Whether it be concepts like the Transparent OLED or new models with previously impossible features, LG continues to lead the industry by bringing to market new innovations that offer end users and systems integrators alike opportunities to drive business and increase their bottom lines."
More on LG OLED from press release:
Exclusively at InfoComm 2018, LG will offer U.S. customers a sneak peek at the latest advancement of the LG OLED technology by previewing the next-generation LG Transparent OLED display. Long dedicated to innovation in the OLED category, LG is showing the 55-inch Transparent OLED display in the United States for the first time at InfoComm. Visitors will marvel at its razor-thin bezels, elegant form factor and advanced transparent panel that allows end users to harness the picture quality of LG OLED without completely blocking viewers from objects behind it. This unique technology is especially impressive in retail environments and art galleries where products can be placed behind the display without distortion or where special effects may be displayed on the Transparent OLED signage.
Enhancing LG OLED Solutions
LG also is introducing three new OLED displays set to revolutionize high-end installation environments and maximize end users' ability to deliver rich content in 2018. At the forefront of LG's 2018 commercial OLED portfolio is the new 65-inch LG "Wallpaper" OLED display (model 65EJ5E). The LG "Wallpaper" OLED represents an entirely new way to present eye-catching content for an unparalleled viewing experience. Previously available only in a 55-inch class size with Full HD (1920 x 1080) resolution, the revolutionary 65EJ5E touts 4K Ultra HD (3,840 x 2,160) resolution for crisp, accurate details that match the limitless color contrast and perfect black levels of LG OLED. All in a form factor previously thought impossible, the unique LG "Wallpaper" OLED is easily mounted using a slim mounting bracket and magnets for a customizable design that becomes one with the wall.

With limitless color contrast and perfect black levels never before seen in a video wall, LG is introducing the state-of-the-art LG OLED Video Wall (model 65EV5E) with an even thinner 6.5mm overlap bezel seam. By reducing the bezel seam by three whole millimeters, the new LG OLED Video Wall display may come together in 1xN portrait mode configurations that blend seamlessly together as one overall picture rather than segmented images for a fully captivating viewing experience. The new 65-inch option offers 4K Ultra HD (3,840 x 2,160) resolution, a 16:9 aspect ratio and perfect wide viewing angles to engage more consumers in high-end commercial spaces including museums, airport lounges and retail spaces.

These new digital signage solutions join the 2018 LG Open Frame OLED (model 55EF5E), which features an increased curvature rate of 1000R in landscape and portrait mode, decreased weight from 36 pounds to 22.5 pounds and Full HD (1920 x 1080) resolution all in an ultra-narrow 3.5mm bezel design. Perfect for creating archways, interesting wall or ceiling hangings and even tunnels, the flexibility of the LG Open Frame OLED empowers customers to integrate the immersive picture quality of LG OLED within custom installations regardless of the installation environment.
Delivering an OLED Portfolio
LG's new 65-inch "Wallpaper" OLED, narrow-bezel OLED Video Wall, and Open Frame OLED digital signage join the LG "In-Glass Wallpaper" and Dual-View Curved Tiling OLED in the industry's first and most diverse lineup of commercial OLED products. LG's proprietary OLED technology provides an awe-inspiring picture with perfect blacks, infinite contrast and incredible color, even from wide viewing angles. These displays are an excellent addition to retail environments and art galleries, where they are sure to add a sophisticated aesthetic to the installation environment all while providing cutting-edge picture quality.
LG Transparent Color LED Display Solutions
Last year LG announced LED film. "It was monochrome. It's a new idea, exciting, but a lot of people said well, when are you bringing color?" Wicka says.
"For the first time here in the North America area, we're bringing the new color transparent LED film. It's that same film that you're going to put on existing glass, so it creates that brand-new canvas. It really changes the way that you're thinking about signage, messaging, way finding, art," Wicka says. .
"It's just 1.5 millimeters thin."
Building on the success of LG's highly-acclaimed gray-scale Transparent LED film display introduced at InfoComm 2017, the new Transparent Color LED film (LAT240DT1) display offers eye-catching digital content and information in color while interacting seamlessly with its surrounding environment. The versatile color LED film offers more than 1,000 nits of brightness, with each 668×480 mm panel containing 560 LED pixels that support a wide range of color while maintaining a high transparency ratio that displays compelling content in vivid colors while still showcasing what's behind the glass.
Direct View LED Displays
LG is showing a host of indoor and outdoor Direct View LED display solutions, including 1.0, 1.5 and 2.0mm pixel pitch indoor displays. LG's Direct View LED displays produce outstanding color contrast, saturation and brightness levels and are now available for both custom order – and now, new pre-arranged bundle packages – for a variety of installation applications, including retail spaces, sports stadiums, transportation hubs and hospitality venues.
More on Direct-View LED Displays from press release:
The first North American implementation of indoor LG Direct View LED displays, at the Greater Columbus Convention Center, features a 60-by-7-foot video wall that creates an immersive visitor experience in the convention center's connector hallway. This project exemplifies how LG's new team of Direct View LED specialists assist integrators and end users from the purchasing decision through the installation and beyond.
LG Video Wall Displays
New in 2018 are 55-inch ultra-narrow 0.6 mm bezel displays (model 55SVH7E) that can be combined to create one powerful and impactful video wall. Its 1.2 mm bezel-to-bezel width minimizes distractions and makes this product ideal for displaying content that resembles one continuous image as opposed to a collection of segmented panels.
More on Video Wall Displays from Press Release:
The new video wall display expands LG's portfolio of narrow bezel video wall displays, which includes VH7B, VM5B and VM5C series, all touting 0.9 mm bezels. Combined with LG's proprietary In-Plane Switching (IPS) technology, which helps ensure uniform, accurate color saturation from virtually any viewing angle, these video walls produce unparalleled viewing experiences sure to capture any viewer's attention.
LG Digital Signage Solutions
LG's unique Ultra Stretch displays redefine the creativity and flexibility possible for digital signage solutions. The versatile displays with irregular aspect ratios may act as stand-alone displays, layer together for an artistic video wall display, or be installed in a square pillar to create a 360-degree video wall column. On display at InfoComm 2018, the 86- and 88-inch LG Ultra Stretch displays are perfect for a variety of installations – from retail clothing or cosmetics store displays, wayfinding or airport flight information displays, museum features boards, restaurant menu boards and behind-the-counter installations – thanks to their one-of-a-kind form factor.
LG Quick Service Restaurant Solutions
LG offers an array of technology solutions to meet the changing needs of the QSR sector, including ultra-narrow video walls, 4K UHD displays, Ultra Stretch displays, Transparent LED Film, and ultra-premium large format indoor and outdoor displays. In quick service restaurants, digital displays with 4K resolution and crisp, immersive colors, as well as unparalleled picture quality – such as those with In Plane Switching (IPS) technology that produces consistent colors from virtually any viewing angle – are critical for reproducing accurate images of food on menu boards. LG's unique outdoor kiosk displays come equipped with temperature tolerance technology to alleviate overheating and prevent compromised picture quality and their environmentally sealed structure helps protect the display from dust, fumes and the elements. All available indoor and outdoor displays in LG's QSR digital signage portfolio utilize LG SuperSign technology, an easy-to-use content management and editing software offering seamless control from remote locations and a superior user experience.
LG In-Room Hospitality Solutions
LG's commercial display portfolio also includes a wide variety of guest-centric technologies for hospitality environments.  Leading the 4K Ultra HD revolution for hotels is not only the first-ever OLED TV designed specifically for hotels (model EW960H), but also the LG OLED Wallpaper Hotel TV (model 65EV960H), the world's thinnest hotel TV available, which was introduced in 2017. LG's extraordinary OLED hotel TVs have already begun elevating the in-room experience for guests at hotels across the country. With perfect blacks, intense colors and infinite contrast, these razor-thin 55- and 65-inch class LG OLED hotel TVs are sure to impress guests with their stunning picture quality.

Complementing the high-end LG OLED hotel TV collection are seven series of LG 4K Ultra HD hotel TVs enhanced with LG's Pro:Centric® interactive TV platform and the Pro:Idiom® digital rights management system. LG also offers a portfolio of products specifically designed for the hospitality market, including the LG Styler,™ a unique steam clothing care system that keeps guests' clothes refreshed and de-wrinkled, and LG PuriCare™ air purifiers, equipped with powerful cleaning and intuitive air quality sensors to improve guest-room air quality.
LG Corporate-Focused Cloud Solutions
LG Electronics USA Business Solutions announced the addition of new Thin Client and Zero Client solutions to its diverse portfolio of commercial monitors on display this week at InfoComm 2018 in Las Vegas. LG's new cloud solutions bring added convenience, enhanced connectivity and security, as well as cost efficiency to the IT industry.
"As secure data transfer increasingly becomes a focal point in the IT industry, LG has expanded its highly-acclaimed commercial desktop monitor portfolio to include state-of-the-art client monitor and cloud solutions," said Stephen K. Hu, Head of Commercial Monitors, LG Electronics USA Business Solutions. "With seamless connectivity, highly secure cloud computing solutions and displays with incredible picture quality, LG's broad portfolio of monitors is designed to meet the evolving needs of end users in a variety of industries."
More on Cloud Computing Solutions from Press Release:
New at InfoComm 2018, LG is unveiling a suite of cloud monitor solutions, including Zero Client and Thin Client displays, designed with the IT professional in mind. LG's Zero Client re-imagines computing by providing a centralized network management system that enables easy maintenance and streamlines operations. These units are designed to provide uncompromised display quality and up to five times faster performance than previous models. Unlike traditional monitors, LG Zero Client models provide built-in security with PC-over-IP (PCoIP), which internally manages software updates and greatly reduces the risk of virus, spyware and hacking because all data and memory are stored in the central data center. The monitors are connected over the corporate LAN cable, which also acts as a power supply. These features allow for a simplistic set-up. The only things required to get started on their LG Zero Client monitors are the keyboard and a mouse.

Even more, the LG Cloud Monitor system utilizes a Teradici® PCoIP® processor and Amazon WorkSpaces to deliver a powerful and secure virtual solution that broadens integrated computing beyond design labs to offices and classrooms. The Zero Client virtualization software enables a single server to support more monitors than previously possible. With no central processing unit or operating system, PCoIP Zero Clients greatly reduce the risk of viruses, spyware and hacking – proving to be a well-suited solution for security-critical organizations.
More Products in Cloud Series:
Within the Thin Client series, LG has introduced four new uniquely designed products. The 38CK900G Curved UltraWide Thin Client AIO (all-in-one) features a WQHD+ resolution (3840 x 1600) and curved LG IPS display for accurate color reproduction and outstanding picture quality from virtually any viewing angle, perfect for viewing data sheets or detailed images and drawings. The LG 24CK550W Thin Client AIO also features an IPS display with Full HD resolution (1920 x 1080) and Windows 10 IoT Enterprise for cutting-edge manageability and security. With a built-in webcam, speakers and AMD Ryzen 3 CPU in the 38-inch model, end users can rest assured knowing LG's new thin client solutions enable an optimal multitasking performance.

The 14-inch Mobile Thin Client (model 14Z980) features an IPS display, 8GB RAM, 128GB SSD and stereo speakers all in a lightweight 2.19-pound design for those businesses seeking ultimate in power and portability. These displays join the LG CK500W Thin Client Box with 4GB RAM, 32GB SSD and Windows 10 IoT Enterprise for optimal connectivity. LG also offers businesses highly affordable PCoIP-support Zero Client options for convenient remote control capabilities. LG's cloud monitors make a great addition to any education, healthcare, government or financial services business, where the utmost security of highly confidential data is crucial.
Small Format UHD Desktop Monitors
At InfoComm 2018, LG is also demonstrating its broad portfolio of desktop monitors for a wide array of industries. Leveraging its position as a world leader in 4K UHD displays, LG is unveiling its first 21:9 UltraWide® commercial monitor with 5K resolution (5120 x 2160 pixels) – the 34BK95U UltraWide WUHD 5K monitor with Nano IPS technology. By harnessing the power of smaller nanoparticles for the monitor's light source, LG's Nano IPS technology is capable of displaying 98 percent of the DCI-P3 color spectrum, which greatly enhances the intensity of on-screen colors for a more accurate and life-like viewing experience. With high dynamic range (HDR) support, the display is also capable of greater brightness, more shadow detail and richer colors.

The monitor also features a Thunderbolt 3 port, which enables the transmission of 5K resolution images at 60Hz with a single cable, catering to power users who seek fast video, audio and data transfers without a separate AC adapter. Available later this year, the 34BK95U is perfect for financial applications, content creators, programmers, and MacBook users looking for a powerful new monitor with superior picture quality. The LG 34BK95U joins LG's expanded family of 4K UHD commercial monitors, including the 43-, 32- and 27-inch class units (models 43MU79, 32MU99 and 27MU58P, respectively).
Corporate Meeting Room Solutions
In addition to commercial monitors, LG offers a host of corporate meeting room solutions that cater to the varied needs of corporate and IT customers. Spearheading LG's new product offerings are the advanced new LG IPS Interactive Digital Boards (IDBs) with 4K UHD picture quality. LG IDBs have advanced touch-enabled interfaces with precise writing performance that allows for multiple users to write simultaneously and freely share ideas with intuitive touch technology for maximum productivity and convenience. Key products in LG's 2018 advanced video conference lineup combine LG's longstanding expertise in premium picture quality with industry-leading technologies from partners such as Crestron, Cisco and Hoylu to deliver powerful, collaborative tools that provide end users efficiency and increase businesses' bottom lines.