AV over IP at InfoComm 2019: Where Are We At?
AV-over-IP reached an inflection point at InfoComm 2019 with myriad platforms and providers showcasing their solutions for a much-demanded need.
Leave a Comment
Photos & Slideshow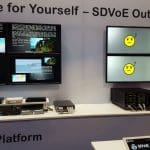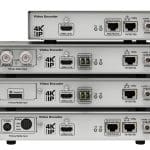 ---
There was a lot of posturing around AV-over-IP leading into InfoComm 2019 and with good reason. You didn't have to be Kreskin to predict that, after gaining serious steam in the AV integration community over the past few years, AVoIP would be an extremely hot topic at the 2019 show in Orlando, Fla.
Consider that Audinate, whose Dante audio networking solution already had considerable traction, got into the AV-over-IP game in early 2019. Then it doubled and tripled down at InfoComm 2019.
Audinate announced Dante Embedded Platform, which allows it to offer Dante-as-Software, enables manufacturers to add full Dante functionality in software running on Linux for x86 and ARM processors.
Also, the new Dante Application Library allows software developers to integrate Dante functionality directly into their PC and Mac applications.
Audinate doubled and tripled down on AV-over-IP at InfoComm 2019.
The two new developments came with announcement of key partnerships that will leverage them. QSC will begin to deploy the Dante Embedded Platform within the Q-SYS Ecosystem to enable native software-based Dante audio channels.
The effort is part of the strategic partnership between the two companies announced earlier this year, Audinate points out.
Pulling out even bigger guns, Audinate announced that immensely popular Zoom Video Communications will integrate the Dante Application Library into its Zoom Rooms application for video meetings.
Take CI's State of AV-over-IP Survey
Josh Rush, senior VP of marketing for Audinate, says Dante Embedded Platform "allows us to deliver Dante-as-software for manufacturers who are moving to more standard off-the-shelf hardware implementations" and Dante Application Library is "really targeted more at software developers and allows them to seamlessly integrate Dante functionality right into their applications."
"Our lead partner on that one is Zoom [as] the first partner to adopt Dante application library to integrate Dante functionality right into their Zoom application."
Vying for AV-over-IP Superiority
Meanwhile, InfoComm 2019 was a big show for AV-over-IP backbone providers like HDBaseT Alliance and SDVoE Alliance.
HDBaseT Alliance was front and center at InfoComm 2019 promoting its HDBaseT Spec 3.0, calling it the most advanced version of the HDBaseT standard.
During the show SDVoE sought to demonstrate both its deep partner community and its ability to stand up to side-by-side comparisons.
It conducted demos in which it  used products from eight member companies, connected the various encoders in the group (from Aurora, Altimium, ZeeVee and DVIGear) to the decoders (from Christie, IDK, Kramer and PureLink) and hooked everything to a managed 10G network switch from another member (Netgear).
Then it did side-by-side comparisons with a traditional matrix switch.
SDVoE Alliance president Justin Kennington commented during the show that it's time for the AV integration industry to evolve their perception of AV distribution.
"The problem is this market has sort of got this segmentation in their head of, well, sometimes I need a matrix switch and sometimes I want AVoIP, and we don't want to be stuck over in that bucket," he said.
SDVoE Alliance president Justin Kennington commented during the show that it's time for the AV integration industry to evolve their perception of AV distribution.
"It's all signal distribution, and if you're thinking about a matrix switch then SDVoE is the only platform that can perform at that level in the AV-over-IP world."
HDBaseT Alliance was front and center at InfoComm 2019 promoting its HDBaseT Spec 3.0, calling it the most advanced version of the HDBaseT standard, which it's finalizing.
The Alliance says Spec 3.0 builds upon the definitions stipulated in Spec 2.0, with major changes in the physical layer (PHY) and USB outlining and it will bring additional improvements to other interfaces.
"The HDBaseT Alliance is deeply attuned to the needs of the market, and the need for a 4K uncompressed solution is clear," said Ariel Sobelman, president, HDBaseT Alliance.
"By defining Spec 3.0, the Alliance continues to provide installers and integrators with the most flexible, interoperable, and advanced solution for the best possible performance."
Is 10G vs. 1G Still a Thing? 
Even though Crestron announced that its Crestron DigitalMedia NVX line of AVoIP solutions added newly-developed Pixel Perfect Processing technology and that Pixel Perfect Processing essentially improves JPEG 2000 encoding and decoding and, thus, neutralizing the side-by-side, 10G vs. NVX demos often seen by its competitors on trade show floors, of course the 10G vs. 1G debate continued at InfoComm 2019.
"[Competitors] will promote their product, but there really isn't anything from an objective standpoint that says that Pixel Perfect within NVX isn't the best solution in the industry," Nic Milani, executive director, commercial product marketing, Crestron, said prior to InfoComm 2019.
"We're now shifting beyond that debate and really focusing on exploring the imagination of the industry and helping designers and our partners go out and explore new ways to solve problems with customers."
An AV-over-IP Inflection Point
The reason for all the vying for AV-over-IP superiority and for the ongoing 10G vs. 1G debate is that the integration community is increasingly focused on networked AV. The reality that demand for AVoIP seemed to be reaching a boiling point during InfoComm 2019 seems to be the real story.
The reason is that people — both AV integrators and their customers — now truly seem to understand what AV-over-IP can do for them, according to Mark Templeton, VP of U.S. Southwest for Harman International.
"I absolutely believe we've reached that point," he told CI (in the video above) just prior to InfoComm 2019.
"We faced the innovation portion of the adoption curve and now we're well into the early adoption phase.
"A lot of that's driven by IT taking a more active role in AV solution selection and AV procurement. Some of the fears a lot of the integration community had about IT-based technology are a thing of the past and people are embracing it."
So are manufacturers — and InfoComm 2019 exhibitors. Check out the slideshow for a recap of some (not all!) of the AV-over-IP products and innovations at InfoComm 2019.
What did we miss? Tell us in the comments section.