AV+ Podcast: AV Gives: Supporting Rosie Riveters and Fostering Equity
In this episode of AV+, we chat with two industry luminaries on the Rosie Riveters Foundation about their work supporting women in AV.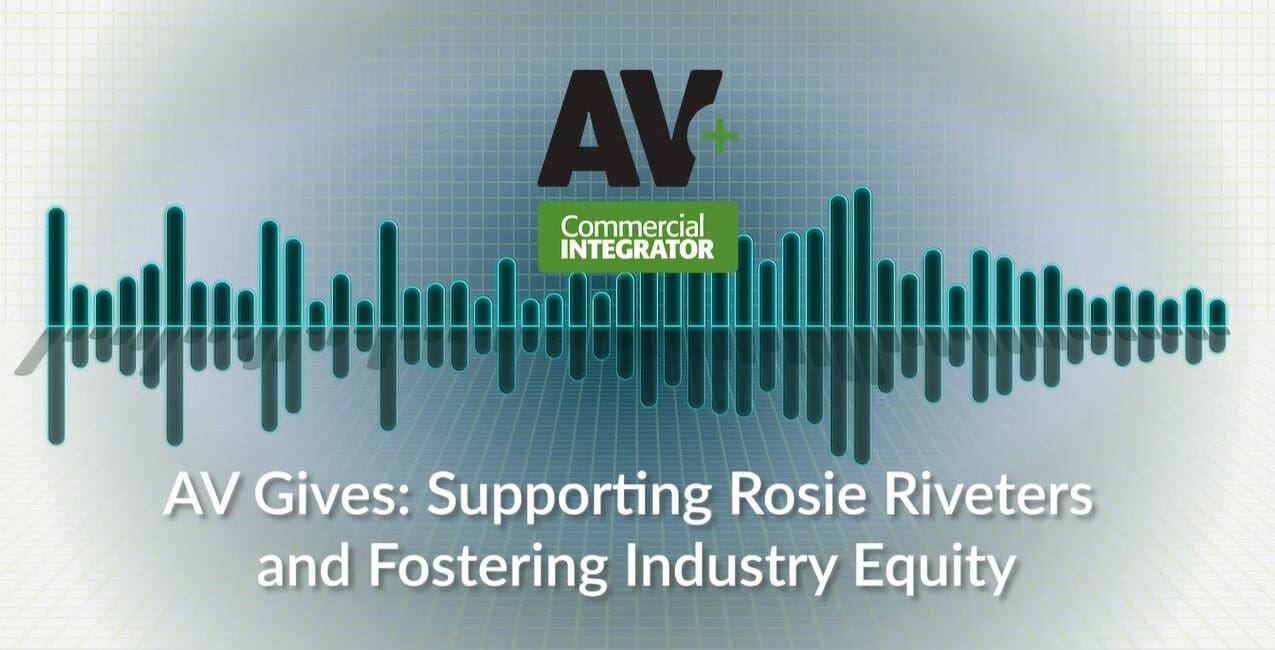 Listen to this podcast using the embedded player below.
On This Episode of AV+
On this episode of the AV+ podcast, host Dan Ferrisi, editor-in-chief of Commercial Integrator, talks with two industry luminaries, Jennifer Goodyer, sales manager at RTSales, Inc., and Erica Carroll, senior manager, product training and adoption, at Mersive Technologies, about Rosie Riveters and its ongoing fundraising. Rosie Riveters is an amazing organization that empowers girls and young women to develop a passion for STEM.
The trio discusses the following:
What the Rosie Riveters campaign is and how to get involved (13:10)
Fundraising efforts in conjunction with AVIXA Women's Council (15:24)
Nurturing interest in AV at a young age (17:36)
The importance of diversity on industry panels (22:37)
and much more!
Watch or listen to the full discussion below.
This podcast is sponsored by ViewSonic. With 35 years of display expertise, ViewSonic offers a wide range of workspace solutions, including Direct View LED video walls for lobbies and auditoriums, large format displays for conference rooms and training rooms, interactive displays for small meeting spaces, and executive monitors for homes and offices. Check out https://vsfinch.es/Commercial-Integrator to learn more.
Top Stories of the Week
Here's What's Happening Around Commercial Integrator This Week
New this year, CI broadens its offering of Deep Dive reports with a dedicated story on the performance-audio market. Thus, in our upcoming May issue, we'll explore not only line-array speakers, immersive audio and power amps but also audio-over-Ethernet and audio-over-IP. The goal is to apprise AV integrators of burgeoning trends so they can deliver on client expectations and optimize their businesses. CI is asking you — our integrator audience — to take a short, five-minute survey regarding how your business designs, integrates and manages performance-audio products and technologies. Responses will be collected through Wednesday, March 29.
The Spring 2023 edition of Collaboration Today & Tomorrow explores the future of technology-infused offices, higher education, healthcare and other industries, and includes action items for integrators and collaboration pros to succeed in this ever-changing industry. Get your copy today!
With all the terrible news about layoffs and reductions in force in the commercial AV industry and related technology fields, Commercial Integrator and The IMCCA have partnered to create a "Available For Work" listing of AV/IT talent. We've invited affected individuals to share their name, experience, desired next position and contact details. If you'd like to add your name and details to this listing, please go to our webform.
The Commercial Integrator Podcast
The term "pro AV" doesn't do justice to the whole integration crowd, so we at Commercial Integrator wanted to create a pro AV podcast that speaks to all the areas (and there are many!) under the umbrella of commercial technology integration.
The host, Commercial Integrator editor-in-chief Dan Ferrisi, is looking forward to providing listeners with an entertaining, informative forum for all topics affecting the commercial AV industry.
Prefer mobile? Find AV+ on iTunes
If you enjoyed this podcast and want to receive more valuable industry content like this, click here to sign up for our digital newsletters!