#AVLivingLegends Marks First Dozen Honorees
The #AVLivingLegends series, which Commercial Integrator created earlier this year, has now reached its dozen-honoree milestone.
Leave a Comment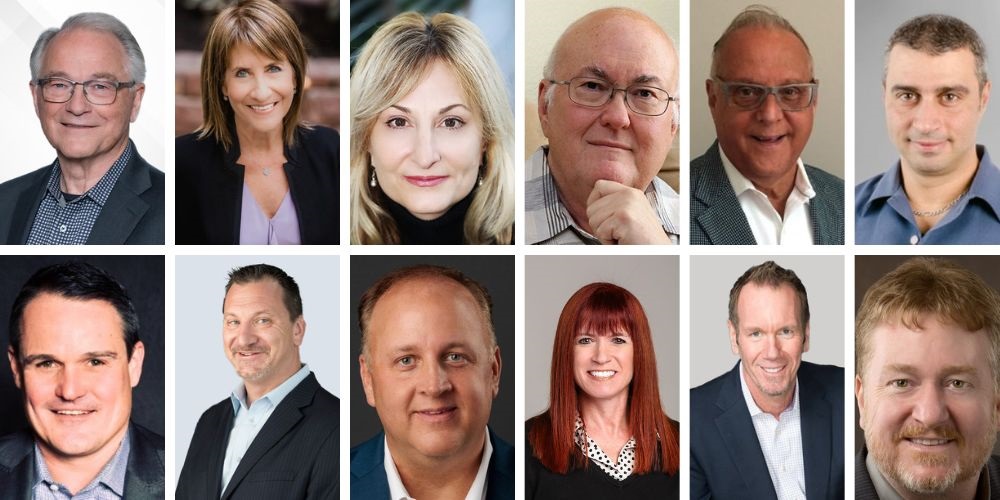 Commercial Integrator's #AVLivingLegends series is now a dozen strong! Each Monday, the CI team shares a fresh Q&A interview with a legend in the commercial AV space. This idea, which Nancy Blanchard of Williams AV conceived during ISE 2023, has proved hugely popular among the #avtweeps community.
The #AVLivingLegends series nicely complements CI's annual "40 Influencers Under 40" feature, which spotlights young, up-and-coming superstars. The series celebrates the contributions of those who have worked in AV circles for decades. In many cases, honorees have created companies, developed categories and revolutionized markets.
As CI celebrates reaching #12 in the #AVLivingLegends series, here, we provide a recap of all our honorees. But keep an eye on CommercialIntegrator.com because we've only just scratched the surface! In fact, we already have five more legends in the bullpen, just waiting to share their wisdom, reminiscences, anecdotes and memories.
#AVLivingLegends #1 to #5
#1: AVI Systems' Joe Stoebner
Joe Stoebner, founder and chairman of the board of AVI Systems, has left an indelible mark on the commercial AV industry. His Q&A reflects on a career spent helping not only AVI Systems' clients but also its employees, and our broader industry.
#2: Sapphire Marketing's Marla Suttenberg
The founder of Sapphire Marketing, Marla Suttenberg is one of the most respected figures in commercial AV manufacturer representation. Her Q&A for #AVLivingLegends is a walk down memory lane, recounting her career trajectory.
#3: Cory Schaeffer
Cory Schaeffer is an icon in the AV industry. Now retired, she was formerly director, Alliances and Ecosystem, for Q-SYS. Her Q&A is a journey that captures not only her legacy but also her ongoing commitment to empowering women.
#4: Brawn Consulting's Alan Brawn
Currently principal of Brawn Consulting, as well as a longtime CI columnist, Alan Brawn boasts a career spanning more than three decades. In his Q&A, Brawn reflects on a career's worth of achievements and the importance of learning.
#5: Intelligent-Data's Bob Romano
Bob Romano founded Univisions Video Systems and Axxess Television Productions, and he remains one of the most respected entrepreneurs in commercial AV. His Q&A recounts some of his successes and innovations over the years.
#AVLivingLegends #6 to #10
#6: Matrox Video's Samuel Recine
Samuel Recine's work with Matrox has occupied multiple decades of his long and storied career. His Q&A provides insight into his IT-centric background and Matrox's deep organizational commitment to open standards.
#7: Wesco's Phil Langley
Phil Langley's role gives him a front-row seat to some of the hottest and most rapidly evolving market opportunities in our industry. His Q&A offers thoughtful reflections on the crowning accomplishments of a remarkable career.
#8: Williams AV's Nancy Blanchard
Nancy Blanchard not only has had a remarkable career but, in fact, conceived the whole #AVLivingLegends series! In her Q&A, she offers reminiscences from a career spent supporting our industry and its people.
#9: Listen Technologies' Sam Nord
Sam Nord is a fixture at industry events. Moreover, he's a widely respected member of the collective #avtweeps family. In his Q&A, he shares reflections and stories, all of them capturing a career spent among friends, peers and trusted mentors.
#10: Barco's Dan Gundry
A well-respected and experienced technology professional, Dan Gundry presently manages U.S. sales for Barco's control room and large video experience (LVX) group. His Q&A charts his significant contributions to incredible technology applications.
#AVLivingLegends #11 and #12
#11: John Steinhauer
A known and respected veteran of the technology industry, John Steinhauer boasts a career spent working for the biggest names in the market. His Q&A shares honest reflections about both his greatest triumphs and his biggest regrets.
#12: AVH Technology Partners' Steve Grace
With more than 31 years of practical experience, Steve Grace certainly brings a wealth of knowledge to his clients. In his Q&A for #AVLivingLegends, Grace shares several pearls of wisdom that he has learned along the way.
If you enjoyed this article and want to receive more valuable industry content like this, click here to sign up for our digital newsletters!