AV+ June 4, 2021
In this episode of AV+ for June 4, 2021, we cover the news from the past week including new Google updates, studies on remote work and customer habits, and more.
Listen to this podcast using the embedded player below.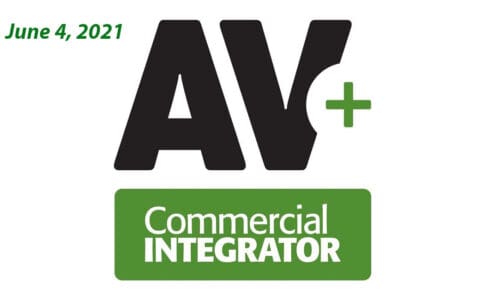 Hello everyone and welcome to AV+ your weekly source for integration industry news. This is the news for the week of June 4th, 2021:
RMB Audio Implements Audio for Duke University Commencement
When University president Vincent Price finally received the green light from the Center for Disease Control and North Carolina Department of Health and Human Services, the RMB Audio tech team had to function test all equipment that had been dormant for one year.
Three identical lecterns were placed on stage, one of which was used by singer-songwriter John Legend, who delivered the commencement speech and received an honorary degree. The Office of the Duke University president referred to the event having been a resounding success.
Christie Technology Helps Redevelop BAFTA Headquarters
Christie has been chosen by the British Academy of Film and Television Arts (BAFTA) as a technology partner for its redeveloped headquarters at 195 Piccadilly in London.
The partnership will see a host of Christie integrated technology installed throughout the building, including flagship Christie MicroTiles LED tiles, as well as 3DLP RGB pure laser, 1DLP laser projectors, media servers and software.
The redeveloped space will enable BAFTA to expand its learning and talent support program through broadcast events and screenings, supporting talent across film, games and television in the U.K. and across the world.
GTDC Report says as-a-Service Offerings are Here to Stay
A new report from the Global Technology Distribution Council highlights the importance of the as-a-service economy, and the group pointed to the growing trend as a reason for the technological success many organizations had during the pandemic.
The GTDC, a worldwide industry association that serves the interests of technology distributors – with members including Almo Pro A/V and Synnex – says the root of the success many organizations had was due to everything-as-a-service, which it calls XaaS.
The group says several factors are driving adoption of everything-as-a-service, including the ability to better support remote workforces, the quick deployment of new technologies and the ability to make instant updates.
The San Francisco Opera Stages Outdoor Performance using Ayrton Perseo-S Fixtures
The San Francisco Opera utilized a complement of Ayrton Perseo-S fixtures when it brought opera back to town in a COVID-safe outdoor production of Rossini's "The Barber of Seville" at Marin Center in San Rafael, California.
Ayrton Perseos are a multi-function luminaire with an IP65 enclosure rating developed for intensive outdoor use. ACT Lighting, Inc. is the exclusive distributor of Ayrton fixtures in North America.
"The Barber of Seville," directed by Matthew Ozawa, ran from April 23-May 15 at Marin Center.
Google Meet has Updated its User Interface
The redesign for Google Meet on the web — now fully available — includes updates to video feeds, the viewing experience and the bottom bar.
Google has also added a new notification update which provides "gentle" notifications when audio or video quality deteriorate.
Zytronic Introduces the Litemax Interactive Display for Bar Tables
Litemax's latest interactive circular 33-inch display is a resized LCD ideal for use in bar tables installed in cafes and restaurants.
It integrates a custom-made Zytronic multitouch projected capacitive technology (MPCT) sensor, combined with object recognition capability built into the associated Zytronic ZXY500 multitouch controller's firmware.
The interactive surface is a specially designed, round ZyBrid multitouch sensor capable of detecting up to 100 simultaneous touches. Manufactured in Zytronic's facilities, it features a printed border and machine polished edges for aesthetics and safety.
Worker Shortages Remain Even as the Economy Opens
There are still half as many available workers for every open job across the country as there have been on average for the past 20 years. Those figures are from the U.S. Chamber of Commerce, which released new data and launched a nationwide initiative to address the U.S. labor shortage.
The Chamber found that in several states and industries – especially education, health services and professional and business services – there are fewer job seekers than the total number of jobs open. Further, the group also found that 91% of state and local chambers of commerce say worker shortages are holding back their economies, and 83% of industry association economists say employers in their sectors are finding it harder to fill jobs than it was five years ago.
AVIXA Diversity Council Welcomes Frank Padikkala as New Chairman
The AVIXA Diversity Council has announced Frank Padikkala as its new chairperson. Padikkala will replace outgoing chairperson Charmaine Torruella, who has been at the helm for the last three years. Torruella will take a new role within the council.
Padikkala is currently a Kairos solution architect at Panasonic North America. He has a masters in cybersecurity and information assurance and bachelors in both IT-security and polymer sciences.
New Survey Suggests Digital Tools and mobile Apps Drive Customer Loyalty
Mobiquity surveyed nearly 1,300 consumers across the U.S. who are 18 years of age or older in order to gain insight into their digital habits when it comes to ordering food, how these habits may change moving forward and what digital experiences still need improving.
Findings include that younger people have increased their digital engagement frequency the most in the past year, presenting the biggest opportunity for restaurants and convenience stores to utilize digital offerings that cater to this audience, encourage more occasions and earn their long-term business.
According to Mobiquity's findings, the majority of consumers surveyed reported an increase in mobile and online ordering as well as the utilization of curbside services in the past year.
LD Systems Deploys 130-Plus L-Acoustics Enclosures at NFL Draft
Once again, the National Football League and events promoter C3 Presents chose Houston-based Certified Provider LD Systems as the live sound vendor for the NFL Draft. LD's primary deployment was for the Draft Theater, a massive 200-foot-wide by 220-foot-deep by 80-foot-tall half-moon structure created by Stage FX.
For the Draft Theater's main left and right arrays, LD Systems required full-range bandwidth, a short throw and a bottom trim of at least 55 feet, utilizing L-Acoustics K2 enclosures for the project.
Erected near FirstEnergy Stadium and the Rock & Roll Hall of Fame, overlooking Lake Erie, the structure housed the NFL Draft Theater Stage, where NFL Commissioner Roger Goodell made pick announcements and where all concerts and other main events took place.
Report says 83% of Employees Want Hybrid Work
Accenture's report, "The Future of Work: Productive Anywhere" found that 83% of employees say a hybrid work model in which they can work remotely between 25% and 75% of the time is optimal. Further, 40% of employees say they can be productive and healthy anywhere, and 85% of those people say they plan to stay with their company for along time.
However, a hybrid work might not be desirable for employees of all generations, as 74% of GenZers want more in-person collaboration opportunities, whereas only 66% of GenXers and 68% of Baby Boomers said the same.
L-com Launches Antibacterial Cat6a Ethernet Cables
L-com's new antibacterial Cat6a cable line includes 30 models that feature a cable, plug and boot that resist 99.9% of bacteria including staphylococcus, E. coli and MRSA.
These cables are compliant with ISO 22196:2011 antibacterial test standards and are available with LSZH or PVC jackets and in UTP 24AWG or S/FTP 26AWG construction. These unique cables are channel tested to 10Gbps Cat6a standards.
L-com's new antibacterial Cat6a cables are in-stock and available for same-day shipping.
Finally, here is what is happening around Commercial Integrator this week: