AV+ Podcast: Sharp/NEC Illuminates Grades, Classes of Displays
In this edition of AV+, thought leaders from Sharp/NEC help to disambiguate classes and categories of display technologies.
Sponsored Content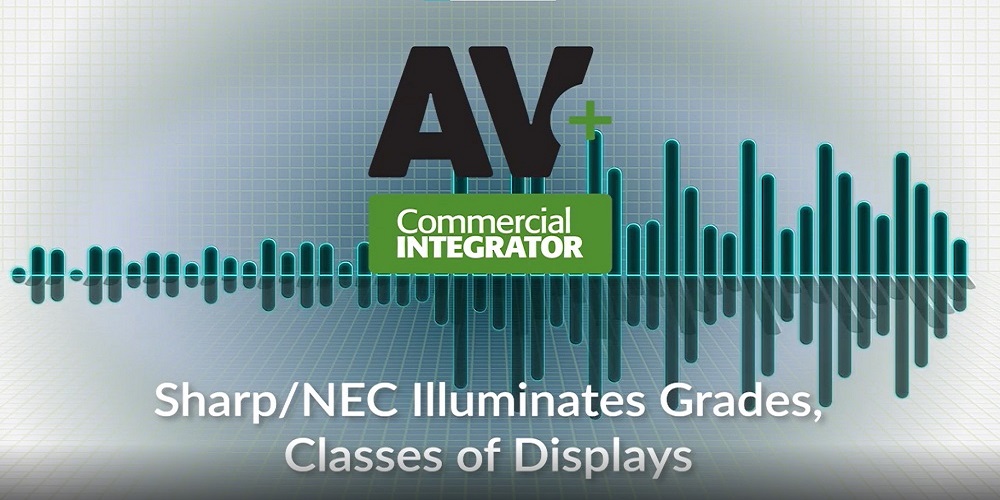 Listen to this podcast using the embedded player below.
On This Episode of AV+
On this edition of AV+, the podcast for the commercial AV integration industry, thought leaders from Sharp/NEC help to disambiguate classes and categories of displays, while also delving deeply into an exciting new offering: the 4P-B AQUOS commercial TV series.
Dan Ferrisi, editor-in-chief of Commercial Integrator and host of AV+, is joined by Sharp/NEC's Gary Bailer, director of product management, display products, and Ben Hardy, senior product manager, large-format displays, for this incredibly illuminating half-hour conversation.
This content is brought to you by Sharp NEC Display Solutions.
Watch or listen to the full discussion below:
Top Stories of the Week
Here's What's Happening Around Commercial Integrator This Week
With all the terrible news about layoffs and reductions in force in the commercial AV industry and related technology fields, Commercial Integrator and The IMCCA have partnered to create a "Available For Work" listing of AV/IT talent. We've invited affected individuals to share their name, experience, desired next position and contact details. If you'd like to add your name and details to this listing, please go to our webform.
Integrated Systems Europe (ISE) 2023 kicked off in Barcelona, Spain, and in conjunction with the large trade show, winners of the 8th annual Top New Technologies (TNT) Awards@ISE were announced. View the 2023 TNT commercial winners.
Every year, Commercial Integrator partners with NSCA to offer AV integrators an up-to-date forecast and analysis of the year ahead. And, this time, the need for insight into how to maximize business success in 2023 is more acute than ever. Integrators are, after all, facing a constellation of challenges: rising interest rates, persistent inflation, lingering supply-chain challenges, difficulty attracting and retaining top-tier talent, upward pressure on wages, global conflict and the very real possibility of a looming recession. Now is not the time to wing it!
View the a one-hour webinar archive, which will explore all of those topics, drawing on up-to-the-minute data from CI and NSCA's annual survey of the integration community.
The Commercial Integrator Podcast
The term "pro AV" doesn't do justice to the whole integration crowd, so we at Commercial Integrator wanted to create a pro AV podcast that speaks to all the areas (and there are many!) under the umbrella of commercial technology integration.
The host, Commercial Integrator editor-in-chief Dan Ferrisi, is looking forward to providing listeners with an entertaining, informative forum for all topics affecting the commercial AV industry.
Prefer mobile? Find AV+ on iTunes