AV+ June 25, 2021
Your weekly source for AV integration industry news, here is AV+ for June 25th, 2021.
Listen to this podcast using the embedded player below.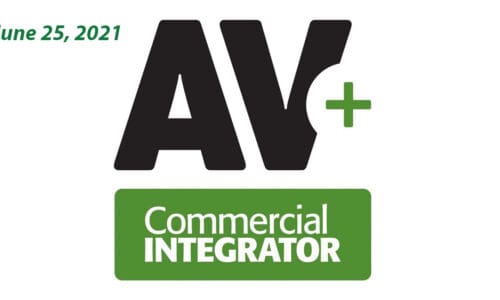 Hello everyone and welcome to AV+ your weekly source for integration industry news. This is the news for the week of June 25, 2021:
InfoComm 2021 Registration is Now Open
Registration is now open for the long-awaited in-person InfoComm show, which will take place October 23-29, 2021, at the Orange County Convention Center in Orlando. Registration is officially open at www.infocommshow.org.
CTSI Has Acquired Collaborative Technology Solutions
Fresh off acquiring DavEd Fire Systems last month, CTS is continuing to grow through acquisition by acquiring Collaborative Technology Solutions, a provider of audiovisual, security and other low-voltage solutions. In a statement, CTS President and Partner Tom Livolsi said the company's core values align with those of their new parent company.
The US Senate Has Approved $52M for Semiconductor Research and Production
A $250 billion bill passed by the U.S. Senate this week is designed to increase the country's tech competition with countries like China, and the bill includes $52 billion to fund the semiconductor research, design and manufacturing initiatives.
LG Renewed its Sponsorship of the Collegiate Esports Tournament
LG Business Solutions USA has renewed its sponsorship of the collegiate esports multi-game tournament series, Battle Academy, after the first season in 2020 saw multiple participants recruited to and offered scholarships by various universities and colleges. LG's UltraGear gaming monitors are the official monitors of the tournament, which is run by UGC EDU, a division of Ultimate Gaming Championship (UGC).
PPDS Launched the Philips 7000 Series LED Range
The new high-brightness and bezel-free L-Line 7000 indoor LED series "has been fashioned on market feedback in order to address and eradicate many of the traditional barriers and limitations around the size, shape and brightness of LED installations," according to a PPDS announcement. It is suited for immersive visual experiences in retail, corporate and public venue environments.
Planar Launched Planar Studios Initiative
Through the initiative, Planar hopes to become a partner of the film and TV industry by developing advanced visual technologies like critical LED and motion capture systems, bringing virtual production (VP) and extended reality (XR) to mainstream entertainment, as well as corporate and education markets.
The acquisition of Denmark-based AV control systems manufacturer Neets A/S is a move that enhances Biamp's portfolio of control room systems. In a press release, Biamp calls their new subsidiary a respected independent maker of AV control systems that brings with it a comprehensive family of device controllers, control interfaces and associated software known for ease of use and design.
Maverick AV is Now Distributing Crestron's UC Solutions Globally
According to an announcement, the agreement is designed to meet the collaboration needs for any kind of business environment and is the only such global distribution partnership for Crestron. It will be available in 16 European territories, the U.S. and Canada.
LG Has Released Platform-Agnostic Interactive Displays for Classrooms
The line is the LG TR3DJ series, and displays are available in 65-, 75- and 86-inch models and feature IPS display panels for wide viewing angles, making it useful in classrooms still practicing social distancing. The displays also feature 4K and Ultra HD resolution, a 20-point multi-touch surface and two stylus pens in differing colors and tip sizes that can be used simultaneously.
Poly Has Partnered with CLIPr to Address Video Fatigue
At first, Poly will use the CLIPr platform internally for recorded video assets, including global sales meetings. Then, the platform will be brought to Poly customers to help them manage and extract important moments of recorded video content so they can efficiently organize, search, interact and share that content.
Here is what is happening around Commercial Integrator this week:
Commercial Integrator's Top New Technology Awards, Integration Awards, and BEST Awards were all announced in the past two weeks. Make sure to head over to commercialintegrator.com to see the full list of winners for each set of awards.
Emerald, Commercial Integrator's parent company, has recently launched two new websites that integrators may want to check out. DesignWell will focus on wellness opportunities in the design and technology markets, while the M2X Technology Network will provide targeted market research and insights around marketing intitiatives.
We recently updated our superlist of CI magazine covers throughout the years. Feel free to head to commercialintegrator.com to check out every cover from January 2011 to today.
Our interview guest today is Ryan Pitterle of Sharp NEC Display Solutions to discuss benefits and considerations around floor projection systems, and talk about non-traditional projection in general.