New NEC Display Solutions 65-inch Displays Are Thinner and Lighter
New C & V Series NEC Display Solutions 65-inch displays, NEC C651Q and NEC V654Q, feature thinner, lighter design with 4K UHD, full external control and more.
Leave a Comment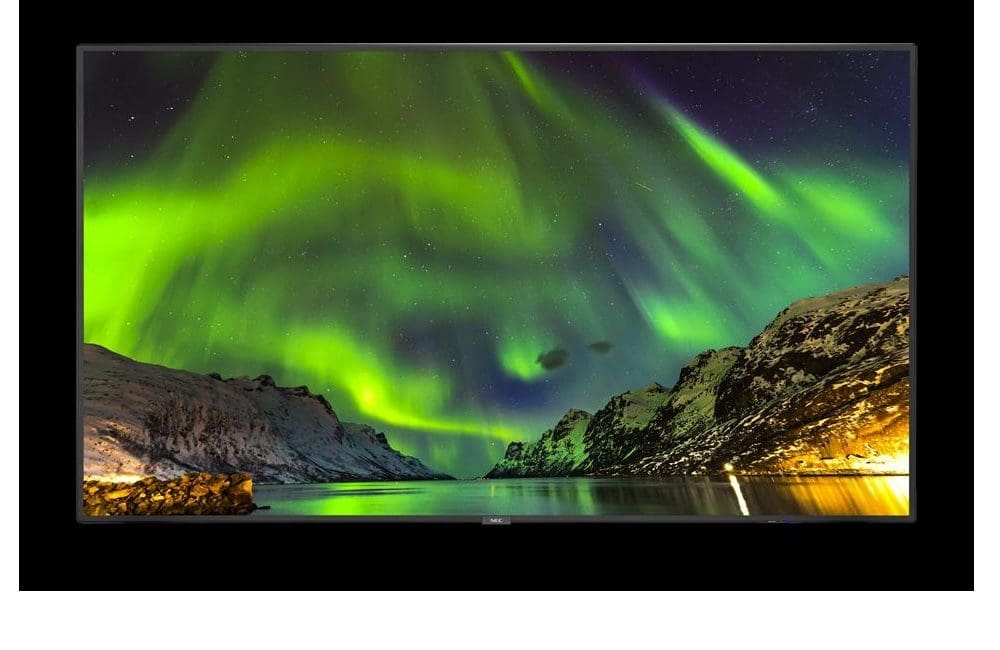 Announcing a pair of 65-inch 4K UHD displays, NEC Display Solutions of America, Inc., says NEC C651Q and NEC V654Q, large-format models are packed with commercial-grade features and a thinner, lighter design.
The new C and V Series models feature anti-reflective high haze coating, full external control and network capabilities through LAN, and both landscape and portrait orientation support for presentation purposes or digital signage use.
"With our new C and V Series displays, we've listened to customer feedback and designed the best commercial-grade, 65-inch UHD displays on the market today," says Ben Hardy, product manager, NEC Display Solutions.
"Both products are essentially non-glare, with the most effective high haze coating in its class, full-metal construction, and the proprietary SpectraView Engine technology that allows customers to have complete color control across the panel – all in a thinner, lighter and much more aesthetically focused design."
Related Webcast: NEC's Business Intelligence Platform Drives Insight and Engagement 
NEC C651Q: A Presentation Display
The NEC C651Q is especially suited for presentation purposes in corporate, retail, and house of worship settings, thanks to its 4K UHD display that is perfect for high ambient light situations and close distance viewing, according to an NEC press release.
Related: NEC's Proven Leadership in the Health Care Market
NEC V654Q: A Digital Signage Display
The NEC V654Q is ideally suited for digital signage applications in situations where higher brightness is needed, such as retail, transportation, and healthcare settings, according to an NEC press release.
More on NEC C651Q and NEC V654Q (via press release):
Both the C and V Series models features updated connectivity that offers full external control via LAN or RS232 interfaces, in addition to a SpectraView Engine, NEC's proprietary color management and stabilization system that provides unrivaled and complete color control and uniformity correction. This makes the C and V Series models ideal for broadcast applications or whenever color accuracy is necessary for branding.
"Because NEC is commercial-grade inside and out, we've integrated temperature sensors and cooling fans in the C and V Series," says Hardy. "During heavy usage, the displays are able to lower the internal temperature without sacrificing screen brightness and resolution."
Both the C and V Series models also include an OPS and the SOC Powered by Raspberry Pi slots for modular expansion, giving customers endless possibilities when it comes to content and altering their display when additional interfaces are necessary.
Related: What You Need to Know about NEC ALP (Analytics Learning Platform)
Additional NEC C651Q and NEC V654Q features include:
24/7 runtimes
Advanced connectivity, including three HDMI 2.0 and two DisplayPort 1.2 connections, plus one DisplayPort out powers a 60 Hz signal for UHD performance via a single cable
Wake On Input-Signal with custom input detect functionality
Integrated Ambient light sensor
Integrated Media Player via USB or SD Card
IR and button lock functionality
Full scheduler functionality, including holiday mode
Full metal chassis and convenient carrying handles for easier installation
The new C Series and V Series 65-inch display models can be ordered through sellers immediately.
Learn more about NEC C651Q and NEC V654Q C Series and V Series 65-inch display models here.