ISE 2021: What to Look Forward to In Barcelona
Integrated Systems Europe is moving from Amsterdam to Barcelona for ISE 2021 – but not before two more shows in the Netherlands in 2019 and 2020.
Leave a Comment
The move of the Integrated Systems Europe (ISE) from Amsterdam to Barcelona in 2021 (hashtag: ISE 2021) has generated so much excitement in the AV industry that it's sometimes hard to remember the show will be in the Netherlands for its 2019 and 2020 editions before the relocation.
But ISE managing director Mike Blackman hasn't forgotten—and he knows the show is likely to be the biggest event in pro AV when it kicks off next February.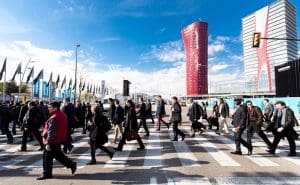 "We've still got two more shows in Amsterdam and we're committed to make those the best shows ever," says Blackman.
The 2019 show will feature another pavilion to the extreme right of the RAI Amsterdam to accommodate the continued growth predicted for ISE 2021 that forced it to find a new home.
"We've been blown away by the support we've had from Barcelona. They're really showing how much they want us," says Blackman. "The RAI is sad to see us go, but they understand the reasons for it."
Why ISE Keeps Growing
Integrated Systems Europe has become more of a focus for new product launches in recent years in part because of its position on the calendar, which was certainly a consideration as organizers scouted new homes, says Blackman.
That said, he encourages those in pro AV to attend both ISE and InfoComm's annual June show "if you want to stay ahead of the market," since both shows feature hundreds of new products.
"This is a market that's constantly changing," says Blackman.
Attendance counts from 2018 show about 34,000 people came to the first day of the event, with 40,000 attendees on the second day, 30,000 on Thursday and about 19,000 on the final day.
That arc is typical for the show, says Blackman, meaning those who have some level of claustrophobia should wait until later in the week to come to the show in 2019 and 2020.
"Our focus [for 2019 and 2020] will be on the quality of the show," says Blackman. "I don't think the exhibitors will mind if we don't have an increased attendance [in Amsterdam after setting records for the past several years]."
That doesn't mean Blackman doesn't have one eye on the first week of February 2021 as the staff plans for the final two Integrated Systems Europe events in the RAI, though.
"There's a lot of excitement about this move and the feedback has been phenomenal," he says. "But there's a lot we have to learn. We want to make sure we're doing everything properly and efficiently."
ISE planners usually spend about 15 months putting together the show, says Blackman, but they'll have about 30 months to plan for the 2021 debut in Barcelona.
"If we continue our growth as we are, we could see twice the size in the next 10 years, and that's just a conservative estimate based on our growth pattern," he says. He wouldn't be surprised to see the show hit 150,000 or even 200,000 attendees within a decade and the Fira Barcelona can accommodate that—and then some.
"We're not trying to get big for the sake of getting big. We're trying to service the marketplace. We're seeing more sectors where AV is becoming relevant or where it already is and people are realizing it. They want to find out more and see what they can do," says Blackman.
Why ISE Barcelona ?
In anonymous surveys of ISE exhibitors and attendees, organizers learned about the importance of hotel accommodations, access to the event, price of the host country, ability to get around the city and food and entertainment, says Blackman. Those factors combined to point in most cases toward Barcelona.
ISE 2021 organizers are working now on a plan to supplement the flights from certain areas that don't fly to Barcelona often with chartered flights and will also give all ISE attendees in 2021 and beyond the ability to ride the train or bus as part of their show registration, following the lead of many large trade events.
Blackman expects to see an increase in Spanish and Portuguese attendees when the show moves to Barcelona, saying those groups comprise about 3 percent of the Amsterdam attendance. He also thinks the Chinese contingent of about 15 percent of the overall attendance will travel to Spain in 2021.
Like many other pro AV shows, Integrated Systems Europe embraces the increase of end users among its attendees and expects that segment to continue to grow, says Blackman. Integrated Systems Europe shows in Amsterdam have been about 70 percent commercial, 20 percent residential and 10 percent crossover products and services.
"That's what exhibitors want to see," he says, noting it's often integrators who bring their end users to ISE and other large industry events to show them what's possible.
"It's very difficult for someone who doesn't understand the market to come to a show like ISE and understand what they're seeing. Once you start to explain it, there's an 'ahh!' reaction."
"The first [Integrated Systems Europe] show [in Geneva in 2004] was small but had a basis to grow. What I never imagined is it would grow this much this fast," says Blackman.
He remembers boasting to the previous CEO of the RAI that Integrated Systems Europe would be one of the largest events the building had seen when it moved to Amsterdam and the man telling him, "Everyone says that." He was pleased to get a congratulatory email when ISE 2021 Barcelona was announced.
"The RAI has contributed a lot to our success," says Blackman.
"Amsterdam is a place people want to go. It's important not only to have a venue that works [in terms of its size] but a place people like to go. People come to an exhibition like this not only to learn about and see new products, but you've got to have the entertainment part of it so they can enjoy their down time."
How ISE's Move Will Help Barcelona
ISE's move to Barcelona could mean a $400 million economic impact for the city every year, according to information reported in the Spanish media. That's based on a show generating 12 to 20 times what it costs to put on the event based on the size, says Blackman, and includes taxis, restaurants, hotels and other services.
Blackman hopes the move to Barcelona will mean AV becomes a more prominent factor in the area.
"It makes what the AV industry has to offer more relevant," he says. "It shows what's possible and can give people inspiration."
If you enjoyed this article and want to receive more valuable industry content like this, click here to sign up for our digital newsletters!