DGI Communications Brings Print and VR Room Design into AV Integration
Since purchasing DGI, Mike Walsh and Dave Meneely have found synergy with the print division & launched a partnership with a VR room design platform.
Leave a Comment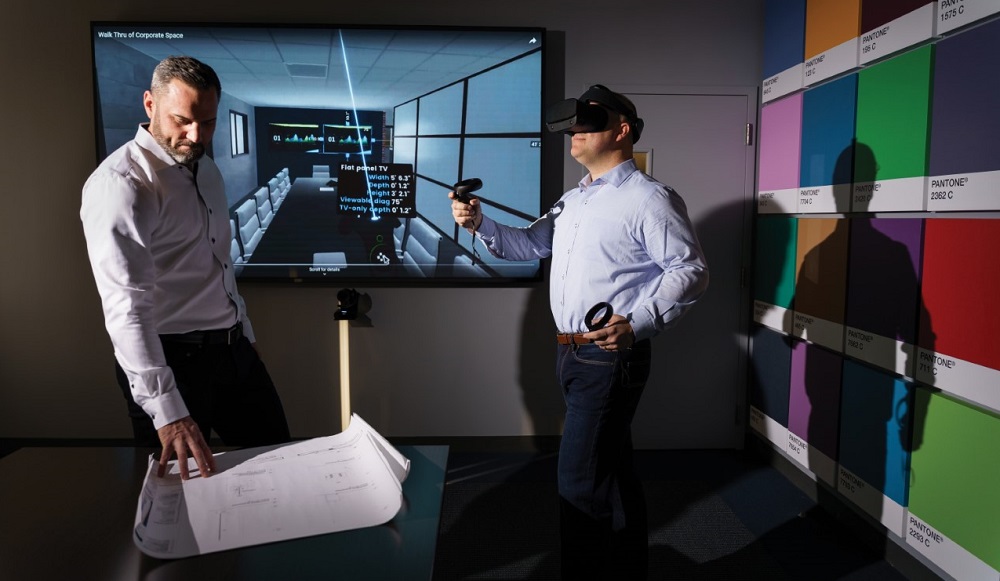 Saying that DGI Communications is a typical integration firm would not be entirely accurate. 
The company's roots started in 1994 as a digital printing firm that offered printing services for anything from signs to prints that could wrap around buildings. In 2008 the company acquired several firms and created an integration division. 
In 2015, Mike Walsh and Dave Meneely purchased DGI with a vision to align the divisions of the company. 
Today, DGI operates as a premier large format digital printer and leading provider of AV communication products and services.
The vision realized, the company can provide any combination of its three brands to any given customer: 
Technology – Communications, conferencing, control and the design of AV systems

 

Experiential – Architectural graphics, themed and branded spaces and acoustical treatment products

, wayfinding, digital signage and more

 

Print – Graphics, displays, vehicle wraps, window displays, environmental graphics, corporate interiors, etc.

 
You can experience the vision yourself if you walk through DGI's office in Billerica, Mass. You'll immediately be greeted by an VR room design system called Modus, of which DGI is the exclusive reseller. 
Walk through the office to find themed conference rooms – some wrapped in print with different colors, some with acoustic art panels featuring guitars and pianos that also improve the sound in the room, and one decorated with wall-prints of old-school comic book heroes. 
Related: Your AV Sales Could Be Multidimensional with VR Design (And More Profitable, Too)
The walls of the office have been decorated with printouts of retail spaces, a facsimile of a strip mall that gives a small-scale example of all that DGI can do with print. 
You'll also find video walls, digital signage, and acoustical treatment technology demonstrating the company's skill in the AV integration realm. 
Keep going and you'll enter the manufacturing facility, where DGI custom-prints orders for customers in various markets. The facility includes some of the most up-to-date printing machinery available alongside legacy machines for that classic touch.  
The DGI office, like the company itself, is expanding. DGI recently purchased more space in its office complex to continue to expand both its main office and manufacturing facility. Head in a year from now and there's no telling what new technology and design will adorn the walls. 
However, this space likely wouldn't exist if it wasn't for a series of meetings at InfoComm in 2015. 
Buying a Print Shop with a Side of AV
While Walsh and Meneely, now CEO and principal of DGI, respectively, were working together in sales prior to the purchase of DGI, it was DGI principal Mark Rue who first reached out with the possibility of purchasing the company. 
Rue had been with DGI for about five years and had stayed in touch with Walsh after they had worked together years prior. When the former CEO of DGI was interested in selling the company, Rue called Walsh on a hot June day to gauge his interest. 
"I remember very clearly I was out in my car, sweating because I had to keep it off to hear him," says Walsh. "Within a couple days I was sitting with DGI leadership, expressed some interest in buying out the company. 
"At that point, the talks weren't clear whether we were going to buy just the AV portion of the print as well," he says. 
"The company had a good foundation," says Meneely.
"There were a lot of things already in place. One of the biggest things—and it's really something that Mike had a vision on—was the printing aspect of the business, and some of the things that we could do there that would be unique to the market. 
"Ultimately that print side of the business became the most attractive piece for us," he says. 
After discussing the numbers, Walsh told Rue he would be interested in the full company—AV, acoustic and print. Walsh and Meneely were back and forth on the phones with lawyers during InfoComm, and on June 7 the deal was finalized. 
At that point, it was time to get to work building up the AV side of the business. 
"The technology side was relatively small," says Meneely. "Mike and I as individuals were selling more revenue with our own sales than the technology division as a whole here. 
"They didn't have a big team at the time. But a lot of the foundational pieces that were needed were in place for us," he says. 
The company operated independently between divisions at that point. The print team mostly didn't even know the employees on the AV side. The focus out of the gate became assembling a team, putting structure together and getting market share. 
In the interim, the print team was self-sustaining and didn't require the attention that the integration practice needed. 
"That transition was one of understanding roles, understanding what seat you're in, and fulfilling the pieces around you," says Walsh. "Start identifying ways where you can communicate, be on the same team, and put people in the best spot." 
"It was a small team. The engineer was also the programmer who was also a project manager. That sort of thing," says Meneely. "One of the things I was really impressed with was that the team that was here at the time wasn't a big team, but to accomplish what they did—everyone was all-in. 
"They worked hard to successfully complete projects, they just didn't have the resources that other companies have. The dedication to pull off what they did with limited resources was impressive," he says. 
"We're focused on putting the right people in the right chairs and making sure they're succeeding. With that, everyone's game gets raised." DGI Communications CEO Mike Walsh 
"In running a company, you need to create some consistency and clarity.
"There's nothing better than having repetition—having things in place that can be replicated and have familiarity for employees so they know the process," he says. 
Walsh and Meneely kept everyone on staff when they purchased DGI.
The core was there and many of those core employees has gone on to become leadership in DGI's current iteration.
With such a strong core in place, and in need of resources, it was time to recruit. 
"I had a pretty big team of people that worked for me [at my previous position]," says Meneely. "Over time, most of those people did decide that they wanted to continue to work on my team and be part of what we were doing. 
"About eight people eventually did come to DGI, and those were people that I worked with for 10 years or more," he says. 
Some of the systems in place weren't in the shape Walsh and Meneely believed they were in when acquired. They overhauled each system, built new processes, got leadership and management in place, and repeated that in every department from engineering to project management to quality control. 
"Basically every department had to be built from the ground up," says Meneely. "We used the great foundation and the people that were here and were a part of that. From there we built the business. 
"We ended up exceeding all of our goals as a company," he says. "There were scary moments where you're working off what we felt was a relatively small backlog. 
"The first year and a half were the hardest times for us with rapid growth, overhead, and onboarding. After that, we just kept growing. We had 85 people in July of 2015 and now we have over 150 people here," says Meneely. 
Building a Print Shop into an AV Firm
About two and a half years after acquiring DGI, Walsh and Meneely felt the AV integration division was strong enough that they could dedicate more time to bringing the disparate divisions of the company together. 
The goal wasn't to totally combine print and technology, but instead to find synergy where it made sense. 
A big breakthrough was in the creation of acoustic art panels – products unique to DGI that turn acoustic treatment in offices and meeting spaces into pieces of art and branding opportunities for the customer.  
"The first year and a half were the hardest times for us with rapid growth, overhead, and onboarding. After that, we just kept growing." DGI Communications principal Dave Meneely 
"There would be some opportunity sharing, but it really wasn't being marketed as a synergistic opportunity," says Walsh.
"They were operating as two separate entities. DGI Invisuals was a large-format print company and DGI Technologies was doing AV installs. 
"The acoustic panels became a big part of that, and made it easier to have that conversation about the full space," he says. 
The acoustic panels themselves aren't particularly foreign to AV projects. The soft air trapping surfaces are able to absorb mid-to-high frequencies to produce a better quality of sound, especially in conference room environments with videoconferencing capabilities. 
Sound can sometimes take a backseat when it comes to these videoconferencing solutions, but poor sound is just as distracting as poor video. Acoustic panels help to mitigate that problem, so integrators use them in such environments. 
DGI takes it a step further thanks to the company's print manufacturing arm. Acoustic art panels can be custom printed allowing for photographs, logos, corporate colors, diagrams, and more. 
They can be cut into different shapes and sizes, and installed as standalones, mosaics, checkerboard patterns or any custom configuration. 
Effectively, DGI is able to sell both the visual aesthetic of the room, customizable to any degree a customer wants, which also serves as a sound improvement expansion on an audio system.
They serve as both the integrator and interior designer of the room. 
"That messaging alone is difficult to explain, so one of the steps we took was launching a new website," says Meneely. "It took us a year and a half, really, just to get it done. 
"It was about delivering the messaging – how we position ourselves in the market and offer these solutions as one company. That took some time because it was unique and nobody else was doing it," he says. 
That opens the company up to a deeper conversation about the experience that clients are trying to create when they install AV systems. 
DGI isn't limited to technology alone. They can complement a video wall with a wall print of the company's logo, create print signs to hang or display at events, and even wrap three-dimensional objects, such as cars.  
"We would do the acoustic treatment, and oftentimes it would be branding or images. Then someone from marketing would get involved because they need to make sure the image is right," says Meneely. "That would lead to additional business on the print side." 
Adding Virtual Reality to the Mix
The latest innovation that DGI seeks to spring on the AV integration industry comes in the form of a virtual reality program, through an exclusive reselling partnership with Modus VR. 
"Last year at InfoComm, the last day there, my plan was to leave at 1:30. It was 1:00, and I came across this booth that has other acoustic panels in it," says Walsh. "I stopped in and there was a gentleman in there with a VR headset. 
"I put the headset on, and right away I was in a classroom with an instructor talking to me, taking me out to rooms and dynamically changing the spaces as we moved around. My mind was completely blown. I knew I had to either use the product or be a part of it," he says. 
Modus was sharing the space with the acoustic panel product, and Walsh saw its VR program as a way to occupy a future AV space well before a project begins. 
Using a headset and two hand controllers, a user in Modus can build a room down to the most minute details – wall and floor colors can be changed, windows and electrical outlets can be moved, and any number of furniture and products can be placed inside. 
The system can also visualize viewing angles and sound in the room. DGI worked with Modus to input real-life AV products including video walls, displays, microphones and more, as pieces to place in the room. 
With the click of a button, the seat in the room fill with virtual humans, with displays above their heads showing viewing angles to screens, and red and green lights showing if their view is obstructed by an object or another person. 
Click another button and you can measure how sound bounces through the room. Points of light bounce throughout the space, visualizing how sound reverberates, to show how much ambient noise can affect the space. 
Add some acoustic panels and those lights don't bounce around as much. Click yet another button, and a translucent orb emanates from the microphones in the space, visualizing the coverage area of said microphone. 
"You can visualize these things way before you make major commitments," says Walsh. "The objects are the king here. Having true objects that we can interact with and being able to create and import them at a fast pace is critical for customers." 
For example, real-world Crestron and Barco products are currently available to design into a virtual Modus room, with many more being imported as the service continues to scale. 
"You can visualize these things way before you make major commitments."
The technology isn't available to consumers, but integrators can license the product from DGI.
The support doesn't stop there, though. DGI has hired consultants to help design rooms and train integration customers on how to design them. 
Customer can then put on a VR headset to step into the space, or, if one isn't available, view it through an application on their computer.
In an hour-long meeting, rooms can be refined and worked on in real time until they are to the customer's satisfaction. 
"We feel that this type of solution is the future of our business. We knew we wanted to do some design work as well, so we decided we were going to go all in," says Meneely. "We're using it pretty heavily now on our own projects with our customers, and it's made a tremendous impact." 
DGI has won bids by designing the room in Modus and sending the program to prospective clients. They've even worked remotely on builds with a client in Italy, and thanks to Modus a potential construction issue was discovered by the architect designing the space. 
That's the power DGI sees in providing the Modus product for integrators. 
"We'll always be an AV integrator. But what we're doing is opening up our market so we have products and solutions that we can sell and provide to other AV integrators throughout the country," says Meneely. "We can help integrators, and that can help drive sales."