AV News Roundup April 22: Products, Projects and People in New Places
Here's a closer look at the AV news this week which includes new WyreStorm products, L-Acoustics' new global sales directors team and more.
Leave a Comment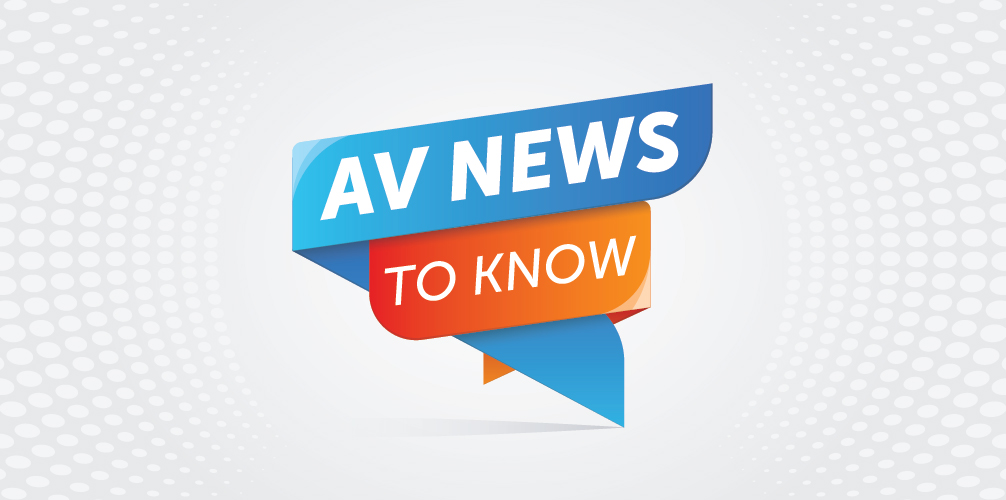 New Products
WyreStorm Upgrades Commercial Matrix Switcher Kits
Albany N.Y.-based WyreStorm announced an upgrade for its commercial matrix switcher kits with the MX-0808-KIT V2. The new 8×8 Commercial Matrix Switcher offers 8 HDMI Inputs, eight HDBaseT Outputs, with four mirrored HDMI Outputs to HDBaseT ports 1 through 4. This can pair with any of WyreStorm's HAOC hybrid optical HDMI cables to connect to 4 additional screens. The new 8×8 Switcher can also process content up to 4K/60 4:2:0 8-bit or 4K/30 4:4:4 8-bit, supporting the latest HDR standard, 30Hz HDR-10, with multi-channel audio. In addition, the versatile matrix switcher is compliant with HDCP 2.2 standards.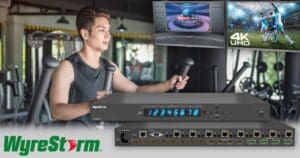 Much like its V1 predecessor, the V2 offers the same convenience of a kit. It is thus geared mainly for small to mid-size commercial applications. These include places where up to 4K UHD content is the norm and distances are shorter. Some examples are small sports bars/pubs, houses of worship and fitness centers. Users can distribute eight inputs of 4K UHD content over HDBaseT to 115 feet via the included 8x KIT HDBaseT receivers. These receivers are powered from the matrix through PoH technology. The HDBaseT kit receivers also come with IR Extension Ports and RS232 ports for connected device control and seamless integration.
Additional Features
The MX-0808-KIT V2 works automatically on signal presence or triggered via the API. It also includes support for standby mode and A/V mute function. This further enhances the offering for commercial installations. This 8×8 kit can also send power trigger commands to all compatible connected screens or projectors. In other words, it is an integrated autonomous control solution all through one device.
The V2 also replaces the 8x digital S/PDIF outputs found in V1 with 4x balanced analog audio outputs corresponding with the last 4 HDBaseT outputs. Therefore it eliminates the need to add separate digital to analog converters for external audio amplification.
The new MX-0808-KIT V2 thus joins a suite of WyreStorm's HDBaseT Matrix Switching products. These are are heavy on features and light on budget. Thus, it offers a profitable and reliable installation to customers.
Konftel Secures Climate Neutral Status for Third Year Running
Konftel has strengthened its sustainability ethos through a series of 'greener' measures. With this, it has secured official Climate Neutral status for the third year in a row.
The Sweden-based manufacturer, with a growing global footprint, says it is the first in the UC industry to become Climate Neutral certified. Here, the company has offset all greenhouse gas emissions by credits and supports various projects around the world.
According to a statement, Konftel now joins a growing movement of over 260 brands achieving the standard. The criteria is on a far-reaching three step process which comprises:
Measuring its 2021 greenhouse gas emissions footprint
Purchasing verified carbon credits to offset that footprint
Implementing plans to reduce emissions during 2022 and beyond
Together the brands have so far measured and offset 783,768 tonnes of carbon. As part of this year's commitments Konftel will cut the use of plastic bags in some of its most popular products by 50%. It will also look to increase renewable energy at main manufacturing facilities and also reduce car commuting of staff by 40%.
Clear Climate Conscience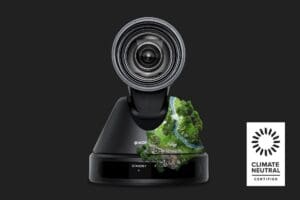 In an era of agile working with huge demand for conferencing and collaboration hardware, protecting the planet is just as important as connecting the world, says CMO Stefan Eriksson. He remarks, "Buying from Konftel ensures our customers have a 'clear climate conscience' that there are zero net carbon emissions from our manufacturing processes. We believe every company should be climate neutral and invest in our planet. It's about measuring, offsetting and reducing emissions to help the world become net-zero by 2050."
He continues, "There are many effective ways we are helping. For example we will cut the use of polythene bags in our products boxes for the Konftel 800 conference phones and Konftel Cam20 and Konftel Cam50 cameras by 50% by 2023. For cables and other small parts today shipped in poly bags, we will either shift to biodegradable bags or if possible just exclude the bags completely."
Eriksson then adds, "In addition we aim to increase the renewable energy ratio by 10% at our main contract manufacturer's facilities by 2023. We will also dramatically reduce car commuting of staff compared to pre-pandemic levels. By promoting a hybrid workstyle with flexibility in work location, staff will not be required to commute to corporate offices to the same extent as before."
His positive comments are endorsed by Austin Whitman, CEO of Climate Neutral, a non-profit organization working to eliminate carbon emissions. He adds, "Konftel and our other Climate Neutral Certified brands are leading the global shift to a net-zero economy by doing what all companies should be doing immediately: measuring, offsetting, and reducing their carbon emissions. Our label helps consumers identify these brands. It's a recognizable and trusted symbol that turns everyday purchases into meaningfully positive climate action."
Worldwide Projects Supported
Konftel has invested in worldwide carbon credits, forest conservation, renewable energy and carbon capture technologies. Forest conservation in Zimbabwe, water filtration in Cambodia, renewable energy in India, clean electricity in Indonesia, reducing landfill gas in the USA and providing clean cookstoves in Mali are some of the many projects supported by the company so far. This year includes improved forest management in the US, solar and wind energy in China, biomass in India and reforestation in Costa Rica.
Eriksson emphasizes, "We find that our customers, our partners and our people really care about all of this. We have put it at the very heart of our business because it's the right thing to do. Yes, the right thing from a commercial perspective, but also the right thing from an environmental and ethical perspective."
"When customers buy from us, they know they are buying from an organization which has no carbon footprint whatsoever; zero net emissions. This is a major statement of intent. The technology we produce works in harmony with our climate neutral philosophy. More conference calling means less car and rail journeys, fewer flights, less busy offices, reduced gas and electricity consumption. The two strategies operate together. By choosing Konftel users really can conference with a clear climate conscience from the very first meeting," Eriksson concludes.
Audio Visual Projects
Lightware Simplifies Meeting Room Connectivity for Florida Municipality
Florida is home to more than 267 cities and over 21 million people. Situated within Florida's southern Atlantic coast is a large municipality. This municipality is known as the Venice of America. It is in fact, at the center of marine, manufacturing, finance, real estate and tourism industries along the Atlantic coast.
Situated within the municipality, the City Hall serves as a meeting facility for staff members, elected officials, advisory boards and committees. This City Hall utilizes Cisco Webex Room Devices for intelligent video collaboration within the meeting spaces. "We were challenged with creating an agnostic solution for our conference rooms," explains an engineer for the Florida municipality. "Our staff members participate in meetings on different platforms, such as Microsoft Teams and Zoom. It creates a challenge for IT professionals to provide staff with the ability to join non-natively compliant meetings with Cisco endpoints."
The engineer adds, "After reading about their partnership with Cisco, I became interested in Lightware and [its] solutions….[The] Lightware's Webex-enabled bundles do not require the IT professional to write the code to support capabilities and functionality. Users can simply plug in a cable or two and press a button on the touch panel to start their meeting. It's as simple as that. It eliminates typical maintenance calls to set up a room for a meeting and the typical downtime while maintenance is performed."
Cisco Webex and Lightware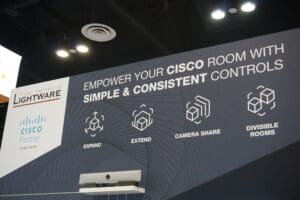 Webex by Cisco is a popular enterprise solution for videoconferencing, online meetings, screen sharing and webinars. Today, collaborating teams might wish to connect more presentation sources to their Webex Room Devices. This includes personal laptops, tablets or mobile devices, to host meetings in Cisco-powered rooms. Hungary-based Lightware provides increased functionality and user experience for Cisco Webex users through bundled systems that promote engagement through collaboration and enhanced user experience.
For this, Lightware has created a dedicated community on Webex Spaces, named Ask Lightware. Ask Lightware connects Cisco's vast network of active users all around the globe. It thus creates a forum for insightful discussions between fellow industry professionals. Ask Lightware was also established as a platform for industry professionals to discuss how the recent developments in collaboration technology can allow users to unlock the full potential of their Webex Room Devices.
Going the Extra Mile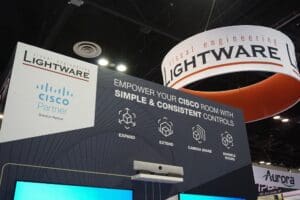 "Lightware is willing to go the extra mile for their customers. Their dedicated forum is a great space for asking questions and communicating with other Lightware customers to expand knowledge of the resources, solutions and products," adds the engineer. "I asked a question on the forum and I was immediately contacted by someone at Lightware that was able to help. I appreciate Lightware's openness and willingness to collaborate with customers, especially in an open forum."
In addition to this forum, Lightware has a dedicated team of customer support specialists that listen to engineers, system designers, integrators and AV experts. Together, they create solutions that will deliver AV technologies for the future. "Lightware's customer support has been really great," remarks the engineer. "Their team is very responsible and helpful. I recently met with one of their engineers. He is helping me design a room for our city manager's office to ensure everything will operate smoothly. It's nice to have a second set of outside eyes to view the system design and provide suggestions to create a more efficient space."
Receiving Feedback
The engineer adds, "Lightware has been a really great solution for us. As an IT professional, the biggest testament to the technology is that no one complains or comments on the new experience. That's the best compliment that we can receive!"
Lightware has thus simplified expanding, extending and controlling Cisco Webex Room devices by providing a pre-configured appliance. With Lightware, users can expand the number of inputs and outputs of a system. They can also extend the connectivity over longer distances. Moreover, users can natively control the entire solution via the Cisco Touch10 and Webex Room Navigator. Lightware has also added intuitive controls to the Cisco Touch10 and Webex Room Navigator. This enables a consistent user experience to deliver dynamic controls in the same way in every room.
People in New Places
Advanced Systems Group Appoints Andreas Hoeschle as Key Technical Account Manager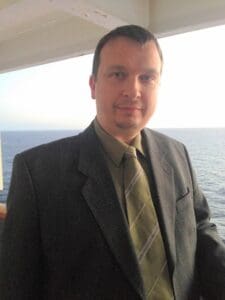 Advanced Systems Group (ASG), California-based solutions provider for media creatives and content owners, has appointed Andreas Hoeschle as key technical account manager, Southwest. Based in the Los Angeles area, Hoeschle comes to ASG from Integrated Media Technologies (IMT) where he was a technical account manager. In his new role, Hoeschle will serve as advisor for ASG clients. Thus, he will facilitate a smooth customer journey from initial installation through decommission.
Per a statement, Hoeschle is a seasoned IT professional with experience in client support for over 20 years in various industries and disciplines. In addition to IMT, he's served as a pre-sales engineer at ELEMENTS Storage and systems engineer at Dell Technologies. He was also systems engineer at The Hallmark Channel and a senior systems engineer as well as sales manager at GPL Technologies. Through his previous experience with high-profile, LA-based media companies and tech firms, Hoeschle has already worked closely with several ASG staff members.
"With ASG I can use my years of experience to make a difference. I feel like I'm coming home to a family. What I'm most excited about is the opportunity to excel with the incredible team here in LA," Hoeschle adds.
Building Trust with Clients
Hoeschle also sees significant opportunity for ASG throughout Southern California and is looking forward to building momentum in the region. He believes his time as a systems engineer with television networks provides deeper insight into the challenges of ASG customers. "I was on the client side for years," says Hoeschle. "When we sit down with a client at a facility, I can genuinely say I've been in your shoes. I know how hard it is when you must make everything fit within your budget. And with my storage, VAR and other experience, I can suggest a solution that's going to be more cost-effective and innovative."
Dave Van Hoy, president, ASG, also comments on the new appointment. He remarks, "Andreas has a reputation for understanding a client's needs and being able to bring that to fruition. His range of knowledge and diverse background will serve him very well at ASG. We feel fortunate to have him as a member of our team."
Planar Appoints Will Amos as Business Development Manager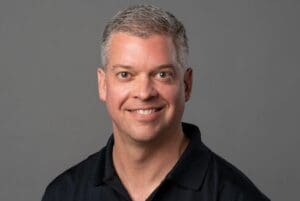 Oregon-based Planar welcomed Will Amos to the company's NYC Metro Team. As a business development manager, he will support and educate end users about deploying display technology across various vertical markets.
Amos joins Planar with more than 15 years of experience in the digital signage and AV industry. He most recently developed opportunities in the retail and commerce sector as vice president of sales and business development at All Point Retail. He also served as director of retail sales at NanoLumens as well as digital media group director at Diversified, which included a focus on supplying digital signage, AV experiences and IT integration across a variety of industries.
As the newest member of Planar's NYC Metro Team, Amos joins account managers Tom Petershack and Steve Fitch, applications engineer Richard Kondas and senior sales director Tani Klein.
L-Acoustics Introduces New Global Sales Director Team
France-based L-Acoustics announced that it has created and filled three key sales director positions to match its regional operational structure. The appointments are as follows: BJ Shaver for the Americas, David Cooper for Asia-Pacific (APAC), and Jacob Barfoed for Europe, Middle East, and Africa (EMEA). All three will directly report to global director of business development Jochen Frohn.
Shaver and Cooper will also develop regional sales strategies in close collaboration with Americas CEO Alan Macpherson and APAC CEO Tim Zhou respectively.
Based in Arkansas, Shaver has been with the company for over nine years. He first served as a regional sales manager for the southeastern US. Later, he was an installation business development director for the Americas. Before joining L-Acoustics, he spent six years with an AVL integrator.
Meanwhile, Cooper recently relocated from U.K. to the new L-Acoustics APAC office in Singapore. Like Shaver, Cooper has spent more than nine years with the manufacturer as a sales manager. He is also well known throughout the industry for his prior 20-year association with Midas mixing consoles.
Barfoed is based in Copenhagen and is actually a new hire to L-Acoustics. Barfoed comes to the manufacturer from Sony Professional. At Sony, he spent nearly two decades in various leadership capacities, the latest being head of European sales.
Enforcing Global Strategies
Frohn expands on the need for the new sales directors team. He remarks, "By all early markers, 2022 is shaping up to be a robust year for L-Acoustics. To properly ensure that our clients are supported regionally with the highest level of experience, business acumen, and integrity, we've turned to three incredibly sharp professionals: BJ, David, and Jacob. While they'll lead sales teams with a local focus, they will also collectively contribute to a harmonized global strategy, working in tandem with our application teams to ensure the highest level of support to our customers around the globe."