AV News to Know October 1, 2021: New Products, Cool Projects and People in New Places
In this week's edition: new laser projectors, digital touch displays, a new tool for in-room video solutions and more.
Leave a Comment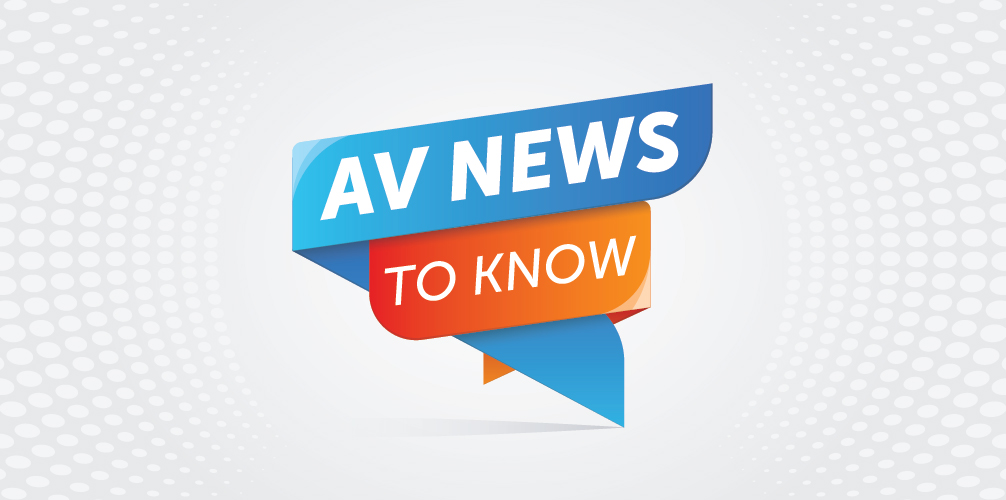 Here's a closer look at some of the AV news, products and projects you might have missed this week. We call it AV News to Know:
New AV Products
Optoma Announces Highest Brightness WUXGA Projector Series with Eight Interchangeable Lenses
Display manufacturer Optoma announced its highest brightness professional laser projectors to-date, filling a need for high-end installations, including the entertainment, exhibition, and digital signage markets. At 17,000, 19,000 and 22,000 lumens, the Optoma Ultra Bright Series ZU1700, ZU1900 and ZU2200 projectors establish a high brightness benchmark, as well as extreme flexibility with eight interchangeable lenses to meet the needs of even the most complex installations.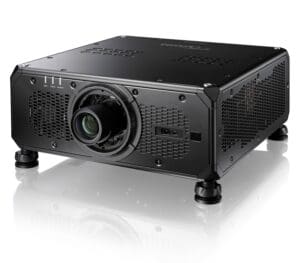 As part of Optoma's DuraCore laser line up, the Ultra Bright Series high-performance projectors feature 4K HDR compatibility, pure engine video processing and color matching to produce visually striking, lifelike images with exceptional detail and high color accuracy.
The new models feature Optoma's Visual Suite software, along with an integrated camera, creating seamless setups with automatic image adjustments, warping, and calibration for consistently bright and uniformed images every time while reducing installation hours.
Reliability is at the core of Optoma's Ultra Bright projectors, with 24/7 operation capabilities, up to 30,000 hours of laser lifetime, and an IP5X rating for optimal and dependable performance, even under more extreme conditions up to 122˚F/ 50˚C. With a robust metal chassis and modular design for easier maintenance, a multitude of connectivity options, and failsafe redundancy mode for instant source switching, the ZU1700, ZU1900 and ZU2200 projectors offer a solution for intricate installations, including multi-projector and dome projection applications.
The Optoma Management Suite (OMS)™ is available on the Ultra Bright Series, offering IT administrators and technicians a real time remote platform to monitor, manage, and diagnose multiple displays simultaneously. OMS enables technicians to check the status and make configurations to optimize performance and broadcast emergency messages, alerts, or announcements across on-site displays.
Additional specifications across all three projectors include:
Resolution: 1920 x 1200 WUXGA
4K HDR compatibility
Contrast: 2,000,000:1
Laser Lifetime: 30,000 hours
Eight interchangeable lenses, ranging from short throw to long throw ratios (0.65 – 10.8:1)
Visual Suite software: built-in image blending and warping
Horizontal and vertical lens shift
Redundant input with fast switch support
Skykit Announces 10″ Touch Display to Support Workplace Experience Solutions
Digital signage solutions provider Skykit is now offering an all-in-one 10.1″ touch digital display, the Skykit SKD10, to be used with its Skykit Turf product line that supports space and room booking and check-in for office environments.
The Skykit SKD10 devices run on Android 10, are touchscreen-enabled, and are enabled for Skykit Control, Skykit's leading enterprise-grade device management platform.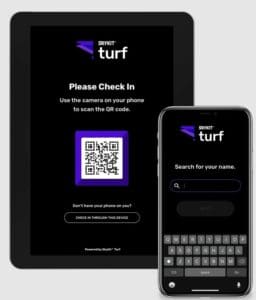 Skykit Control allows users to manage their network's fleet of devices, remotely monitor, update, enable device lockdown, and more. The SKD10 device is designed to work seamlessly with Skykit Turf's two workplace experience solutions: Check-In and Space Booking.
Turf Check-In enables organizations and building managers to track and register guests and employees as they enter the space, all through an easy-to-use touch or non-touch interface.
Turf Space Booking allows employees or visitors to book meeting rooms, office or hoteling space directly from the device, or remotely from their calendar.
The SKD10 also features a full surround LED light bar to show space status and availability. With convenient features like touchless check-in, calendar integration, and automatic space release for abandoned spaces, Turf makes it possible for organizations to reduce wasted admin time and make the most of their space while keeping employees safe.
"The SKD10 addresses a key market need as organizations struggle with the availability and cost of touch-screen displays," said Paul Lundberg, Skykit's CTO in a statement, "we're excited to deploy the SKD10 into environments that require reliable and secure devices that can be remotely managed."
One device can seamlessly be used for multiple functions by working interchangeably with Skykit Turf and Skykit Beam, Skykit's Digital Signage Software. Skykit Beam allows users to easily manage, update and display messaging, promotions, interactive kiosks, and more across any network.
Konftel Launches Interactive Room Type Guide To Reinforce 'Total Video Solutions' Blueprint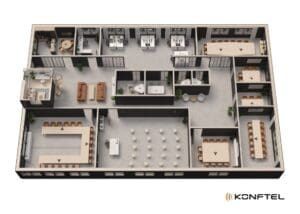 Conferencing and collaboration manufacturer Konftel has developed a special interactive room type guide to help users pinpoint the optimum set-up and understand the different dynamics of any video meeting scenario.
Designed for resellers and their customers, the new tool  showcases Konftel's expanded product portfolio based on collaboration solutions for any room type.
The 3D guide identifies the most appropriate products and connectivity set-up, from personal workspaces, focus and huddle rooms to large multipurpose rooms – based on an overall objective of video enabled meetings.
Konftel's latest product developments include:
Konftel 70 video kits
The Konftel 70 is a versatile speakerphone that blends exceptional audio quality with a stylish accolade-winning design. It's an ideal video meeting companion or can be used as a standalone or even portable solution, for huddle rooms and small/medium locations.
It forms the audio centrepiece of two new video kits – the C2070 and C5070 – which are part of Konftel's entire Climate Neutral certified portfolio.
Konftel Personal Video Kit
The Konftel Personal Video Kit creates conferencing convenience – and is ideally suited to today's growing hybrid working trends, spanning both the home and traditional office.
The complete conferencing package consists of the new Konftel Cam10 webcam and popular Konftel Ego speakerphone – delivering business class performance with high levels of usability as part of a compact and portable overall design.
Konftel C50800 Hybrid
The Konftel C50800 Hybrid is a premium video collaboration solution for medium to large meeting rooms. The package combines the Konftel Cam50 PTZ conference camera and the Konftel 800 conference phone with the Konftel OCC Hub for One Cable Connection.
CNI Joins the Geoverse Partner Program to Help Bridge Digital Divide with Private Network Solutions
Geoverse, a private cellular networks operator announced that CNI Sales, Inc. has joined its partner program to leverage the variety of private wireless solutions and deep expertise Geoverse offers to enable better remote learning opportunities and connectivity.
CNI creates custom IT solutions with secure, fast, and reliable connectivity for the K-12 education market, as well as in the healthcare, commercial and government sectors in the East Coast region.
After evaluating the advantages of LTE and Citizens Broadband Radio Service (CBRS), including increased signal reach, connectivity performance, proven security, and seamless mobility, educational institutions are increasingly choosing private wireless networks as their solution to bridging the digital divide and making sure their students stay connected.
School districts and communities are seeking solutions that will empower them to provide reliable online access for all their students. Forward-looking planners also realize that, while private cellular networks can enable remote learning, they can also serve as the foundation for smart city initiatives in the future.
CNI is now a value-added reseller and system integrator of Geoverse products and services. The company will sell and install locations for Geoverse who adds private LTE cellular as a complementary wireless service to their managed Wi-Fi offerings.
Geoverse designs private network solutions for critical applications using OnGo, a licensed low-band LTE spectrum – a major differentiator in this emerging sector. Together, CNI and Geoverse are focused on the growing traction in the education space, and in the healthcare industry, where leaders are exploring use cases such as real-time telehealth, indoor and outdoor wireless environments, IoT, remote patient care and more.
Audio Visual Projects
Clear-Com IP-Based System Debuts During Opening Weekend of San Diego Symphony's New Outdoor Venue, The Shell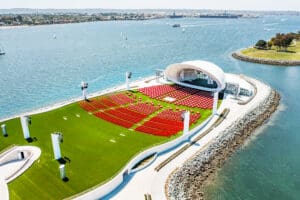 The San Diego Symphony celebrated the grand opening of its new, state-of-the-art outdoor performance space, The Rady Shell at Jacobs Park, after a 13-month delay due to COVID. The architectural marvel and surrounding park grounds sit on the edge of the bay in downtown San Diego, serving as a unique gathering ground for live performances and public city events.
Throughout the five-year project, project managers relied on expertise from global leaders in audiovisual and entertainment technology, Solotech, who specified and installed all AV equipment, including a Clear-Com Eclipse® HX Digital Matrix system with integrated FreeSpeak II® Digital Wireless Intercom, HelixNet® Digital Network Partyline and LQ® Series of IP Interfaces.
In previous years, the symphony had been hosting outdoor performances, from June through September, weather-permitting, in a temporary manner with a portable stage and AV equipment they would bring to the site with each performance.
The goal for this new venue was to create a facility designed specifically for elevated outdoor performances where the San Diego Symphony, as well as other leading touring acts, could perform outdoors year-round. To achieve this, the San Diego Symphony turned to Solotech and Salter acoustics and AV consultants.
"I have been a longtime user of Clear-Com in my background with Cirque, so I understand what is required of a communications system in complex production environments and the value that Eclipse HX can bring to a production in terms of flexibility," said Aaron Beck, business development manager & senior engineer for Solotech. "At first, there was only a plan for a HelixNet system with 4-channel partyline and a handful of wireless beltpacks, but we quickly recommended they include an Eclipse Frame and FreeSpeak II in addition to their HelixNet plan, for a powerful, campus-wide solution."
With a 10,000-capacity venue comes a huge area that requires seamless coverage for communications.  Building A is located backstage of the main Shell and houses the rack room, equipped with HelixNet, Eclipse and LQ. HelixNet is linked to the Eclipse system via LQ, which effectively maximizes its interfacing capabilities and potential for expansion as needs arise.
Eclipse is also integrated with FreeSpeak II 1.9 GHz wireless beltpacks and transceiver modules strategically placed around the venue all the way back to Building B, the video production room at the far end of the performance space. Building B houses V-Series™ Iris panels with built-in IP connectivity to the Eclipse system in Building A.
This system configuration ensures that all production team members can remain connected no matter where they are across the widespread campus, with as many direct, point-to-point and one-to-many audio and data signal distributions and connections as desired. Eclipse HX can integrate with almost any device over IP (Dante, AES67 and native), redundant Fiber, MADI and audio CAT5 without compromising audio quality or performance, making it the most highly scalable, extensible, and programmable system on the market.
"Communication is the most important part of any live show.  The ability to have multiple group channels and point to point communication is crucial for us every step of the way," said Joel Watts, Audio director, San Diego Symphony.  "The flexibility has allowed us to push all our production communication over to one platform, from paging and stage announcements to shout speakers and snoop microphones for conductors. This is the perfect system for our new space."
People and Places
INFiLED Hires Larry Lipsie as Regional Sales Manager
LED display provider INFiLED has announced the hiring of Larry Lipsie as Sr. Regional Sales Manager covering Central and Western United States for both fixed installation and the rental and staging markets. Lipsie brings 23 years of experience as a regional sales manager in the audio-visual industry including the last four years working with a dvLED manufacturer.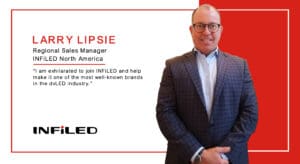 "He has demonstrated strong results as a sales leader throughout his career by focusing on the customer's needs and being very responsive and proactive. Larry is known for his positive energy and his passion to help customers. We're estatic to have him on the team," says VP of Sales, Grif Palmer. INFiLED recently opened a new dedicated Los Angeles facility in the U.S. to support its North American customers.LED display provider INFiLED, has announced the hiring of Larry Lipsie as Sr. Regional Sales Manager covering Central and Western United States for both fixed installation and the rental and staging markets. Lipsie brings 23 years of experience as a regional sales manager in the audio-visual industry including the last four years working with a dvLED manufacturer.
"I am exhilarated to join INFiLED and help make it one of the most well-known brands in the dvLED industry." INFiLED is one of only a handful of true LED manufacturers and builds the highest quality products for all segments in the dvLED industry. INFiLED has assembled a well-known, talented team of industry veterans in the US. We look forward to working with you and sharing our expertise to help you in all aspects of dvLED.
Lipsie started his career at Eiki and was instrumental in its growth to become one of the leading projector manufacturers. His dvLED experience began at digiLED where he was the company's first US based salesperson. While at Absen, he led the South-Central territory to become the top sales revenue territory in America. He was promoted to Sr. Sales Manager Rental and Staging North America which he added dozens of new customers almost solely based on his previous relationships. Before starting at INFiLED Larry was a Sr. Account Manager for LG dvLED covering the South-Central territory.
CCS Presentations Systems Gets A New Look
CCS Presentation Systems, one of the largest integrators of audiovisual equipment in the U.S., turned 30 this summer and is celebrating by introducing a brand-new logo.
Beginning as a two-person operation in 1991, CCS now has over 350 employees nationwide and annual revenue across the CCS group tops $160 million dollars.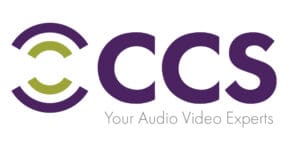 "We are thrilled with this new look and are excited to roll it out across our partner offices, nationwide," said CCS founder and CEO, John Godbout in a statement, "It represents our commitment to the future and a forward-thinking attitude. We are hoping it lasts us for the next 30 years!"
CCS currently has eleven regional partnerships totaling 28 offices covering 40 states. All have extensive experience working with architects, consultants, general contractors, construction managers and end users to select, integrate and support audiovisual systems and unified communication systems.
CCS customizes solutions to match a client's specific requirements to achieve their goals. This process includes advising on product selections, establishing enterprise standards and achieving overall ROI of technology systems.
The CCS national presence includes offices in Arizona, Colorado, Florida, Georgia, Idaho, Illinois, Indiana, Iowa, Kansas, Kentucky, Maryland, Massachusetts, Michigan, Missouri, Nebraska, New Hampshire, Nevada, New Mexico, Rhode Island, Tennessee, Texas, Utah, Virginia and Washington D.C.
If you enjoyed this article and want to receive more valuable industry content like this, click here to sign up for our digital newsletters!