DVIGear HyperLight Cable Handles Data Rates Up to 4.95 Gbps
New DVIGear DVI AOC HyperLight Cable series active optical cables feature single-link DVI resolutions as far as 328 feet and up to 4.95 Gbps.
Leave a Comment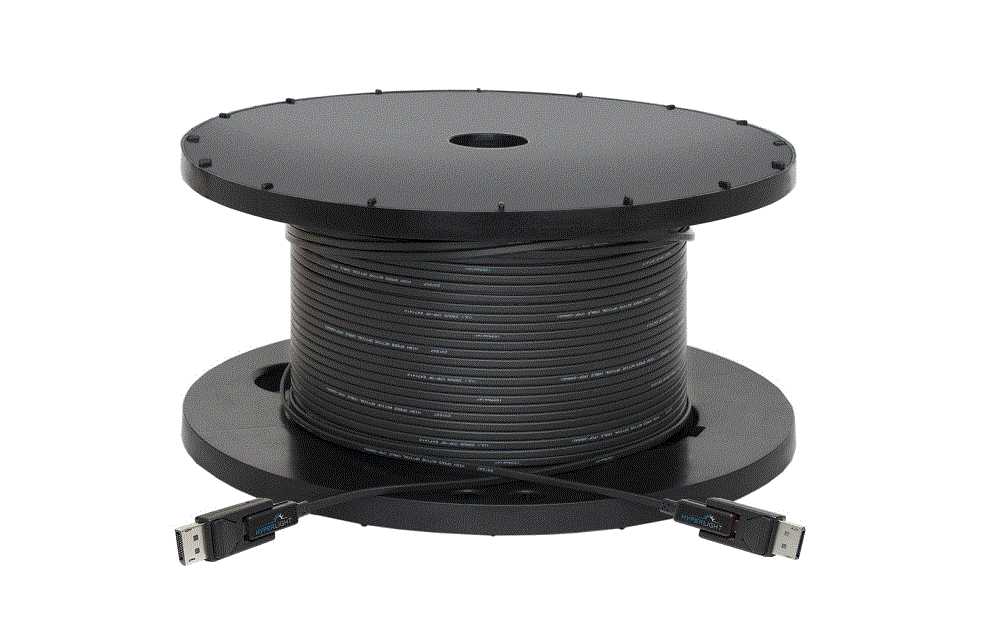 DVIGear updates its line of Active Optical Cables (AOC) with the new DVI AOC HyperLight Cable Series.
DVIGear's latest product line is designed to support the extension of DVI 1.0 signals with an optional HDMI adapter cable.
The HDCP 1.4 compliant cables enable the transmission of video signals with aggregate data rates as high as 4.95Gbps.
The Marietta, Ga.-based company notes the cable line's specifications allow integrators to install systems that support Single-Link DVI resolutions through cable lengths up to 328 feet (100 meters).
Active Optical Cables for Mission-Critical Transmission
The new HyperLight Cable employs a hybrid construction design with four Polyfluorinated Optical Fiber (POF) and 6x plenum-rated copper wires, helping to ensure durability.
Through its construction, the lightweight HyperLight Series offers a minimum bend radius of two millimeters.
To minimize cable diameter during the installation process, the cable's two DVI docking connectors can be removed to reveal a cross section that measures just 1.9mm x 14.2mm.
DVIGear says the DVIGear DVI AOC HyperLight Series active fiber optic cables are engineered to handle mission-critical signal transmission applications.
Video signals are transmitted over four optical cables to eliminate the problems of environmental noise that cause interference issues, and the optical cables provide a low RFI/EMI profile.
The HyperLight Cable draws power from connected DVI sources to eliminate the need for external power supplies and are available at a choice of lengths ranging from 10 meters to 100 meters.
In addition, DVIGear also offers its new HyperLight DP AOC Series line of cables.
DisplayPort 1.4 Format Use
The DP AOC Series of cables are designed as a lightweight plug-and-play solution that supports the DisplayPort 1.4 format. The plenum-rated cables draw power from connected DisplayPort sources, and they are HDCP 1.4/2.2 compliant.
Read Next: This 4-Question Quiz Proves Optical Fiber Outperforms Category 5 and Category 6 Cables
Moreover, the new HyperLight Cable support resolutions up to 4K at 60Hz with 4:4:4 chroma subsampling at distances as far as 100 meters, and 8K at 30Hz with 4:4:4 up to 50 meters.