20-Minute SDVoE Training Sessions Offered at InfoComm 2018
20-minute SDVoE Alliance interactive presentations will cover AV-over-IP, networking topics, control software interoperability, AV/IT convergence and more.
Leave a Comment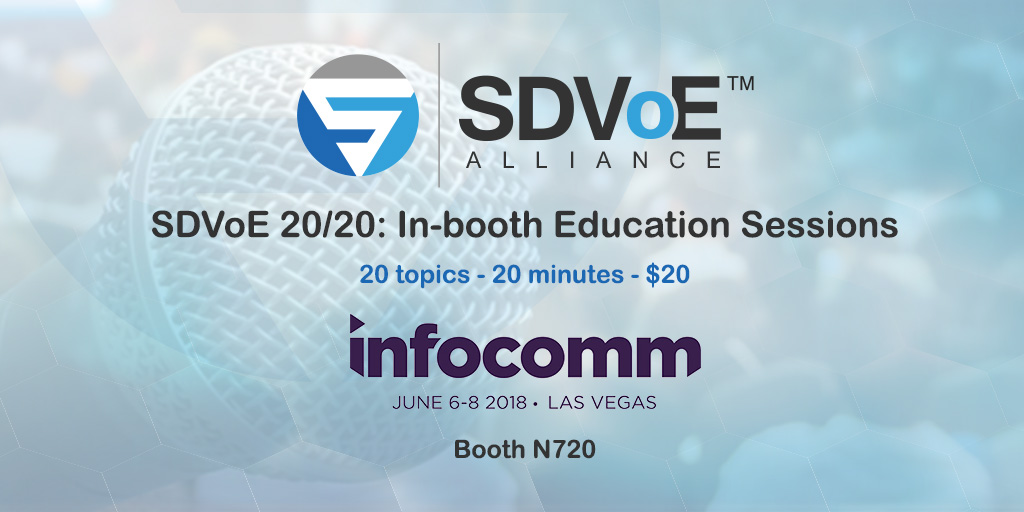 The SDVoE Alliance will bring industry experts to its InfoComm 2018 booth [N720] to present 20-minute, in-booth SDVoE training sessions "on a variety of topics essential for system integrators, designers, consultants, installers and manufacturers who want to understand the new AV-over-IP paradigm — Software Defined Video over Ethernet," according to the press release.
"We're calling this series of education sessions 'SDVoE 20/20'," said Justin Kennington, president of the SDVoE Alliance.
"Attendees can choose from more than 20 sessions, invest 20 minutes to learn about various aspects of AV-over-IP in easily digestible chunks, and someone at each session will leave with $20. Those are the best odds in Vegas!"
Related: SDVoE Alliance Launches Design Partner Training and Certification
Presentations will start on the hour and half-hour throughout all three days of InfoComm 2018, June 6-8. A full schedule of all sessions can be obtained in the alliance's booth. Click here for pre-registration for the sessions and prize drawings is available on the SDVoE Alliance website and check back often for additional sessions.
Preliminary SDVoE training topics include:
Death of the Matrix Switch
Video Over 1G Ethernet: The Ugly Truth
Networking 101:  What is Multicast?
SDVoE Design Partner Certification: What's in it for Me?
Networking Made Easy: Design a 144-port SDVoE System in 15 Minutes
New Architectures for Simplified Video System Design
SDVoE and ExtremeUSB: Unique Applications Combining Video and USB
Networking Fast Track: What is a Modular Ethernet Switch and What Does It Mean to AV?
Software-Defined AV Management
SDVoE Alliance leadership recently announced the creation of an online training and certification program that they say "recognizes experts in the creation of SDVoE systems that take advantage of AV-over-IP scalability, yet offer matrix-switch-like performance," according to an alliance press release.
Created in cooperation with AV consulting firms HyperSphere Limited and Hewshott International, as well as AV/IT training firm Clavia Ltd., the goal of the program is to certify designers qualified to offer guidance in leveraging the SDVoE standard for AV network deployments in corporate, education, health care, enterprise, entertainment, hospitality, retail, houses of worship, government, military and security.
"The first year of the alliance was all about explaining what it is and getting the brand out," says SDVoE Alliance president Justin Kennington. "Now, we want to start really being useful."