AudioScience Releases Plug-in Enabling Integration with Q-SYS Ecosystem
System designers can now integrate Iyo Dante products into the Q-SYS Designer Software and control all aspects of the interface.
Leave a Comment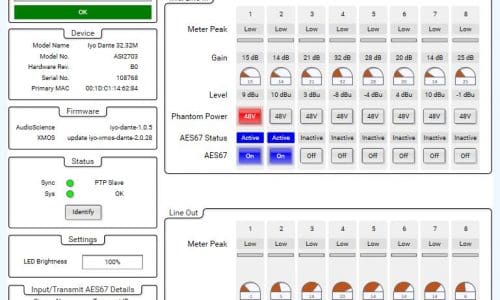 AudioScience recently announced their Iyo Dante family of microphone/line Dante audio-over-IP (AoIP) interfaces can integrate with the Q-SYS Ecosystem from QSC through a new plugin.
Available in channel capacities from 8×8 through 32×32 in a 1U form factor, the Iyo family features THAT Corp. digitally controlled preamps and 32bit AKM analog-to-digital and digital-to-analog converters.With the plugin, system designers can now integrate Iyo Dante products into the Q-SYS Designer Software and control all aspects of the interface on a native Q-SYS touch screen controller.
"Following the successful introduction of our Iyo Dante family, integration with third-party ecosystems was high on our list," said AudioScience network product manager Nicole Santiago in the company press release.
"The extensive software-based capabilities within Q-SYS allow system designers to control Iyo devices in a number of different ways, all from within a familiar and robust platform.
"With AudioScience's expertise in audio I/O products, we are excited to now have the Dante Iyo family; the usability between AudioScience's implementation and Dante's user-friendly software and automatic configuration make's audio networking stress-free for everyone," she said.
The Iyo Dante plugin is available through Q-SYS Designer Asset Manager.
NV-32-H Network Endpoint News
QSC announced this week its Q-SYS NV Series (NV-32-H) network video endpoint for the Q-SYS Ecosystem, which it says introduces native video distribution to the Q-SYS ecosystem and will be demonstrated at ISE 2019.
The NV-32-H is "optimized for the connected meeting room," Mike Brandes, product manager, Q-SYS Video, QSC, tells CI.
The single, software-configurable SKU offers a native, multi-stream, software-defined HDMI encoder/decoder that, in a press release, QSC says enables network-based video distribution.
The NV-32-H features the new QSC Shift video compression codec which provides low latency video streaming with resolutions up to 4K60 4:4:4 over a standard gigabit network by dynamically adjusting network bandwidth consumption based on video content, according to the press release.
This provides flexible and network efficient compression and distribution of common meeting room video content without sacrificing the ability to stream full motion video.