Vegas Beer Park Backs its Brews With A Stunning 1.9mm PixelFLEX LED Video Solution
A FLEXUltra 1.9mm LED video solution from PixelFLEX provides simple zoned sound control in a package tough enough to brave Las Vegas weather.
Leave a Comment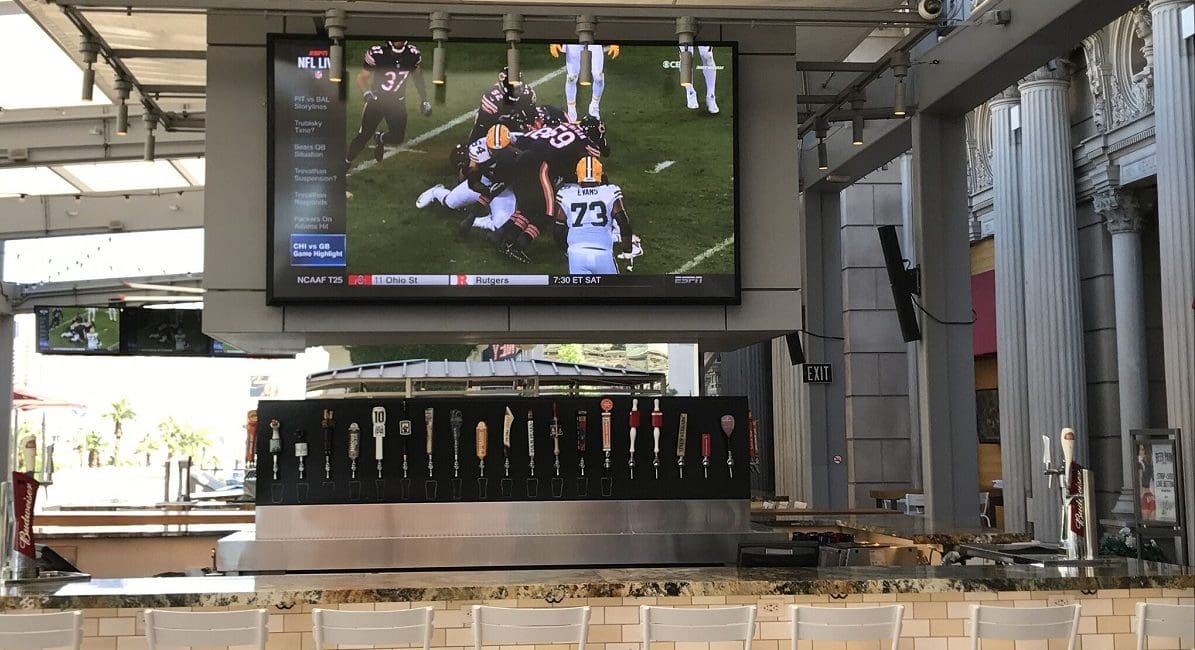 Even the serious beer connoisseurs among us must agree: bars with over 100 beer options and 36 taps must also step up their AV game, especially in a place like Las Vegas. Beer Park at the Paris Las Vegas Hotel & Casino accomplished just that with a 1.9mm FLEXUltra PixelFLEX LED video solution from Ponto Solutions.
"[Beer Park] really wanted this location to be a premier entertainment experience through an environment that's exciting and upbeat," says Matt Abbrederis, Ponto Solutions.
They also wanted to be able to draw people in off the Las Vegas strip, which is no easy task in a city FILLED with screens.
Combo With Crestron Control Keeps Installation Simple to Use
Initial design concepts included wrapping LCD video around the entire center bar, similar to NHL center-ice or NBA center-court scoreboards. But after viewing examples of 1.9mm LED technology, Beer Park chose to go with PixelFLEX.
Ready to begin the installation of the new LED video system, Abbrederis knew that the numerous challenges of living in the Las Vegas desert might present a series of obstacles.
The next goal was to make the rooftop design as flexible and truly unique as possible. Keeping both the experience of the guests and the management team in mind, Abbrederis created an audio/visual package which is controlled through a handheld tablet.
The LED video wall can act as one large display, or can be broken up to show four different pieces of video content at once. An audio system can intelligently read the decibel levels throughout the space to provide even distribution of sound across the entire rooftop with no hot spots.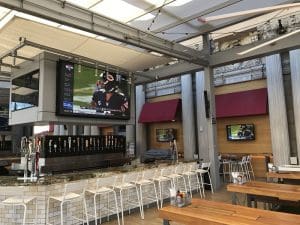 The complete A/V system is then controlled off a tablet that the employees can use to change the channels, break up the video and audio zones, and then adjust volume.
FLEXUltra Advantages Over LCD
Abbrederis says he believes that LED video technology is a key design element for an innovative and modern customer experience.
"In this application, reliability was certainly the key, and the overall reliability of LED video is much greater than other large format displays," Abbrederis says.
"Additionally, the imagery of the PixelFLEX FLEXUltra LED video is seamless so that you don't have varying colors, and the installation is a lot easier because you are essentially using one big mount instead of individual mounting LCD displays. Plus, if one LCD display goes out, you have to replace the entire display. With LED technology, should you have a panel failure, you just pop it out and place in a new one, so it minimizes your down time and you get a better-quality display."
"Once they saw the result of the new system, they knew why we were pushing an LED video solution in the beginning of the project."
Learn more about Beer Park here.