New HDR and 12G-SDI Solutions from AJA
AJA develops a range of tools that support emerging HDR standards and formats as well as the latest 12G-SDI and HDMI 2.0 technology to help professionals optimize the creation and delivery of multi-format content.
Content from our Sponsor
Leave a Comment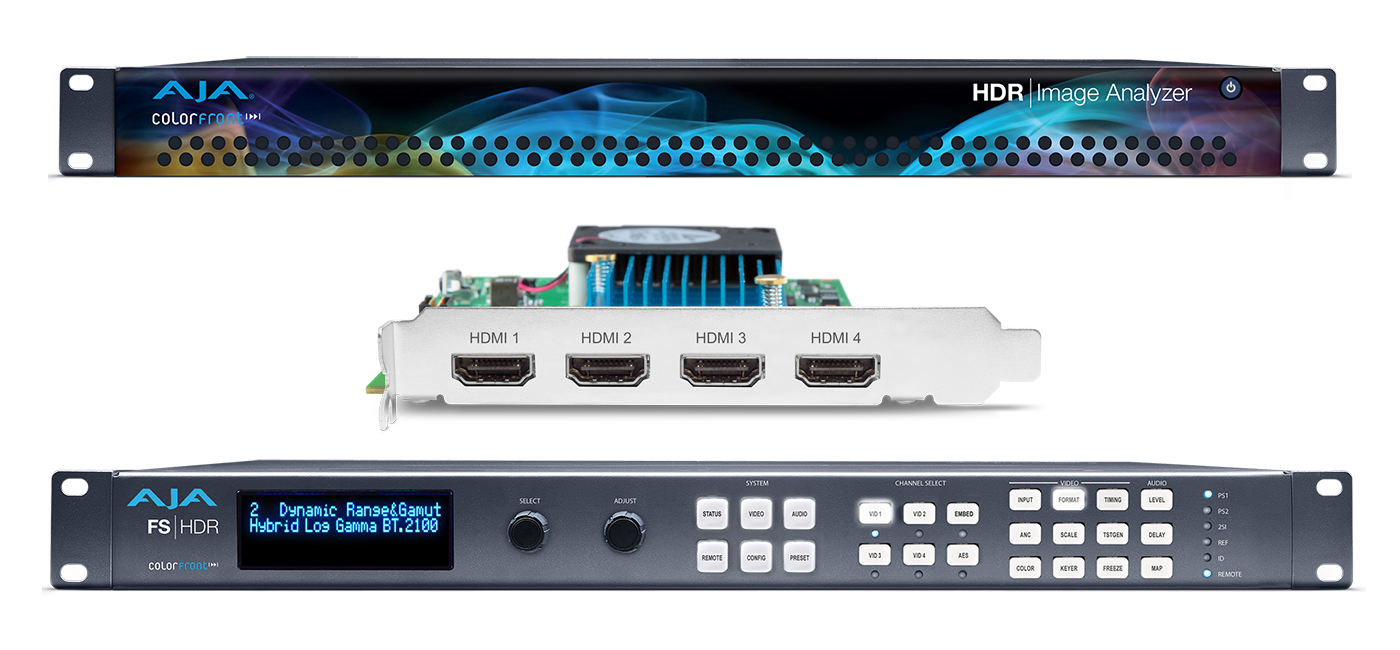 HDR Image Analyzer
HDR Image Analyzer allows professionals to monitor and analyze 4K/UltraHD/2K/HD, HDR and WCG content across production, postproduction, quality control (QC) and mastering. A sleek 1RU device with four 3G-SDI inputs and looped outputs, it fuses AJA's proven audio and video I/O technology with Colorfront's powerful image analysis software. Key features include support for display referred SDR (Rec.709), HDR ST2084/PQ and HLG analysis; support for ARRI®, Canon®, Panasonic®, RED® and Sony® camera color spaces; display and color processing look-up table (LUT) support; automatic color space conversion; CIE graph, vectorscope, waveform and histogram tools; nit levels and phase metering; false color mode; advanced out of gamut and much more with; file base error logging with timecode for sharing with your team.
FS-HDR
Available now, FS-HDR is AJA's 1RU, rackmount, universal converter/frame synchronizer designed specifically to meet the High Dynamic Range (HDR) and Wide Color Gamut (WCG) needs of broadcast, OTT, production, post and live event AV environments, where real time, low latency processing and color fidelity is required for 4K/UltraHD and 2K/HD workflows. FS-HDR's HDR/WCG functionality is powered by Colorfront Engine™ proprietary video processing algorithms. v2.6 firmware/software for FS-HDR, available this fall, includes new color transformation enhancements that give broadcast, production, post and ProAV professionals more flexibility to accomplish new workflows and achieve a consistent, final look when working with a range of 4K/UltraHD/2K/HD, SDR and HDR formats. It includes Colorfront Engine support for new HDR output transforms, updated and new BBC V1.2 HLG LUTs, 3D .cube LUT uploads and ganged operation of Colorfront Engine parameters with the AJA FS-HDR Control Link app.
KONA 5 with 12G-SDI I/O
The next generation in AJA's industry-leading KONA line, KONA 5 is an 8-lane PCIe 3.0 video and audio I/O card that supports 12G-SDI I/O and HDMI 2.0 monitoring/output for workstations or Thunderbolt™ 3 connected chassis. KONA 5, coming this fall, enables single cable 4K/UltraHD and HD high frame rate, deep color and HDR workflows, and for developers, AJA's SDK enables multi-channel 12G-SDI I/O for multiple 4K streams of input or output. Additional feature highlights include: 4x bidirectional 12G-SDI ports and 1x Reference In on robust HD-BNC connectors, with HD-BNC to full-sized BNC cables included; 16-channel embedded audio on SDI, 8-channel embedded audio on HDMI; 8-channel AES audio I/O, LTC I/O, and RS-422 serial control via supplied breakout cable; 10-bit downstream keyer in hardware; compatibility with Adobe® Premiere Pro®, Apple® Final Cut Pro X, Avid® Media Composer®, Telestream Wirecast®, AJA Control Room and more; AJA SDK compatibility; and a three-year warranty.