Renovated Colosseum at Caesars Palace Hotel and Casino Represents New Era
Solotech teams up with Meyer Sound to deliver a renovated venue with maximized flexibility that attracts wide array of A-list talent.
Leave a Comment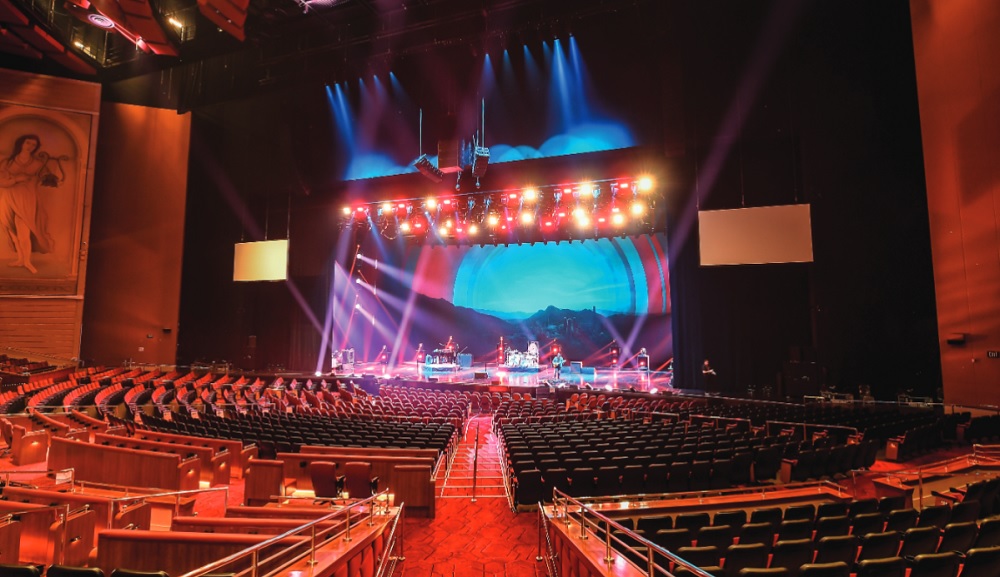 The Colosseum at Caesars Palace relaunched in September 2019 to herald a new era at Las Vegas' premier music showcase. 
The renovated venue has maximized flexibility across world-class sound, lighting and video systems that maintains integrity and high production values to attract a diverse range of A-List entertainment. d
Meyer Sound was selected for the venue's sonic solution to "deliver the ultimate entertainment experience." 
Originally completed in 2003 to house Celine Dion's residency "A New Day," since first opening, The Colosseum has relied on Meyer Sound reinforcement systems supplied and installed by Solotech. 
The tradition continues with the latest generation of audio technology as a new, Solotech-supplied LEO Family system anchored by LYON arrays has been installed to support the venue. 
Tech Specs
The venue-wide upgrade includes the latest in lighting and video technology to elevate the audience experience. Overall scenic and AV design was entrusted to world-renowned Montreal theater designers Scéno Plus.  
Keith Wright of Production Specialists of Las Vegas (PSLV), who represented Caesars Entertainment as a consultant on the project, supervised the specifics of AV design and integration. 
Solotech was again selected to supply the Meyer Sound system as well as video and lighting. The design team was a collaboration between Scéno Plus, Quadrillion Design, Solotech and PSLV.
Related: These are Some of the Most Impressive AV Projects: Meet the 2020 Integration Award Winners
Playing an early but pivotal role in securing Solotech's participation was VP of research and development Francois "Frankie" Desjardins, who was a principal designer of the widely heralded original Meyer Sound system at The Colosseum. 
He was not involved in the renovation design, but he felt that it was important for Solotech to provide the new system. Desjardins expressed confidence in the decision to select a Meyer Sound solution for The Colosseum.  
"The first system had served the room for more than 15 years, so reliability and longevity were important factors in the selection of the brand-new audio system," he said. 
"Once given the design, we worked to ensure the installed system would achieve all goals with hopes of exceeding expectations for guests of the all-new Colosseum. We always strive to achieve the best of the best. People remember your most recent project, not the one from 15 years ago." 
The Flexibility Issue
When designing the overall infrastructure system, Solotech wanted it to remain as flexible as possible, to meet the demands of touring acts and the production requirements of the Caesars Entertainment division. 
A fiber backbone runs to the stage, front of the house and lighting booth with tielines back to the main system. The system was designed and installed to be able to accept any signal at extremely low latency.
Over the years, The Colosseum sound system received partial upgrades, but the 2019 total sonic renovation completely replaced all loudspeakers with the latest technology of Meyer Sound's LEO Family line arrays. 
The venue is wide and the clients were determined to have a stereo solution. 
Meyer Sound, in close partnership with Solotech, created a unique stereo design for the venue that includes L/R LYON-W line arrays supplemented by a central pair of R/L LEOPARD line arrays to create stereo for the near field. 
The Colosseum reopened Sept. 6, 2019 after a summer-long, two-month renovation period and within its project budget goals. 
The LEO Family system was built around twin arrays of 16-each LYON loudspeakers with a center hung stereo pair of 6-each LEOPARD loudspeakers. Forceful low end is supplied by 18 1100-LFC and 14 900-LFC low-frequency control elements.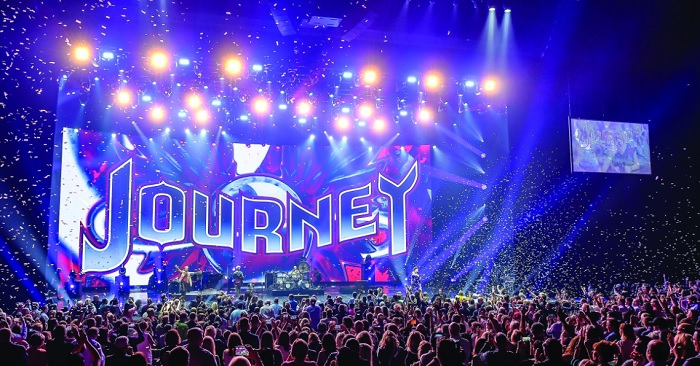 Completing the design are four UPQ-D1 loudspeakers, six LINA loudspeakers, and 26 UPM-1P loudspeakers for fill and delay systems.
Eight GALAXY processors are linked via an AVB network, and the main arrays utilize Meyer Sound's low/mid-beam control technology for uniform front-to-back response. 
The Colosseum's new curved Daktronics 5.9mm LED video wall covers approximately 4,688 square feet and is 8K capable. The video system includes VX4 media servers, Christie Boxer 20K DLP projectors and a Christie Spyder X80 for LED wall processing. 
Robe Lighting products were selected for the entertainment lighting systems, which includes the new MegaPointe, the Tarrantula, and the T1 Profile fixtures. For lighting control, the MA Lighting grandMA3 full-size console and a grandMA3 light console. 
The project was executed with grace under pressure and amazing attention to detail from its start in January 2019 to completion in August of that year. Meyer Sound, Solotech, Caesars Entertainment, manufactures, owners, and consultants partnered to drive costs down.  
Project managers, technicians, and engineers maintained a disciplined schedule to come in under budget. 
"Meyer and Solotech had proved themselves with 16 fantastic years in that venue," said Wright. "They knew this room better than anybody else and through all that time their support was unmatched."
"The Colosseum is probably the best–sounding and best visual theater on The Strip right now, and we are so proud of the work we've contributed to this beautiful venue," said Solotech project manager David Cerullo. "All in all, it was an amazing collaborative effort." 
Equipment Highlights
Christie projectors 
Daktronics LED video modules 
Disguise media servers 
Meyer Sound speakers 
Robe Lighting luminaries 
If you enjoyed this article and want to receive more valuable industry content like this, click here to sign up for our digital newsletters!