What to Watch at ISE 2019: Products and AV Trends at the Show
These are some of the AV trends and products we think will be most prominent on the ISE 2019 (Integrated Systems Europe) show floor.
Leave a Comment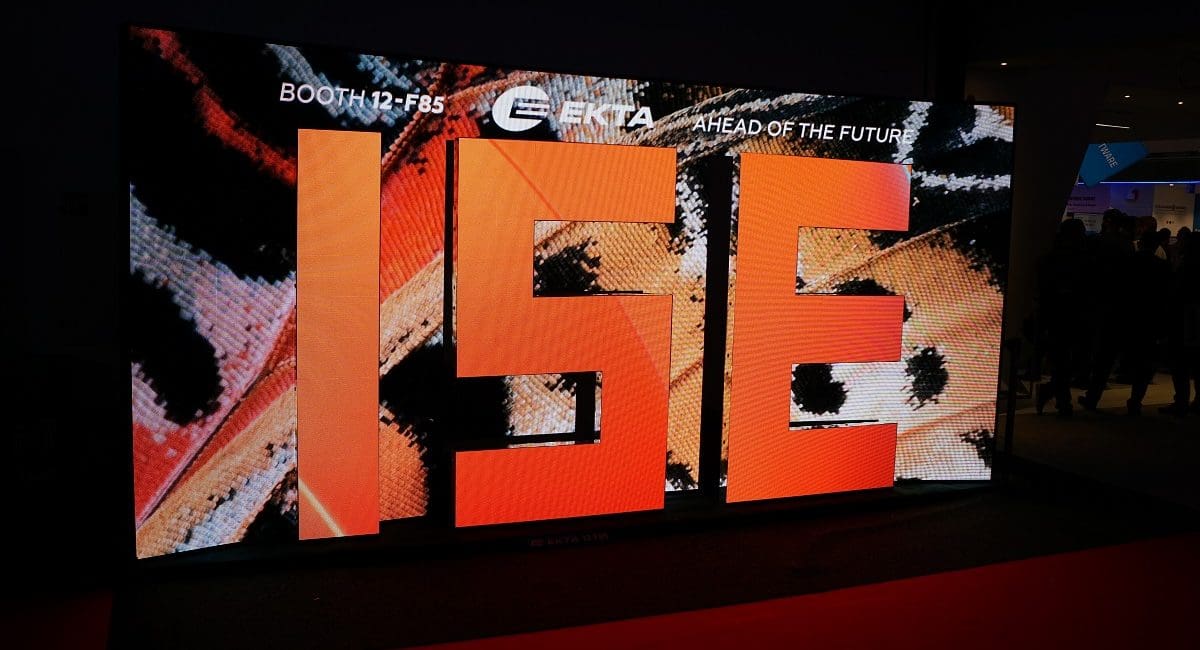 Integrated Systems Europe 2019 (ISE 2019) in Amsterdam promises to shake things up in a few categories. We've seen this AV trade show become more of a place where manufacturers seek to hype up products before they get another chance to wow passersby at InfoComm in June.
So it is no surprise that we've already heard that a few companies plan on releasing major changes to old products or completely new lines this year.
Here are the largest AV trends we're predicting will impact the show this year.
Unified Communications & Collaboration (UCC) at ISE 2019
ISE 2019 attendees ought to be careful to avoid UCC-overload. So many manufacturers are zeroing in on how integration customers across all vertical markets are dramatically evolving the way they meet – embracing smaller, more collaborative environments and investing in technology to support them.
During the recent Total Tech Summit, CI editorial director Tom LeBlanc called evolving meeting spaces the single biggest opportunity for AV integrators in 2019.
It seems like Crestron agrees. The prolific AV solutions manufacturer is banking heavily on UCC (unified communications & collaboration by rolling out Crestron Flex UCC portfolio prior to ISE and making it a centerpiece of its stand, 2-E30.
The interesting thing about Crestron's Flex UCC line is that it targets not just meeting rooms but recognizes that meetings extend to desktops as employees frequently collaborate with remote workers and sprawling team members.
Look for many more UCC solutions that target huddle spaces and today's evolving meetings.
Gearing up for UCC at ISE 2019:
UCC Products to Look for at ISE 2019:
Audio Solutions at Integrated Systems Europe 2019
There is a gaping disconnect when it comes to audio solutions in commercial integration. They're super-important with audio solutions involved in pretty close to every single AV integration project.
Somehow, however, customers don't think they're important.
That seemed to be the essence of our recent study on meeting room audio. In meeting rooms, where so many of today's AV integration projects take place, audio solutions such as loudspeakers and microphones take a backseat priority-wise to stuff you can actually see.
Crazy, right? If a meeting's video drops, you can still have the meeting, but not the case if the audio drops or isn't clear.
As such, we encourage integrators attending ISE to check out innovations in speaker solutions and microphones that are targeted for today's smaller and more collaborative meetings.
Meanwhile, North American integrators making the trip to Amsterdam should take the opportunity to learn about audio solutions that are already serving the European market to see if they can find something new to help excite their customers when it comes to audio.
Gearing up for Audio at ISE 2019:
Audio Products to Look for at ISE 2019:
Video at ISE 2019
You won't have to go far at ISE 2019 to find a striking example of futuristic video applications. Panasonic is bringing Bart Kresa's newest creation, Sviatovid, to the RAI Amsterdam as a way of immersing attendees in the experience and promoting Kresa's ISE 2019 keynote address during the show.
ISE organizers are also excited to debut a projection mapping display on the façade of the new nhow Amsterdam RAI hotel during the show. Specially created content will be projected onto the hotel from 3 to 8 p.m. every day during ISE 2019.
That doesn't mean you should avoid the halls of the RAI if you're looking for the latest innovations in 4K and, yes, 8K at ISE 2019. There will be myriad opportunities for you to find exactly what you need to finish the job with manufacturers representing video projection and display, VR, streaming media and more.
Gearing up for video at the show:
Video products to look for at ISE 2019:
AV Distribution Products at ISE 2019
Following CES 2019's emphasis on next-generation 8K televisions, the ISE 2019 exhibition will focus on the maturing UltraHD 4K market and solutions that provide signal management capabilities to high-data content.
Years ago, both commercial and residential integrators used matrix switchers, baluns and other devices to distribute AV signals. Some of these solutions required complex setups and lots of labor.
Today, however, through technologies like HDBaseT, AV over IP signal management and fiber cabling, integrators can tailor their system designs to meet the exact content, budget and future expansion goals of their clients.
Gearing up for AV Distribution at the show:
AV Distribution products to Look for at ISE 2019: